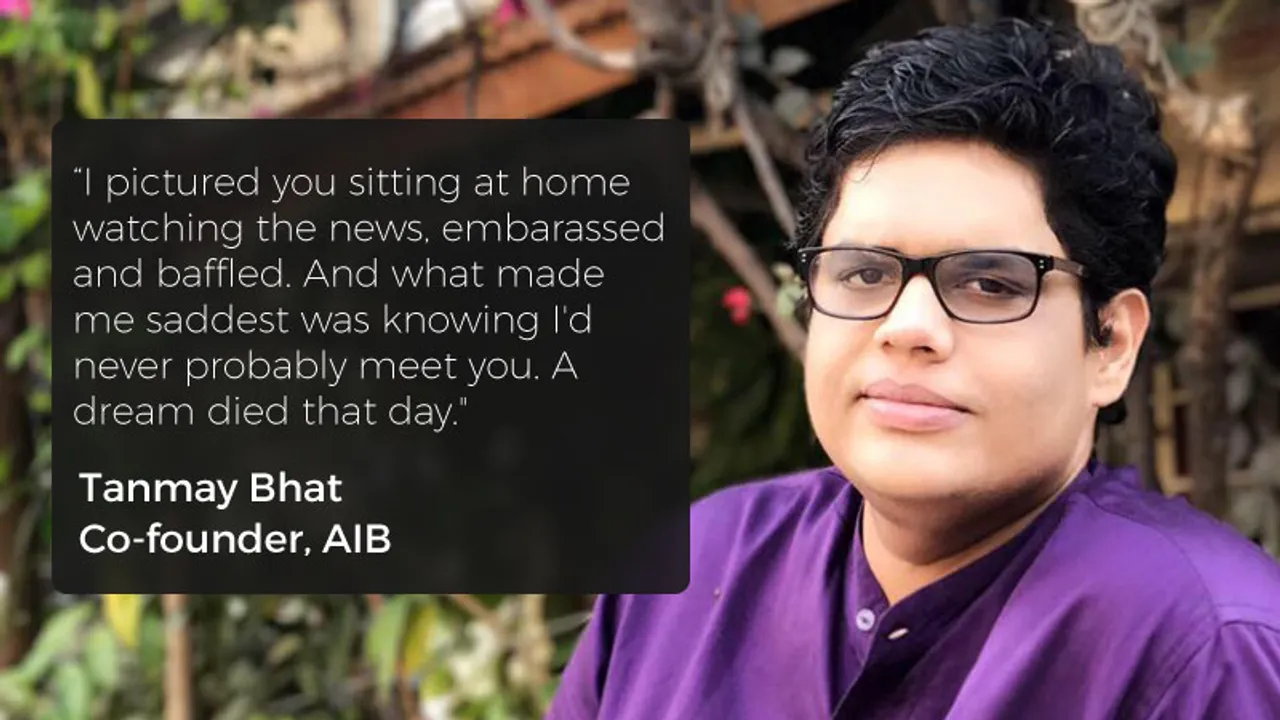 Since being offended has turned out to be all the 'rage' (pun absolutely intended), Tanmay Bhat chose to revisit his offence inducing videos that earned him death threats, a whole lot of criticism and 'ninda' bhari tweets. Remember the Sachin and Lata Mangeshkar face swap videos? Yes, those!
Through his Facebook page, Tanmay Bhat took the opportunity to apologize to Tendulkar, sharing his thoughts about the whole controversy that ensued back in May last year.
"The worst part for me about the controversy wasn't the MNS threatening to kill me. It was that the only thing you'll ever know me for is that silly, silly joke. And nothing else I ever do will change that first impression. A joke I never ever dreamt you'll see."
Tanmay Bhat's post began with a nostalgic anecdote, perhaps shared by millions all across India, although special nevertheless. Sachin Tendulkar features, and will continue to feature in a billion memories all across the country, and it is needless to say that every Indian truly regards him as the God of Cricket. I know that I do. I have switched off the TV once Sachin got out. The first question I have always asked about a cricket match has always been, "Sachin ne kitna maara?"
Tanmay Bhat is no different.
"Dear Sachin,
During the whole controversy, my father said something that truly made me sad. He said that I wasn't much of a crying child. But, he particularly remembers one day when I cried a lot. He was late while taking me to watch you play at the wankhede. And the child that I was wouldn't stop sobbing until I reached the stadium to see you at the crease. Thank you for my childhood. Thank you for being an inspiration. Thank you for making me cry. Thank you for being a memory my dad has of me. And irrespective of the jokes, I will always love you."
I remember to have playfully said 'Aila!' countless number of times, as a child, a teenager and at times, I still do! Do I love Sachin Tendulkar? Of course I do!
Perhaps some people felt Tanmay Bhat took it too far, and some people argued that he has the right to make jokes about whoever he wants to. Who's correct? We do not know.
Tanmay goes on to express how he felt after the backlash he received.
"I pictured you sitting at home watching the news, embarassed and baffled. And what made me saddest was knowing I'd never probably meet you. A dream died that day. The second time you made me cry. Sadly What's done is done. A name that made me smile a lot - today is a name that embarasses me. A name that I yelled, everytime I saw cricket, no matter who was playing, is a name that people tease me with."
As his post draws to a conclusion, Tanmay appears optimistic as he goes on to wish Sachin Tendulkar,
" Maaaybe one day I'll do something that you'll hear about me again, hopefully positive. And maybe one day I'll make you laugh. :) one day. Happy birthday, you god damned legend.

PS:: pls go to Parliament more often, a billion people would feel safer to see you in there than all those other goofs."
For those who require some context, Tanmay Bhat had face-swapped images of Sachin Tendulkar and Lata Mangeshkar, to create a profanity laced video which was intended to be humour, but ended up infuriating a lot of Indians.
Politicians, Bollywood celebrities and ordinary people like you and I, took to Twitter to express their discontent and outrage towards Tanmay Bhat's video.
I am 9 times winner of #BestComicActor. Have a great sense of humor. But This's NOT humor. #Disgusting&Disrespectful https://t.co/sTuTfbAOrU

— Anupam Kher (@AnupamPkher) May 29, 2016
Happened to watch a part of a desperate and shameful attempt to be funny by a wannabe comedian on @sachin_rt ji and @mangeshkarlata ji. ?

— Aaditya Thackeray (@AUThackeray) May 28, 2016
And as he continues to be, Tanmay ends the Facebook post by saying this, "PPS: I will still always make jokes about you. Because you joke freely about the ones you love."
Here's the post from Tanmay.
What are your thoughts about the entire controversy? Let us know at team@socialsamosa.com.