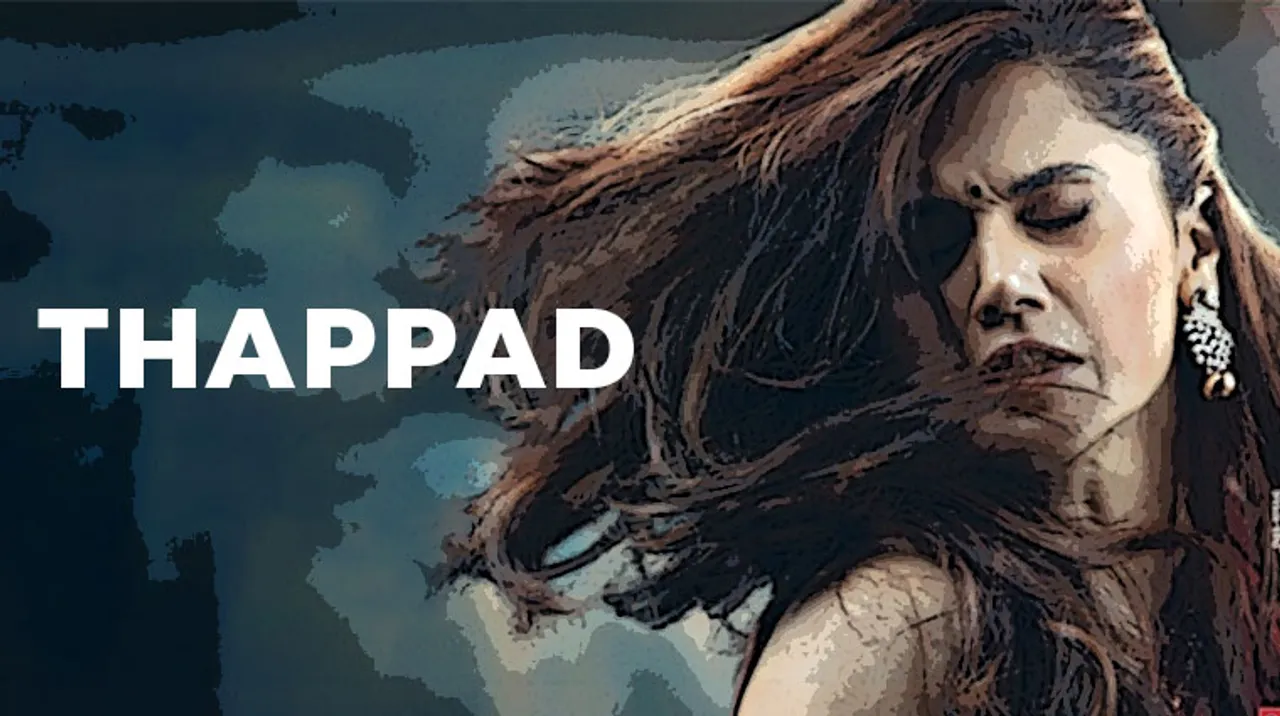 Taapsee Pannu starrer, Thappad trailer comes at a time where physical abuse in a relationship is being normalised on-screen. The trailer is gripping, relevant and necessary now, more than ever.
Indian cinema is a lot of things but lacking in objectionable content isn't one of them. Questionable scenes, dialogues and lyrics are woven into the fabric of the films we have grown up watching and still do. No, we're not saying they're all like that but there are too many to be ignored. However, the scenario seems to be changing or at least we hope it does with movies that talk about sensitive subjects. Taapsee Pannu's upcoming film, Thappad, for instance, talks about domestic violence and physical abuse which are usually normalised on-screen and worse, in society as well. The Thappad trailer is out and a must-watch.
Taapsee and Pavail Gulati are shown to be a married couple who seem to be happy. However, the very core of their seemingly fine marriage is shaken to the core when the husband in a fit of rage over an argument with a guest hits Taapsee's character (Amruta) across her face. It is after this moment that the film's story is set in motion.
The after-effects of physical abuse aren't always the same. Most of the times, the matter is either swept under the rug or the victim of such abuse is expected to 'get over it' as 'it happens sometimes'. But Taapsee's character, Amruta isn't ready to get over it, in fact, she's willing to uproot her married life and fight against what's wrong. Her path isn't easy but the only other option is giving up and she isn't willing to do that. The movie doesn't only talk about one relationship though, it also shows another couple from a lower socio-economic group where the victim of abuse has been suffering for a long time only to ensure she has a roof over her head. The various aspects of how the same scenario plays out under different conditions add depth to the story.
Check out the trailer here:
Here's how Twitter reacted to the Thappad trailer:
Okay, @anubhavsinha 's #ThappadTrailer looks solid. Hum dekhenge :)
Wah @taapsee https://t.co/nkQSPa3Z3g

— ?????? ????? (@yasser_aks) January 31, 2020
#ThappadTrailer just brilliant @anubhavsinha @taapsee ????????????????????

— Swara Bhasker (@ReallySwara) January 31, 2020
USS EK THAPPAD SE MUJHE WO SAARI UNFAIR CHEEZEIN SAAF DIKHNE LAG GAYI, JISKO MAI ANDEKHA KARKE MOVE ON KARTE JA RAHI THI! #Thappad sheds light on the sexist and nonchalant treatment of domestic abuse in our society! Compelling, gritty, necessary! #TaapseePannu #ThappadTrailer pic.twitter.com/VyKssR39bf

— ANMOL JAMWAL (@jammypants4) January 31, 2020
Thankyou for not normalising abuse and violence in relationships like other bollywood movies and even society.#ThappadTrailer https://t.co/UMaxBOkkaQ

— Kunika Agarwal (@iKunikaagarwal) January 31, 2020
Such a sensitive issue to realize and talk upon.
Amazing trailer.

Waiting for 28th Feb to release. And, above all coming from one of best actress @taapsee ❤️#Thappad #ThappadTrailer https://t.co/zMjeQjhLZD

— Vishesh Kumar (@vishesh0608) January 31, 2020
This trailer is so damn good...more than anything, I hope this film stirs a healthy and necessary conversation about the emotional toll that such acts of violence take on people around us. Bravo @taapsee #Thappad #ThappadTrailer https://t.co/A1dHmdu21u

— Hemanth Kumar C R (@crhemanth) January 31, 2020
Truly an incredible trailer, for what promises to be an incredible film!!! Well done, @anubhavsinha @taapsee, the entire cast and especially the writers! #ThappadTrailer

Honestly, I had goosebumps throughout! This reflects the story of someone very close to me. ???????? https://t.co/vPoPRlFltp

— VISHAL DADLANI (@VishalDadlani) January 31, 2020
The Thappad trailer also gives us glimpses of Tanvi Azmi, Dia Mirza, Ram Kapoor, Manav Kaul and several other talented faces.
The Anubhav Sinha directorial is also co-written by him and Mrunmayee Lagoo Waikul. The movie is slated to release on 28th February 2020.