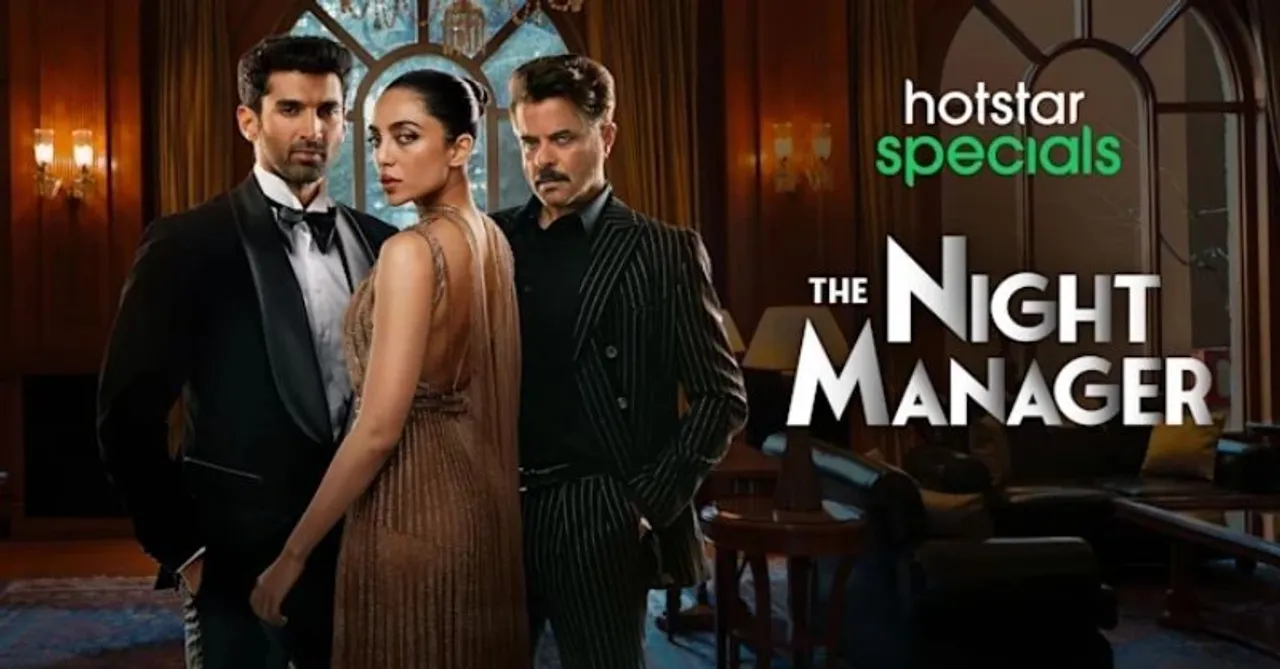 The Night Manager Season 2 starring Aditya Roy Kapur, Anil Kapoor and Sobhita Dhulipa released on Disney+Hotstar on June 30 and here's what the Janta had to say about the show
The Night Manager is an Indian adaptation of the British show of the same name which stars Tom Hiddleston and Hugh Laurie and its back with its second installment on Disney+ Hotstar. Created by  Sandeep Modi, the story of The Night Manager season 2 revolves around Aditya Roy Kapur as Shantanu Sengupta aka Shaan who has permeated himself in the army of leading weapon dealer while Anil Kapoor who plays Shailendra Rungta is working undercover for Indian Intelligence Agencies, Sobhita Dhulipala who plays Shaan's girlfriend Kaveri and Tillotama Shome as Lipika a RAW agent.
Aditya Roy Kapur, Anil Kapoor and Sobhita Dhulipa are once again back in action and the Janta can't keep calm. Janta's anger towards the delay of the show and memes took a major hit on twitter. Might we add, Sobhita Dhulipala's portrayal of Kaveri and Tillotama Shome's character, Lipika, have received praises from the Janta for their impeccable performances, bringing uniqueness to the story.
Also Read: Night Manager 2 review: Shelly and Shaan's final showdown will keep you on the edge of your seats while finding the mole in this arms-dealing empire!
And Here's what they had to say!
#AdityaRoyKapur in sky blue suit. Uff. 🤌🏻🥵 #TheNightManager

— Ana 🌻💛 (@AnaaaWalia) June 29, 2023
If there was only 3 more episodes then why they delayed for 4 months. #TheNightManager

— . (@overcover06) June 29, 2023
#TheNightManager (P1&2) has old premise but treatment is what it makes is different. And grand scale of movie-like production. Watch out for splendid performances & some good thrilling moments !! And apna @AnilKapoor bhai has played a superb antagonist.. (Jhakaas!!) @DisneyPlusHS pic.twitter.com/EBk7fbe2O6

— Rajat (@R25_Speaks) June 29, 2023
@AnilKapoor in #TheNightManager is pure wow. 🤩 🥵All the performances are good. But @AmIPrashant in his small role is deadly. oooof 💯 I'm a fan.✌🏽

— A. (@rajakash04) June 29, 2023
@AnilKapoor to #AdityaRoyKapur in #TheNightManager :@DisneyPlusHS pic.twitter.com/BoAYjfQoDy

— Akashdeep Sharma (@akash_1103) June 30, 2023
𝐻𝑒 𝑖𝑠 𝑒𝑓𝑓𝑜𝑟𝑡𝑙𝑒𝑠𝑠𝑙𝑦 𝑠𝑜 𝑓𝑖𝑛𝑒 🤌🏻🤍🧿

𝗦𝗵𝗮𝗮𝗻 𝗦𝗲𝗻 𝗚𝘂𝗽𝘁𝗮 || 𝗔𝗯𝗵𝗶𝗺𝗮𝗻𝘆𝘂 𝗠𝗮𝘁𝗵𝘂𝗿 #AdityaRoyKapur #TheNightManager pic.twitter.com/n2hB5TXbcK

— 𝗦𝗶𝘁𝗵𝗶💮 (@sithii_s) June 30, 2023
@sandeep_modi was right about Adi's eyes being evocative; loved Shaan, the characterization, direction... everything. his performance was just FINEEE, so subtle yet effective in an insane way. he had his heart in his eyes. thank you for seeing shaan in adi. ❤#TheNightManager

— 🗝 (offline) (@prissha16) June 30, 2023
Done watching #TheNightManager2...
3 Episodes made with Grand scale👌👌
Anil Kapoor as antagonist 🔥💥
Aditya Roya Kapoor Role also good one👌👍
shobitha Looks hot in screen 🥵
but Acting... especially in emotional scenes meh🙃
Little bit dragged but overall Decent watch👍 https://t.co/hzZOGWHh02 pic.twitter.com/TfU66bQMqx

— 🙃 (@VihuTweets) June 29, 2023
@sobhitaD in#TheNightManager2 🔥🔥🔥

— Review Attack (@attack_review) June 29, 2023
My #TheNightManager part 2 review
Terrific, best Indian spy series till date
⭐️⭐️⭐️⭐️#HotstarSpecials #TheNightManagerOnHotstar @DisneyPlusHS @DisneyplusHSVIP @AnilKapoor #AdityaRoyKapur @TillotamaShome#SobhitaDhulipala

— vishal verma (@cineblues) June 30, 2023
An adaptation well done. That's how you adapt a western story in Indian context. I've watched both English and Hindi one, and I liked the latter more.#TheNightManager2 pic.twitter.com/xD2d5P01tx

— Divyjeet Jadeja (@Divyjeetsinh_R) June 30, 2023
Have you watched the show yet? Let us know your thoughts in the comments below!
For more entertainment content follow us @socialketchupbinge