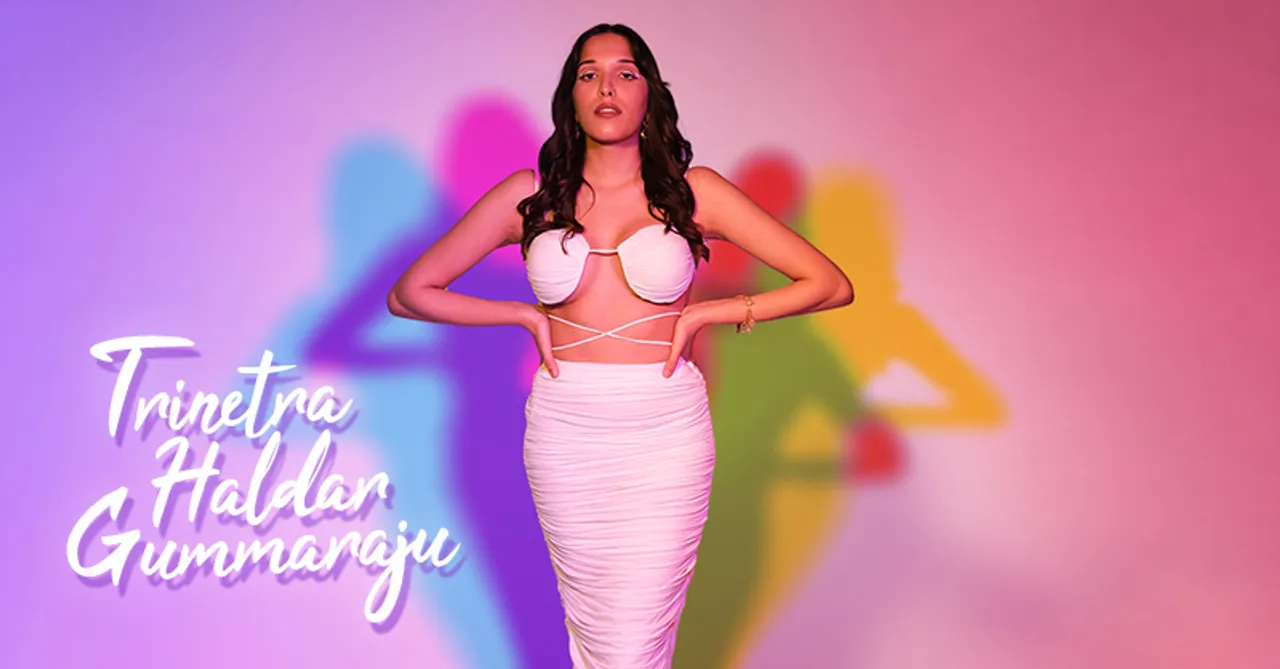 Social Ketchup Ed, Mrinil Mathur Rajwani gets in conversation with the PRIDE Icon, an MBBS Intern, Content Creator, and now actor Trinetra Haldar Gummaraju about PRIDE, career, and allyship for the queer community
Dr. Trinetra Haldar Gummaraju, a 25-yearold trans woman, is on a mission to make the cis-het dominating society more inclusive and acceptable for the queer community, not just with her efforts but also through leading by example. She is one of the few doctors in the Queer community that India has, a content creator, and now an actor who will debut with Amazon Prime Video India's Made in Heaven Season 2. Isn't she a talent powerhouse?
I have huge respect and admiration for folks who use their social clout for the greater good. Trinetra has been spreading positivity through her Instagram handle and making social media a space for queer people to be the truest version of themselves. She has been vocal about her orientation and documented her transition journey with utmost honesty. Her relationship with her body and soul is beautiful, and I love how she has made her life an open book for all closeted and non-closeted queer and cis-hets to take inspiration from.
Through her social media posts, she has often highlighted the sexism she faces in her day-today life, about her transition, her healing journey, and a peek into her past. She also uses her channel to make the transition process as informative as possible so that others can also make an informed decision.
MM - Take us through some defining moments from your journey and what Trinetra means to you?
THG - I think one of the most defining moments of my journey was the coming-out post that I made on Instagram and Facebook because that's when it became real. Up until that point, it was something that I was dealing with on my own. But when I put it out there when I said, this is me, this is Trinetra, and call me Trinetra. That's when everybody around me started having these conversations. And yes, some of it as negative. But it was a conversation nonetheless. And I feel like every time a queer or a trans person puts themselves out there, you end up sparking conversations, and that's how change begins. So I think that was very pivotal for me. And what does it mean? Well, Trinetra literally means three eyes, but to me, it symbolizes enlightenment. It symbolizes feminine power and energy. And just everything that I would like to aspire to as a person.
MM - If there is going to be an autobiography on you, what will be the title and why?
THG - I think I'd like to call it the girl in the boys' hostel. Because I remember being in a boys' hostel and really sort of discovering how gendered the world is, and how violent these gendered spaces can be like hostels and washrooms, and how unsafe society can be for queer and trans people. And so much of my understanding of myself came from being in that space. And plus it's got a nice ring to it. Therefore it has to be the girl in the boys.
MM - Today the concept of our cover was about being caressed by the light with a bunch of colors from the spectrum falling upon you, how you draw a parallel of this with your journey as someone from the LGBTQIA+ community?
THG - So as kids in India or anywhere else in the world, we're taught that there are only binaries, there's blue, and pink, there's men and woman, there's medicine, and there's engineering. And it has to be one thing or the other. Everybody has to be boxed into like a neat label. Everybody has to fit these neat definitions of what is respectable and what is not. So to be caressed by the light to be caressed by the
colors of the rainbow, to me, it means breaking free of those shackles and breaking free of those boxes and categories because those are human-made. And human beings are not meant to fit boxes. People
don't fit into boxes any more than colors on a spectrum. Right! Like it's really all about us being able to express ourselves in a way that feels most authentic, and the labels - they just shouldn't matter.
MM - A word of advice for Allies
THG - Shut up. Zip it. And listen. I think I can't say this enough. Even the most well-meaning allies, people that genuinely want to show their support, forget that we don't need you to speak for us; we can speak for ourselves. You just have to pass the mic. Like you just have to step off the pedestal that you built for yourself. And let us speak for ourselves. For example, stop having cisgender people playing trans characters. This is something that I keep saying so much. We can tell our own stories. We have talent; you just have to be sort of accepting of the fact that you don't know everything. So LISTEN.
Happy Birthday Trinetra!
For more entertainment, follow us on @socialketchup