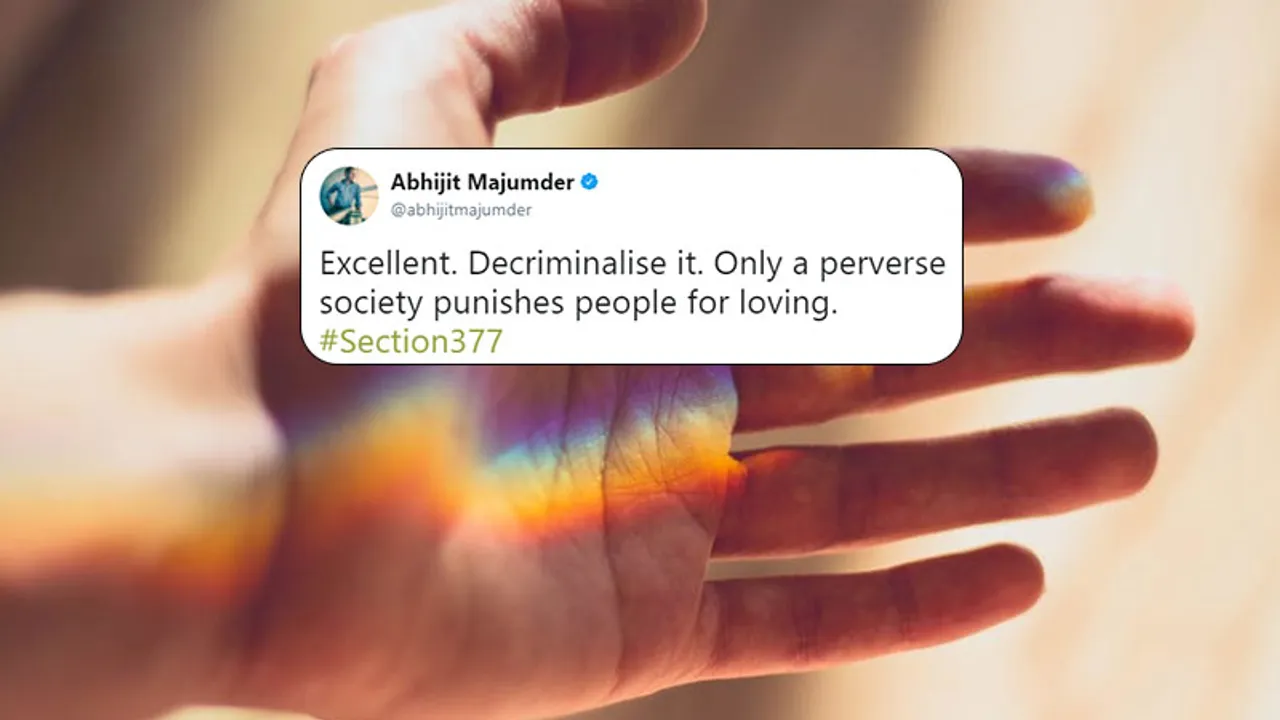 Not much positive news comes out of India nowadays, but today is one of those charming few days that reignite that little flicker of hope in our eyes. The Supreme Court has decided to rethink it's stance on Section377.
For the people unfamiliar with the news, Section377 criminalizes sexual intercourse between two consenting adults from the same sex, a rather regressive stance in 2018. While many countries have already granted the right to marriage to LGBTQ citizens, India, in a colossally regressive act, reneged on their decision in 2013 by re-criminalizing the Section377 of the Indian Penal Code, which was struck down by the Delhi High Court in 2012.
Last year, the Wren & Martin of Indian politicians who is among the educated few who have maintained good common sense and a modern outlook, Shashi Tharoor reignited the debate around Section377 but his efforts to change it were shot down in Lok Sabha.
With the Supreme Court's decision to intervene and embrace a much more liberal outlook inspired by basic human rights, Twitter users were surprisingly positive about it. Even the usual blue tick boasters who are at loggerheads when it comes to everything thought it was only humane to do away with Section377. Read more to know who said what on Twitter!
Sminu Jindal
Decriminalising homosexuality is a huge step towards a more #Inclusive society. The #SupremeCourt today agreed to reconsider its 2013 decision and said it will review Section 377 of Indian Penal Code that makes such relations a crime.#Section377 #inclusion #InclusiveIndia

— Sminu Jindal (@SminuJindal) January 8, 2018
B M Sanjeev Kumar
#Section377 The Ottoman Empire (predecessor of Turkey) decriminalized homosexuality in 1858. In Turkey, whr 99.8% of d population is Muslim, homosexuality hs never been criminalized since the day it was founded in 1923. & LGBT people also hv d right 2 seek asylum in Turkey

— B M Sanjeev Kumar (@sanjeevkumarbm) January 8, 2018
Sanjay Jha
#Section377 must go. It is antediluvian, an anachronism in our modern times.

— Sanjay Jha (@JhaSanjay) January 8, 2018
Rituparna Chattrjee
"A section of people or individuals who exercise their choice should never remain in a state of fear," says SC. This is what #Hope feels like. #LGBTQ #Section377 https://t.co/rmOFeG17qm

— Rituparna Chatterjee (@MasalaBai) January 8, 2018
Jagrati Shukla
#LGBT Supreme Court to revisit judgment upholding #Section377, refers matter to larger bench

Welcome decision.Section 377 must not apply to Consensual sexual acts. State has NO right to dictate terms on consensual sex among individuals.It's a private choice & should be Respected

— Jagrati Shukla (@JagratiShukla29) January 8, 2018
Sanjukta Basu
Excellent. More power to you. This is the best way to address issues, rather than shouting bickering on TV. Once SC gave the right to privacy judgement getting #Section377 invalidated should be cakewalk.

— Sanjukta Basu (@sanjukta) January 8, 2018
Rahul Easwar
The whole idea of "Sexual Orientation by Birth as Gay" is yet to be decided conclusively by Scientific community #Section377 #LGBT . But NO Disrespect to Homosexuals

— Rahul Easwar (@RahulEaswar) January 8, 2018
Tufail Ahmad
When the Governments of the day do not act and MPs do not make laws or amend laws, the Supreme Court of India is right to intervene/legislate if and when necessary to do so. #Section377 https://t.co/uTtz6YYCZA

— Tufail Ahmad (@tufailelif) January 8, 2018
Anand Narasimhan
supreme court agrees to set up Constitution bench . Says re look at section 377 judgment, SC says "natural order" is NOT a CONSTANT. All aspects-- consent between adults, protection of children all need to be considered #Section377

— Anand Narasimhan (@AnchorAnandN) January 8, 2018
Nimrat Kaur
The bright side - at least this makes #BeefBan #Section377 #MeToo #AirPollution and other such recent heavy weight issues seem not so drastic anymore. Wonder what 'history' feels like right now to eclipse our present and future? #HistoryMakesHistory #TimesOfBlindia https://t.co/zBF07z8iEX

— Nimrat Kaur (@NimratOfficial) November 20, 2017
VJ Andy
Finally sense prevails! #RightToPrivacyVerdict #section377 blatantly discriminates against individuals right to Privacy. #loveislove

— Andy (@iAmVJAndy) August 25, 2017
Tehseen Poonawalla
Pls understand #Section377 can also be misused against Hetro sexuals wrt sex toys or oralor anal sex. That makes most of us criminals not just the LGBT s. Hence @mvadera & I were waiting for this & will move SC in an IA against #Section377 .
Cc @MPKTSTulsi@AshimaMandla

— Tehseen Poonawalla (@tehseenp) January 8, 2018
Apurva Asrani
I believe the #Section377 curative petition will not be heard in the Supreme Court tmrw. Apparently it is not present in the cause-list. ?

— Apurva Asrani (@Apurvasrani) September 7, 2017
Anand Ranganathan
Great news: https://t.co/2LrHd6XcSZ
Not so great news: It is 2018, the age of science, but it STILL requires (supposedly conscientious) humans to ask for a larger constitutional bench to THINK about abolishing #Section377 and decriminalise Homosexuality.

— Anand Ranganathan (@ARanganathan72) January 8, 2018
Abhijit Majumder
Excellent. Decriminalise it. Only a perverse society punishes people for loving. #Section377 https://t.co/bLFmqfX3Rq

— Abhijit Majumder (@abhijitmajumder) January 8, 2018
Kavita Krishnan
BJP MP Subramanian Swamy is okay with people flaunting hate in murder videos. But don't flaunt love if you're gay, he says. Flaunting his, and his Party's bigotry and homophobia, yet again... #Sec377 #LGBT #section377 https://t.co/KCgzyaD39t

— Kavita Krishnan (@kavita_krishnan) January 8, 2018
What are your views about the Section377 of the Indian Penal Code, and about the Supreme Court's decision to rethink their stance on it? Let us know in the comments section!