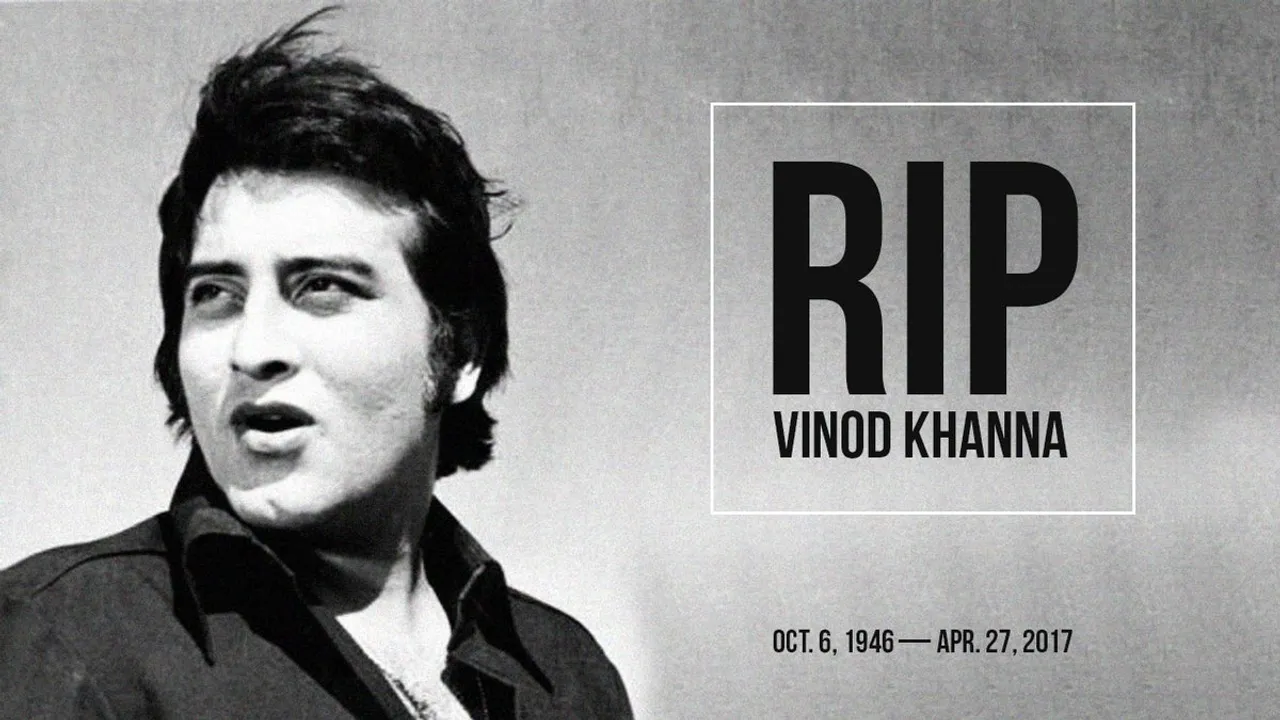 Ever since the picture of Vinod Khanna from the hopsital began doing the rounds on social media, the invincibility of our silver screen heroes once again came into question. Mortality gets to each and every one of us at the end, but when an icon leaves us, it hurts just a little bit.
Growing up idolizing the man's man, the supremely good looking and talented Vinod Khanna who achieved the following feats in 70 years; actor, ex minister, 4 time and current MP from the Gurdaaspur constituency.
You may know him as the adorable Amar from Amar Akbar Anthony, as the bevevolent Shakti from Dayavan or Babuji from the very recent Dabangg movies, but you cannot deny the magnificence of Vinod Khanna.
Vinod Khanna passed away today after a battle against bladder cancer, but will live on for many years as one of the most commanding presence to have graced the screens. Here is how Twitter users reacted to the reports of Vinod Khanna's demise - from politicians, celebrities and sportspersons to regular users.
1.
Condolences on sad demise of veteran actor & BJP MP Shri #VinodKhanna ji, may God render peace to the departed soul & solace to his family.

— Arun Jaitley (@arunjaitley) April 27, 2017
2.
An amazing actor #VinodKhanna leaves us. May his soul rest in peace?? Condolences to his family.

— Harbhajan Turbanator (@harbhajan_singh) April 27, 2017
3.
Unbelievable loss. Deepest condolences on the passing away of a wonderful man and such a jubilant being #VinodKhanna ji.
RIP. pic.twitter.com/jkx0m2cOJa

— Mohammad Kaif (@MohammadKaif) April 27, 2017
4.
#VinodKhanna was always very poised.
And had such control on screen.
Had a great career.
And, some stellar roles.
Rest in peace, sir.

— Sorabh Pant (@hankypanty) April 27, 2017
5.
Heartfelt condolences on the passing away of one of the most charismatic actors #VinodKhanna ji.
Om Shanti !

— Virender Sehwag (@virendersehwag) April 27, 2017
6.
#VinodKhanna
How sad -From films 2 spirituality 2 politics-a life rich in diverse experiences & lived with passion.Condolences #vinodkhanna pic.twitter.com/ss6R4NJAWi

— Nikhil Kulhari (@Nikhil_IIHMJpr) April 27, 2017
7.
The passing away of veteran actor #VinodKhanna is a very sad news...My heartfelt condolences to his family members​.#RIPvinodkhanna

— Ashok Gehlot (@ashokgehlot51) April 27, 2017
8.
#VinodKhanna RIP to Feroz Khan on death anniversary @VinodKhanna .Both friends died on the same date of same month and same illness... pic.twitter.com/4ng3CpInxF

— kavita agarwal (@kavi_kool) April 27, 2017
9.
Sad to learn about the passing away of #VinodKhanna Sir,one of the most charismatic actors...truly end of an era.Condolences to the family??

— Akshay Kumar (@akshaykumar) April 27, 2017
10.
His screen presence is unparalleled even today...his super star swag is what we grew up on....RIP #VinodKhanna ...thoughts and prayers....

— Karan Johar (@karanjohar) April 27, 2017
11.
#Vinodkhanna will always remain the coolest and most good looking actor to grace the Indian screens.The industry has lost a legend today.

— Varun Dhawan (@Varun_dvn) April 27, 2017
12.
An icon passes on but his legend remains in r hearts & minds! RIP #VinodKhanna ji u will be missed,Heartfelt Condolences @R_Khanna & Akshay!

— Vivek Anand Oberoi (@vivek_oberoi) April 27, 2017
13.
This picture will haunt us for a long time to come. One of my favourite actors ever. India will miss you #VinodKhanna pic.twitter.com/1ibqB1pEoA

— Manak Gupta (@manakgupta) April 27, 2017
14.
RIP #VinodKhanna ... Indian cinema just lost one of its coolest . Energy and prayers to the loved ones. #Legend

— Neha Dhupia (@NehaDhupia) April 27, 2017
15.
RIP #VinodKhanna Sahab. People will miss you ever sir!?

— KRK (@kamaalrkhan) April 27, 2017
The world lost a true gem today. R.I.P Sir Vinod Khanna. You shall be missed.