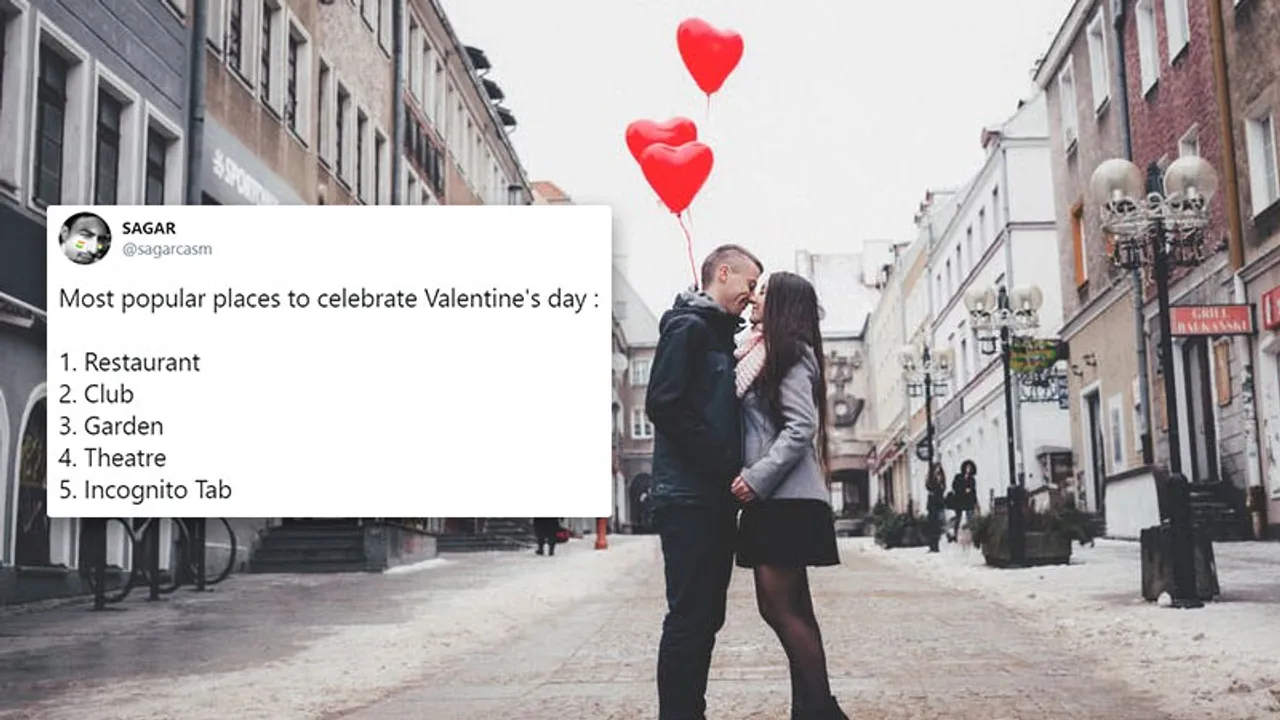 OHH!! So its Valentine's week,a special time in the life's of couple to express their love for each other and as if they don't do it every other day of the year and for those who don't have a Valentine its a reminder of how single you are!
Here are some hilarious memes that will express how you feel about this Valentines!
For the Single Happy Valentine's Day pic.twitter.com/dzAKmzEeD7

— omegadean (@omegadean96) February 14, 2018
That dreadful day is here! Yes its Valentines Day today, so if you are single by choice or otherwise, don't take stress because what is better than watching your favourite show with a bowl of popcorn in hand and relaxing like a boss.
It is definitely a happy day for all the couples and we don't deny them from celebrating or but we just don't understand the concept of celebrating an entire week of days like kiss,hug chocolate,rose and promise etc isn't it annoying ?
Eww. Gag. Valentine's Day is coming. pic.twitter.com/2hObz8gLrM

— SpongeBob (@SpongeBob) February 13, 2019
Anyway we have compiled some bunch of memes and jokes on Valentine which are all over the internet. So sit back and relax!
Yes that happens !!
Yup that's the plan !
Ouch that hurts !!
Yes that does seem complicated !!
Perfection & Dedication ??#KissDay #HappyKissDay #Valentines2019 #ValentinesWeek pic.twitter.com/x9DoNHrjtM

— ∱∪ℕκγβαβα - Sab Mohmaaya Hai ?✌️ (@nillkool9) February 13, 2019
Singles #KissDay ?? pic.twitter.com/mrcxcV7qcr

— Kasi_LingaM (@Kasilingam13079) February 13, 2019
Sing alone,dance alone with this iconic song "jumma chumma de de"-#hum(1991)@SrBachchan
Sir.
#kissday pic.twitter.com/6dHcOBLxqy

— the_aman_mishra364 (@AmanMis09486781) February 13, 2019
Expectation vls Reality ?#KissDay ? pic.twitter.com/TxzVJTajlI

— குழந்தை.செல்வா ? (@SelvaBSctwitz) February 13, 2019
Most popular places to celebrate Valentine's day :

1. Restaurant
2. Club
3. Garden
4. Theatre
5. Incognito Tab

— SAGAR (@sagarcasm) February 13, 2019
what are you doing on valentine's day?
me: pic.twitter.com/je0DrTTz5Y

— Kelsey (@_kelseyE) February 13, 2019
That's Weird !
This Valentine's Day, you can name a salmon after your ex and have it fed to some hungry bears pic.twitter.com/qqr4sTn8KK

— NowThis (@nowthisnews) February 13, 2019
It's a little over a week until Valentine's Day and I've barely seen any valentine card memes on my TL so here you go?❣️✨ pic.twitter.com/Bm1LLH4Ixz

— ken ♡ (@kendraabrown) February 4, 2019
The best way to celebrate Valentines Day?
With Valentines Day Memes ?

???? pic.twitter.com/8oSErE5yKG

— ? (@ashlaaay_) February 9, 2019
When you spent lots of money for your valentine.. ?
On the lasy day wo na de....? pic.twitter.com/s06lB5r6bz

— Memes wala (srk) ?? (@sudhanshur2881) February 13, 2019
Me on Valentine's day be like https://t.co/TfTn4rHoh2 pic.twitter.com/l3uSk7lZ5F

— Prequel Memes Droid (@PrequelMemesBot) February 12, 2019
#SignsYouAreSingle the memes you post around Valentine's day. pic.twitter.com/5plMdDY9Ti

— ??The Red Frank White?? (@PG_Lee_80s_Baby) February 11, 2019
Every committed guy to his gf on Valentine day... pic.twitter.com/dZGtviOfnd

— sarcastic element ✨? (@sarcesment) February 11, 2019
We hope that you enjoyed all these Anti- Valentine memes and jokes. Tell us what are your Valentine plans this year? Comment down below. Mine includes Netflix, Hotstar and Prime Video.