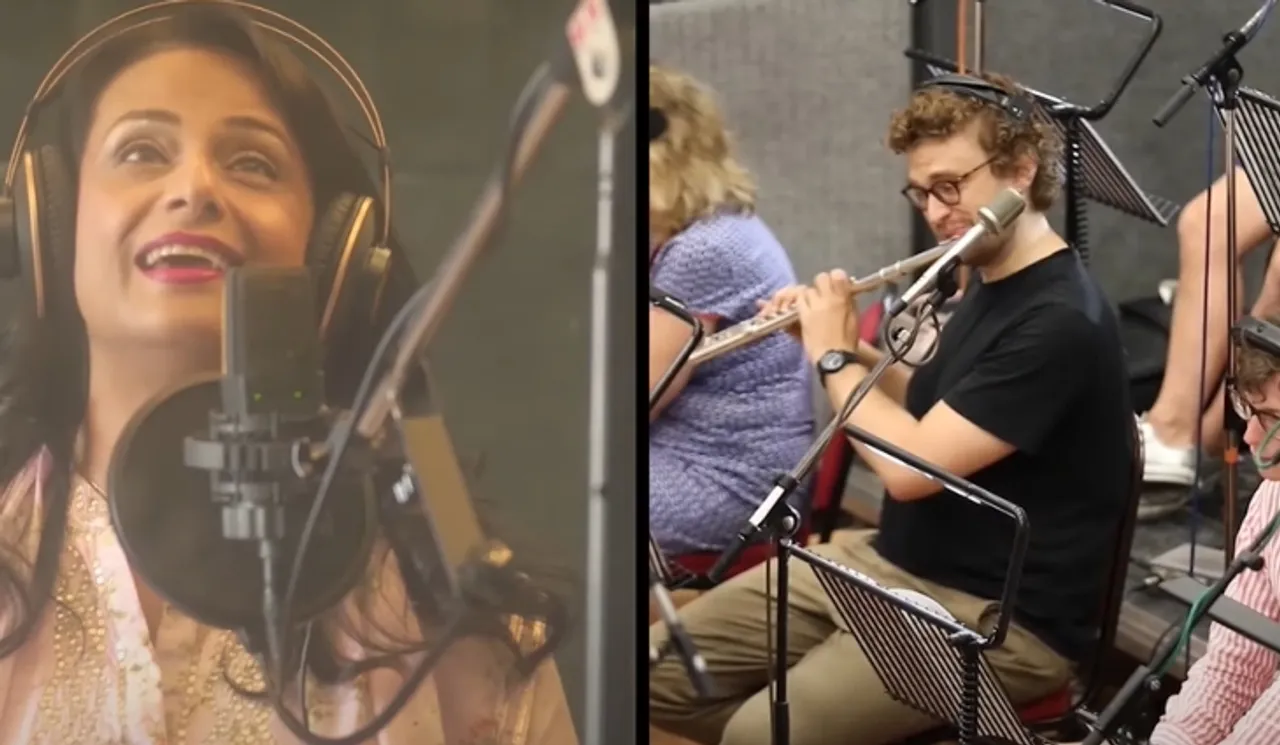 Global Recording Artist ILA Paliwal releases a music video for "Vande Mataram" on India's 74th Independence Day, a universal call for solidarity and peace.  The song is part of ILA's brand new album ILA—The Earth Symphony and is co-produced by GRAMMY Award-winner Ricky Kej.
Ila Paliwal is an award-winning singer, songwriter and producer, based in New York, weaves a call for universal peace and solidarity in her latest music video, "Vande Mataram" (Mother, I bow to thee). The song is co-produced by GRAMMY Award-winning composer and environmentalist Ricky Kej. The release is an inspiring rendition of India's national song in Sanskrit in its entirety, a timely ode to the motherland.
The song and its music video commemorate India on the cusp of its 74th anniversary of independence, melding traditional Indian folk and classical music with contemporary western orchestral sounds. Recorded at the legendary Abbey Road Studios in London by John Barrett (The Rolling Stones' On Air, Alexandre Desplats' The Shape Of Water), "Vande Mataram" features the 75 piece-Royal Philharmonic Orchestra and Royal Choir of London UK.
Says ILA, " 'Vande Mataram' is a call to generations, both past and present, to revere the bounty of Mother Earth and rebuild a compassionate planet. The song played a vital role in India's independence. The lyrics are poignant and capture the beauty of our world. I had goosebumps recording such an iconic song at the Abbey Road Studios in London with Royal Philarmonic Orchestra. My interpretation of 'Vande Mataram' is an ode to Mother Nature as much as it is to Mother India."
Says Ricky Kej, " 'Vande Mataram' is without a doubt our most beloved composition in India. It defines the very essence of India in every way. ILA has reimagined this folksong with an international flair, which gives this classic a twist that reflects the global world we live in, and the need for harmony with nature. Her passion and sensitivity come through in every note. To recreate this song with ILA's mellifluous voice and massive Royal Philharmonic Orchestra at the legendary Abbey Road Studios was nothing short of a dream come true. I have to admit, it was also extra special to hear one of the most sought-after
British Orchestras play our beloved song for India."
The song is also the lead single of ILA's forthcoming album ILA—The Earth Symphony. The nine-track record features compositions sung in both Sanskrit and Hindi, offering harmonic layers of Indian as well as Western musical orchestration. Rooted in Indian tradition and scriptures and inspired by ILA's diverse life spent living in six countries on four continents, the album is the ultimate confluence of the old and the new and is the embodiment of global unity.
Over 150 artists from different musical traditions and different parts of the world have collaborated on the album, including the Royal Philharmonic Orchestra of London UK, the three-time GRAMMY-winning Soweto Gospel Choir of South Africa, as well as Indian and American classical musicians. ILA—The Earth Symphony released on August 2nd, 2020 on all major digital platforms around the world including Spotify, Amazon Music and JioSaavn.
ILA—The Earth Symphony follows ILA's highly acclaimed and best-selling album Navaratna, executive produced by Oscar and GRAMMY-winning composer A.R. Rahman. Navaratna opened to a sold-out concert at New York's prestigious Carnegie Hall, followed by performances at iconic venues such as the Kennedy Center, DC; Dubai Financial Center; Microsoft Theater, LA; and NCPA, Mumbai to name a few.
The album enjoyed the top spot on Amazon Asia's charts for eight consecutive weeks. One of its tracks "Holi" was honored with the 2018 RoundGlass Award in the Best World Music category. The song was also featured by the legendary music producer Quincy Jones on his list of "15 Best Songs from Around the World" for world music magazine Songlines in 2016.
Speaking about why her music encourages environmental consciousness,  ILA says, "A lot of times we get so caught up in our daily lives and we forget that nature is abundant but not limitless. The planet earth has existed for millennia and it can survive without us but as humans, we cannot. My album is a musical tribute to our forests, rivers, space and to the greatest artist of all, Mother Nature. I hope my music inspires listeners to think about how our actions – to one another, and to our environment – are all connected.  We all must do our part in making environment-friendly choices and consume less so we can make this planet a better and healthier place for generations to come."
Ricky Kej adds, "It was an absolute pleasure to collaborate with ILA on her spectacular album, 'ILA—The Earth Symphony.' I create music only on the environment and sustainability and that's why it was amazing to join hands with ILA who shares my passion for our planet. Each song is an ode to nature and a reflection of it. Since time immemorial, every ancient culture spoke about living in co-existence with nature for our own survival. This album is an appeal to return back to our roots and live how nature intended us to."
Listen to the full song here:
&feature=emb_title