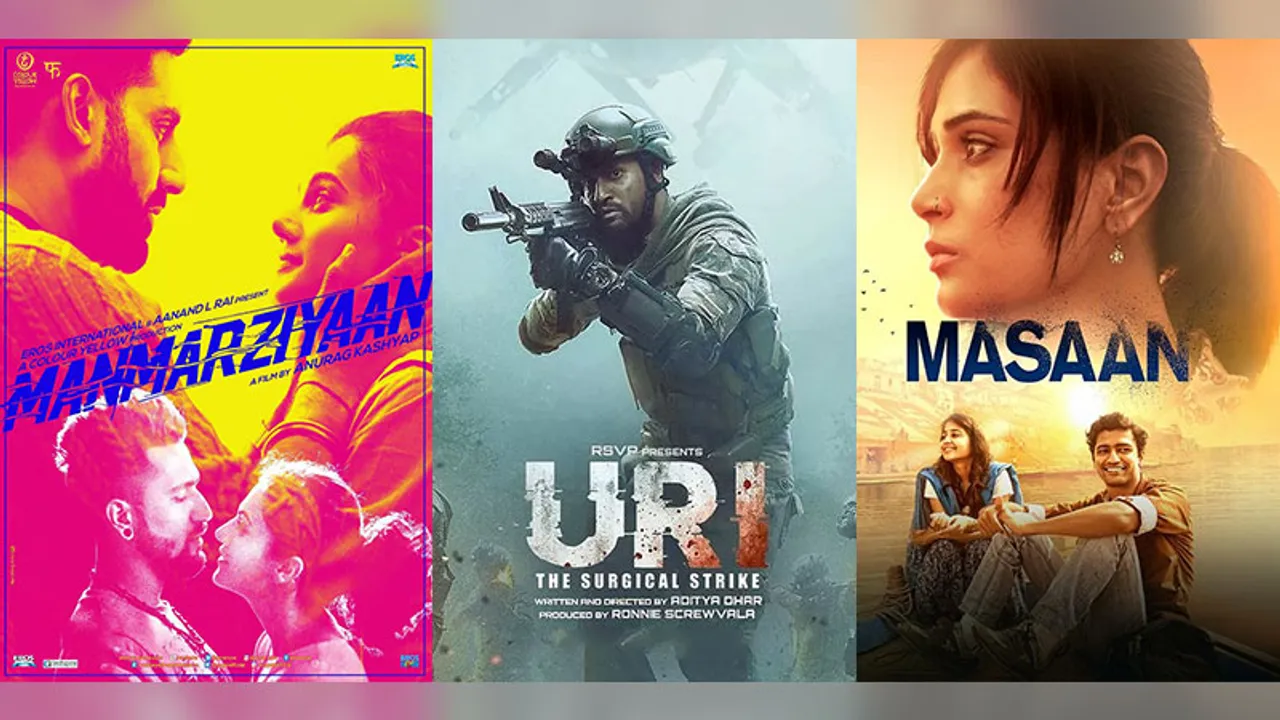 Debonair, dashing, tall, dark, and handsome –these are just some of the terms that aptly describe Vicky Kaushal's deadly looks. It's his 31st birthday today and we can't stop drooling all over him. AGAIN!
This young star has definitely proved his mettle time and again through his various versatile roles that left the audiences amazed. Be it the leading man in films like Masaan and Uri, or even the lead's best friend in Sanju, Vicky Kaushal is leaving a mark one movie at a time, but a few of us know that he was also part of a few plays and short films.
We've compiled a list of some of his outstanding movies and equally memorable roles. Take a look:
1. Masaan (2015): Vicky plays the character of Deepak Kumar. He's a boy from a lower caste family who works at the cremation ghats in Varanasi. He falls in love with a high-caste Hindu girl at college. Kaushal portrayed grief very realistically when the girl died. The film won 2 Cannes awards as well.
2. Raman Raghav 2.0 (2016): Raghavan is a corrupt, and drug using police officer played by Vicky who is after a psycho serial killer Ramanna. Raghavan is also an abusive partner with his girlfriend. Both the characters have a deep connection and gave goosebumps to the audience.
Also Read:All the sizzling celebrities that graced the beginning of the Cannes Film Festival 2019
3. Love Per Square Foot (2018): It is a Netflix original, romantic comedy. Vicky plays the role of Sanjay Chaturvedi who is an IT engineer and works at the same bank as Karina. The film revolves around how they plan to buy a house pretending to be a couple because they can't afford one on their own. We get to see Kaushal's lover boy side in this!
4. Raazi (2018): A thundering success, Raazi saw one of Vicky's best performances as Iqbal Syed, a Pakistani military officer who was married to Sehmat Khan. The role also spoke to people as it showed that not all Pakistanis are cruel. Iqbal was portrayed as an understanding and kind man.
5. Lust Stories (2018): This was another Netflix original that showed 4 different stories revolving around sexual desires and the complications they can bring to relationships. One of the stories is that of Paras (Vicky) who is married to Megha but after the wedding, she realizes he isn't able to satisfy her sexually and this leads to troubles between them.
6. Sanju (2018): Another blockbuster, Vicky plays the role of Sanjay Dutt's best friend Kamlesh Kanhaiyalal Kapasi. He is a simple man who supports Dutt in all his ups and downs until they had a fallout. But years later the confusion clears, and Kamlesh comes back to support his friend. Vicky was critically acclaimed for his role and his stellar acting.
7. Manmarziyaan (2018): Starring Vicky Kaushal, Abhishek Bachchan and Taapsee Pannu, Manmarziyaan was another hit in Kaushal's pocket. He played the role of carefree and fun Vicky Sandhu who loves Rumi but isn't serious enough about his life. Seeing her get married gets him on track but he'd lost his love by then.
8. Uri: The Surgical Strike (2019): Uri was a game changer for Vicky Kaushal. It became one of the highest grossing films of Indian cinema, entering the 200 cr. club. It also saw one of Vicky strongest performances till date where he played the role of Major Vihaan.
Well, what are you waiting for? Binge away at these masterpieces with the added benefit of getting to gawk at this handsome hunk! We wish him a very happy birthday and many more amazing movies!