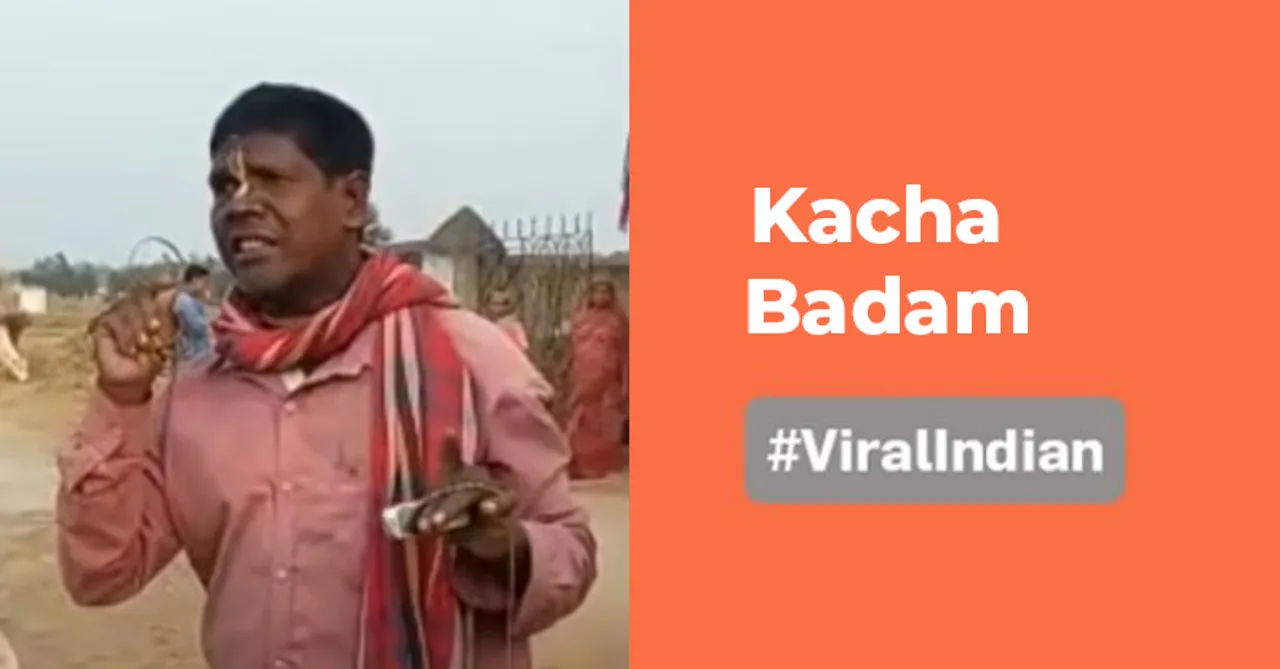 Bhuban Badyakar from West Bengal is the original creator of the now remixed and viral Instagram song 'Kacha Badam'.
The crux of social media is the viral trends and videos that keep people busy and glued to it. Every year we come across some of the most bizarre videos that soon end up becoming viral content. But with short-video platforms, this time frame has changed to 'every month.' Month on month we find ourselves bobbing our heads to a viral song or lip-syncing to a dialogue. Millions re-create or share their own version of the viral trend without even questioning where and how it become so popular. No matter how irritated we get, after a certain point, our body voluntarily gives out to the song as we end up doing the step or casually humming the song as we go about doing our everyday work. And the latest trend that has taken over our mind, body, and social media is 'Kacha Badam.'
Remember last year when an old video of a young boy singing about his 'Bachpan ka Pyar' became the talk of the town and a viral Reel audio? People became so obsessed with the song that after a point they began creating their own remix versions of the same. He went on to do a song with Badshah that received millions of views. The latest 'Kacha Badam' song also happens to have a similar story, except we don't know if Badshah or any of the music producers from the industry will get the person to record it professionally. The song is actually an original composition by Bhuban Badyakar, a peanut seller from West Bengal.
Who is he?
Bhuban Badyakar, the man who composed the original version of the viral song is a resident of Kuraljuri village, Lakshminarayanpur Panchayat in West Bengal. The reason behind this small-scale peanut seller creating the song is plain and simple, it was so he could get some business. He is a father of three who reportedly sells peanuts in exchange for small trinkets and broken household items while cycling through villages.
The lyrics 'Paer chura, hather bala, thake jodi city gold er chain, diye jaben, tate shoman shoman badam paben,' literally mean that. It says, 'if you have bangles, imitation chains, then you can give them to me, I will give you equal portions of peanuts.'
Bhuban earns about Rs 200-250 every day by selling approximately 3- 4 kgs every day. Based on the Baul folk tune, Bhuban wrote this song to get more customers' attention while he sells peanuts for a living, which was successful considering the entire country has his attention now. After the song went viral on social media people have been helping him out and his business has flourished to an extent.
How did it go viral?
The song made it to the viral list after an artist decided to remix Bhuban's version and made it peppier. Nazmu Reachat recreated the song and gave his own twist to it, making it a song that just cannot escape our minds. His song has over 10 lakh streams on Spotify with millions doing the Kacha Badam challenge on Instagram Reels. The views on these videos keep crossing millions with people not having enough of the song. The challenge was not only taken up by Indians but also saw people from Korea, Tanzania, and even from a plane jump to the trend.
Bhuban, on the other hand, was on the news as he claimed copyright for the song and went to the police pressing rightful credit for the same, rightfully so.
Even though you already have, check out these videos:
Have you tried the challenge? Tag @socialketchup on your videos or share them with us!