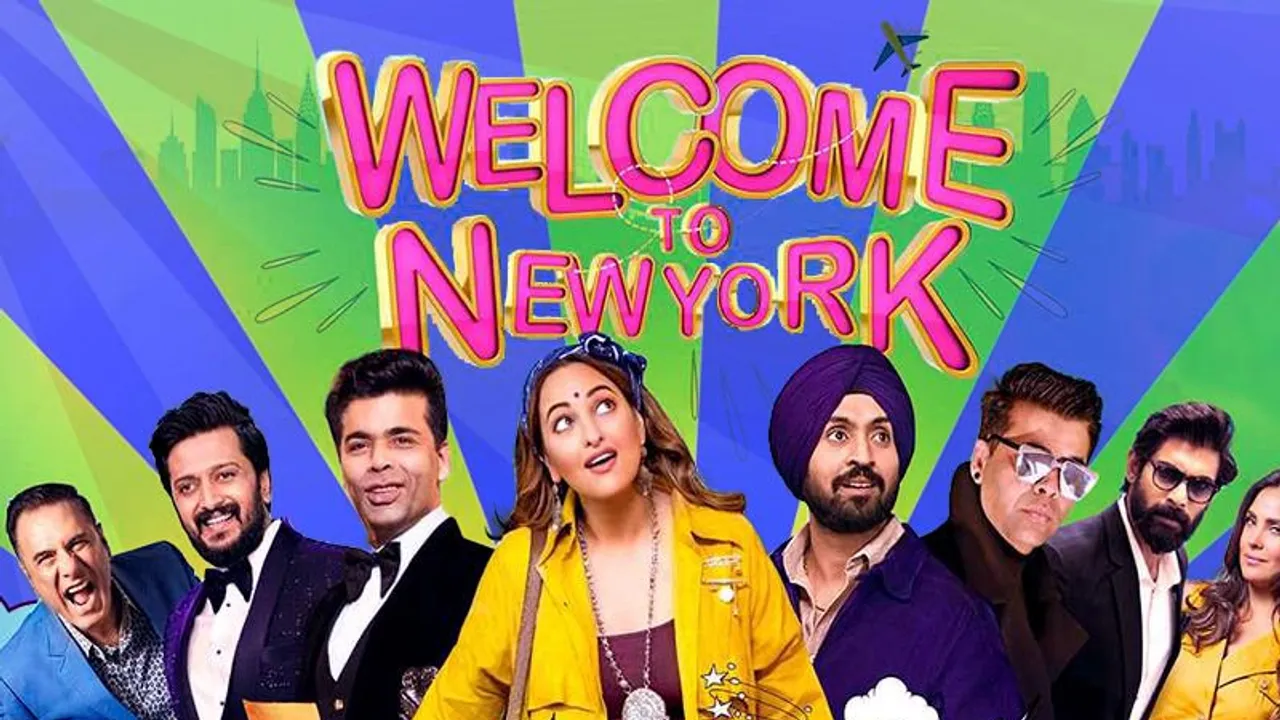 After 'Nain Phisal Gaye' song going hit, Bollywood buffs were eagerly waiting for Welcome To New York. But, disappointment is written all over the Welcome To New York Twitter review.
Today Bollywood has welcomed the big release of 'Welcome To New York'. A supposed comedy in 3D, Karan Johar's acting comeback was awaited eagerly. Welcome To New York Twitter review, however has a different story to say.
Staring Karan Johar, who plays a double role, Punjabi Superstar Daljit Dosanjh, and Sonakshi Sinha, the movie boasts of a power packed cast. While critiques have been lauding Johar's stellar performance, there don't seem to be many fans of the movie among the mango people.
In case you have missed it, watch the trailer here.
According to the review done by Hindustan Times , "There is nothing to extent more than IIFA trailer.  It's not worth wasting your time, money, patience and intelligence on this mind-numbing promotional video."
And Twitter seems to back this thought.
One of the worst of 2018 #WelcomeToNewyork How come @karanjohar said yes to it?

— MrB (@brahmatmajay) February 22, 2018
Its been aprx 35 mins... nd M sorry to all my Followers... Mjhse aur nahi hoga... Mai bhi insaan hu, koi Farishtaa nahi hu.... M leaving... I just can't tolerate this anymore...

Strictly Non Recommendable.....#WelcomeToNewYork

— Rohit Jaiswal (@rohitjswl01) February 23, 2018
Lots of great exprimental cinema has been made in Hollywood but today I have witnessed a worst Bollywood exprimental cinema #WelcomeToNewYork @KRKBoxOffice @karanjohar @YSyal

— Chandrakant Singh (@c_ksingh) February 23, 2018
Very bad fuddu movie... Total waste of tym and money #WelcomeToNewYorkInCinemas

— Shadab (@shadabazmi01) February 23, 2018
I'll be pretty surprised if someone says that #WelcomeToNewYork is a 'good' movie.

— Chirag Khanna (@Chirag5Khanna) February 23, 2018
I love you @sonakshisinha but sorry I have to say that
ur Film #WelcomeToNewYork is one of the bad film in the history of Bollywood. Director have made it to torture audience. 0* to this crap!

— Pallab Shah (@Pallab_RU) February 23, 2018
#WelcomeToNewYork @sonakshisinha is lead and doing comedy in the film!
This line is enough to skip the film.???

— IamABHI (@AAAAABHIJIT) February 23, 2018
There were a few who appreciated the movie though.
It's a full comedy movie. Go watch it in 3D. #WelcomeToNewYorkInCinemas@sonakshisinha @diljitdosanjh @karanjohar @poojafilms @PoojaMusic_ @vashubhagnani pic.twitter.com/ite3vDN0Qq

— Raghuvyas (@Raghuvyas10) February 23, 2018
#WelcomeToNewYorkInCinemas
Awesome news for all the bollywood movie fans!! pic.twitter.com/Knb7wJu6NY

— Komal (@style_icon13) February 23, 2018
#WelcometoNewYork short review

if u want to watch it for a laugh u might not get as much u wished for But take your sarcastic friend along and you'll have a blast. #MovieReview #FridayMotivation@diljitdosanjh I haven't seen your other films but I really loved you in this1

— bingequeen ? (@thr4sam) February 23, 2018
So, are you going to see the movie? Do share you review with us.