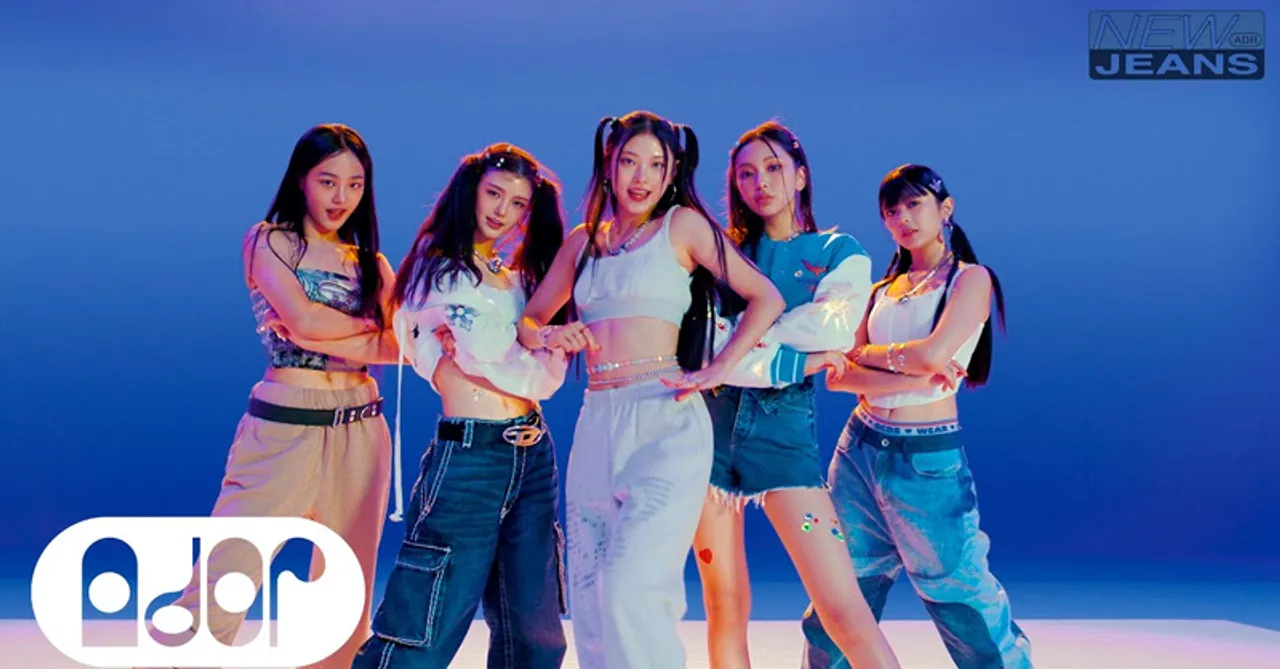 For a K-Pop group that has literally just started out, NewJeans has achieved an immense amount of success that most groups get only after a while in the industry!
NewJeans, which comes from the subsidiary of Hybe - ADOR, unexpectedly became a sensation in the world of K-Pop last year. They released their first single 'Attention' back in July 2022 which instantly gained millions of views. It was shortly followed by their other two singles 'Hype Boy' and 'Cookie' in August 2022. Hype Boy went viral with its hook steps all over Tik Tok and Reels. From actors, social media stars, other famous K-Pop groups to the South Korean president himself, everyone was fully into the vibe of the song and danced to it at various events. It has literally become a trend amongst college students to dance to this song at their graduation ceremony while going on stage to collect their certificates and the videos just kept getting viral. In January 2023, they released their first single album, OMG which also went to get abundant commercial success. Following the footsteps of Hype Boy, OMG also became a viral social media trend where either people re-created the hook step or made edits of their favorite K-Pop idol on the song. It was accompanied by their other popular song 'Ditto' which became the longest running number one song on Circle Digital Charts and also became the group's first entry into the Billboard Hot 100 and the UK singles charts.
The name of the group 'NewJeans' comes from the idea that Jeans will always be a timeless fashion item and the same NewJeans too wants to carve a timeless image for themselves. It's also a word play on the phrase 'new genes' with the group emerging with a new generation of pop music. The group consists of five members, Hanni, Haerin, Hyein, Daniell and Minji, who is also the leader of the group. The oldest is Minji who is 20 years old and the youngest is Hyein who was just 14 when they debuted. We rarely see this kind of success globally for a K-Pop group that has just started out. Within the first year itself, they topped the charts, performed at various music variety shows in Korea and recently performed at Lollapalooza Chicago which is such a big deal as a new artist. 
In April 2023, the group released a new song called 'Zero' in collaboration with Coca Cola to promote Coca Cola Zero Sugar. They also held a completely sold out fan meeting this year called 'Bunnies camp'. On July 1, they released their second EP album 'Get Up' which again had a complete social media takeover with its songs Super Shy,  ETA and Cool With You. The second album had music videos for all the songs which got them collaborations with big companies like Apple and Powerpuff Girls which was also the theme of their second album. 
A major reason why the group is so loved is because of the constant 90s and early 2000s vibe it has in its songs and music videos. Even the way the albums are packaged, the colors and the fonts used all remind us of our childhood. It's bringing back this retro feeling with the current atmosphere of wanting to listen to songs that are easy to catch on without any stress at all. The group has been dominating not just the music industry but it also extends to make up and fashion. At such a young age, the five girls are brand ambassadors for many luxury brands.
Danielle was announced the ambassador for Burberry, while Minji and Hyein are the new faces for Chanel and Louis Vuitton respectively. Hanni struck a deal with major brands such as Gucci and Georgio Armani as well. It's clear that people from all over the world, from all fields, understand the amount of views these girls can generate and help even such big brands sell out their products in minutes.
Min Hee Jin who heads ADOR has helped NewJeans' artistic direction which has reached such heights. It's a company led by a woman with an all girl K-Pop group that's leading this new wave resonating with so many young girls from around the world. The songs are especially loved by women because of the way they describe flirting with your crush, the feeling of first love, confessing your love and many such tropes that make us blush like a teenager all over again. 
With already achieving everything that a rookie K-Pop group could think of in their first year, one can only imagine what kind of journey NewJeans has in store for its fans and how this band is always going to try staying relevant by giving out more new music to its fans to get hooked on to!
For more binge-centric content and reviews, follow us on @socialketchupbinge.