Do you know what break-ups, appraisals, family stress, work stress, and celebrations have in common? Whiskey, that's what. This constant of our lives has made it easier for us to let loose whether its in the classic on the rocks form or as Whiskey cocktails. For all this and more, it definitely deserves more of our attention!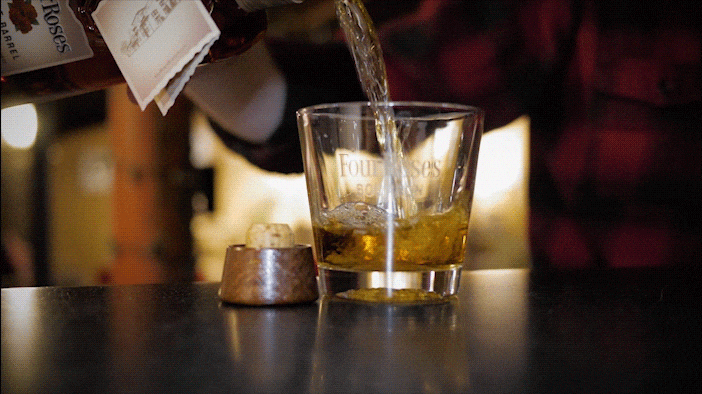 For some reason, whiskey is seen somewhat as a 'serious' drink, isn't it? The one you turn to when you want to mull life over, or a fixture in the offices of big-shot businessmen, or when you think you've hit rock-bottom. But there are so many fun twists and turns that this delectable alcoholic drink can have that you'd soon be relishing and recommending them at parties more than anything else!
We brought you some delicious, easy-to-make whiskey cocktails that will have you forgetting your troubles in no time:
1. Whiskey Sour
Ingredients:
• 60 ml Bourbon
• 22 ml Fresh Lemon Juice
• 15 ml Simple Syrup (just mix equal parts of granulated sugar and water and boil it)
• 15 ml (1/2 part) Egg White
Directions:
• Put ice and all of the ingredients into a shaker and shake hard for about 20 seconds to chill the liquid really well
• Strain the mix into a glass filled with ice
Garnish suggestions:
• Cherry
• Orange slices
2. Classic Manhattan
Ingredients:
• 2 ounces rye whiskey
• 1 ounce sweet vermouth
• 3 dashes angostura bitters
• 2-3 cocktail cherries
• A few drops of syrup from the cocktail cherries optional
Directions:
• Fill a mixing glass or cocktail shaker with ice.
• Add whiskey, sweet vermouth, bitters and cherry syrup (if using).
• Stir for 90 seconds.
• Strain into a martini glass
• Garnish with cherries.
3. Old Fashioned
Ingredients:
• 2 ounces Bourbon
• ¼ ounce Simple Syrup
• 2 dashes Angostura Bitters
• 1 Orange Peel (or lemon)
Directions:
• In a mixing glass or shaker, combine simple syrup, bitters, and bourbon. Fill mixing glass halfway with ice, then stir vigorously about a dozen times.
• Strain the mix into a glass over a giant cube of ice.
• Squeeze orange (or lemon) peel over glass to extract oils, wipe the rim of the glass with the peel and add to the glass.
4. Irish Coffee
Ingredients:
• Glass mug with handle (recommended)
• Hot water
• 6 ounces brewed black coffee
• 2 teaspoons sugar
• 1 ½ ounces Irish Whiskey
• 2 tablespoons heavy cream
Directions:
• Fill the mug with hot water and let stand for 2-3 minutes.
• Empty water from mug and add brewed coffee and stir in sugar.
• Stir in whiskey.
• Place heavy cream in a mixing bowl and whisk until frothy, but pourable. You can also use an electric mixer.
• Hold a spoon upside down over the mug and slowly pour the cream over the spoon, allowing the cream to float on top of the coffee.
5. Fireball Hot Toddy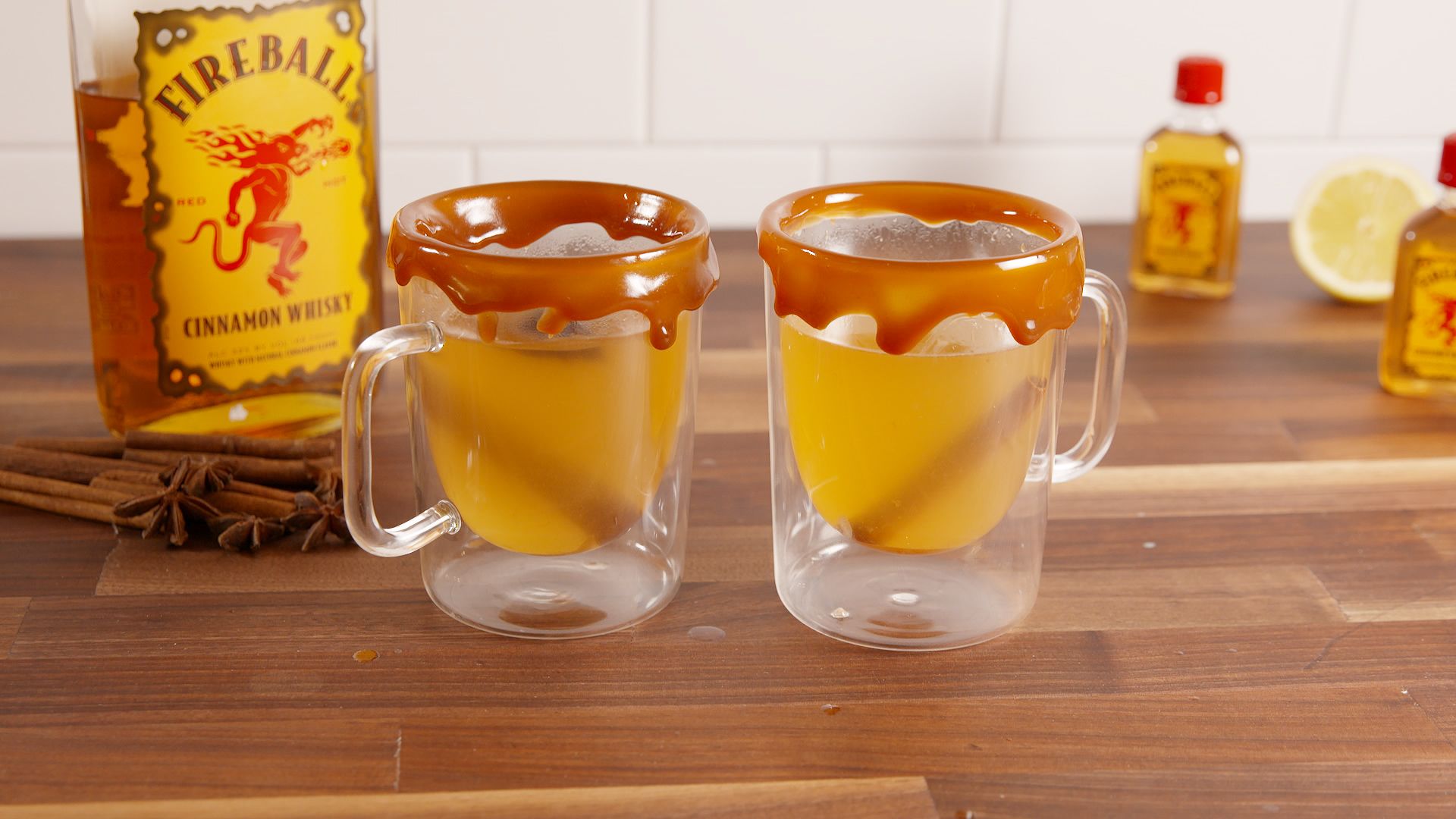 Ingredients:
• 8 ounces hot water
• 2 ounces Fireball Cinnamon Whiskey
• 1/2 tablespoon honey
• 1/2 lemon, juiced
• 1 tea bag (optional)
Directions:
• Add whiskey, hot water, honey, and lemon juice to a large mug and stir. If using a tea bag, steep for 5 minutes before drinking.
6. Apple Pie Whiskey
Ingredients:
• 1 ounce Cinnamon Whiskey
• 1 ounce Vanilla Vodka
• 4 ounce Apple Cider
Directions:
• In a cocktail shaker filled with ice combine the whiskey, vodka, and apple cider.
• Shake for 15 seconds.
• Pour into an iced glass and garnish with a cinnamon stick.
Garnish Suggestions:
• Cinnamon Sticks
7. Boulvardier
Ingredients:
• 1 ½ ounce Whiskey/Bourbon
• 1 ounce Campari
• 1 ounce Sweet Vermouth
Directions:
• Combine all the ingredients in a mixing glass with ice and stir.
• Strain the mix in a glass over ice.
• Garnish with an orange twist.
Garnish Suggestions:
• Orange Peel
8. Tallulah
Ingredients:
• 60 ml Whiskey
• 30 ml Peanut Orgeat
• 60 ml Coca-Cola
Directions:
• Add the whiskey and orgeat into a rocks glass and stir until well-combined.
• Fill with ice and top with the Coca-Cola.
• Garnish with a small handful of salted peanuts.
Garnish Suggestions:
• Salted Peanuts
I don't know about you but I'm going straight home and trying one of these delicious whiskey cocktails and letting my hair down. Who are we kidding? You feel like doing exactly that too, don't you?