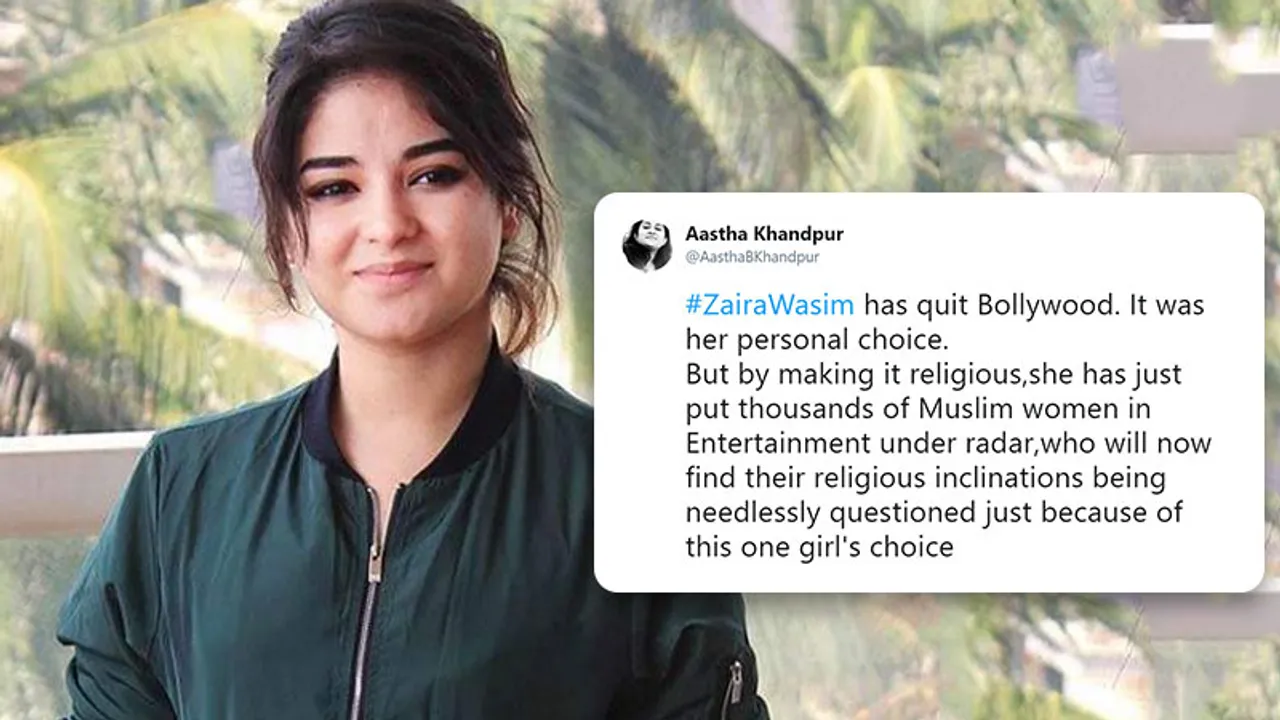 Earlier today, Dangal fame actress Zaira Wasim announced that she would no longer be continuing her career as an actor. The actress said it was interfering with her Islamic faith and religion. She further said that 5 years ago she took a decision that changed her life and now she's taking one that will change it again.
This sudden decision of Zaira Wasim has left everyone in shock, and the netizens took to Twitter to express their opinion on the same. While some are saying that it is a good decision and who are we to comment on her choices; others are of the view that the reasons that she gave are are illogical.
https://www.instagram.com/p/BzUBXYrlsml/
Twiiter has been trending with #ZairaWasim ever since the news came out.
#ZairaWasim 's decision to dissociate with film industry ('because it interferes with her faith') should be understood and respected as much as Nusrat Jahan's Sindoor-Bindi.
That did not make Nusrat immoral as this does not make Zaira more moral.
*Freedom to choose is supreme*

— Arfa Khanum Sherwani (@khanumarfa) June 30, 2019
Dear #ZairaWasim I respect your decision of quitting movies. I don't agree with the reasons that you've given. I think you're an incredible actress and you can do so much more with your career.

I genuinely hope you'd rethink and continue to pursue Acting...

Best wishes!!

— Faridoon Shahryar (@iFaridoon) June 30, 2019
#ZairaWasim is a courageous girl who defied stereotypes & shined through. We must appreciate her courage & stand with her in her moment of crisis @ZairaWasimmm you hv our support . We love you for work you did and your spirit keep it alive. Wish you well and want u to be happy .

— Nagma (@nagma_morarji) June 30, 2019
Who are any of us to question @ZairaWasimmm's choices? It's her life to do with as she pleases. All I will do is wish her well & hope that what ever she does makes her happy.

— Omar Abdullah (@OmarAbdullah) June 30, 2019
Oh My Goosebumps! Bollywood's talented actress Zaria Wasim now wants to quit acting because she thinks her acting career almost destroyed her faith in Allah. What a moronic decision! So many talents in Muslim community are forced to go under the darkness of the burqa.

— taslima nasreen (@taslimanasreen) June 30, 2019
Congratulations #ZairaWasim u have chosen the right path...proud of u Mam..inspiration of many❤ pic.twitter.com/V4FlDloTsJ

— iamJunaid (@InoxentJunaid4) June 30, 2019
#ZairaWasim and #NusratJahan
1 nation , 1 religion and 2 perspectives.
One showed regressiveness of her community ,beliefs n thoughts

And the other, though from the same community, is being praised for living the true Indian spirit without 'Damaging her relationship with Allah' pic.twitter.com/oBGy4XPg58

— Mahendra Singh Rana (@Teramsrana) June 30, 2019
#ZairaWasim: Acting has affected my relation with Allah

Katrina Kaif: pic.twitter.com/OyQUGy6lhd

— Abhi (@DarkKnightEcho) June 30, 2019
So does Zaira Wasim imply what once was a disastrous depiction is now the guiding light for her?? #ZairaWasim pic.twitter.com/xcbtyvsxjK

— Geetika Swami (@SwamiGeetika) June 30, 2019
@ZairaWasimmm #ZairaWasim #DangalWithBollywood
Give her some space and let her follow her own heart. pic.twitter.com/DLWUlC1ewN

— Javid Nisar (@javidnisar_) June 30, 2019
Mufti Ismail Menk @muftimenk had all praises n blessings for #ZairaWasim for saying #Goodbye to #Bollywood industry pic.twitter.com/RHGgDpjWcG

— Touseef Dar (@Touseef_Dar) June 30, 2019
While everyone understands that her career choices are a personal thing, it becomes a point of conversation when religion is brought into it. What are your thoughts on the same?