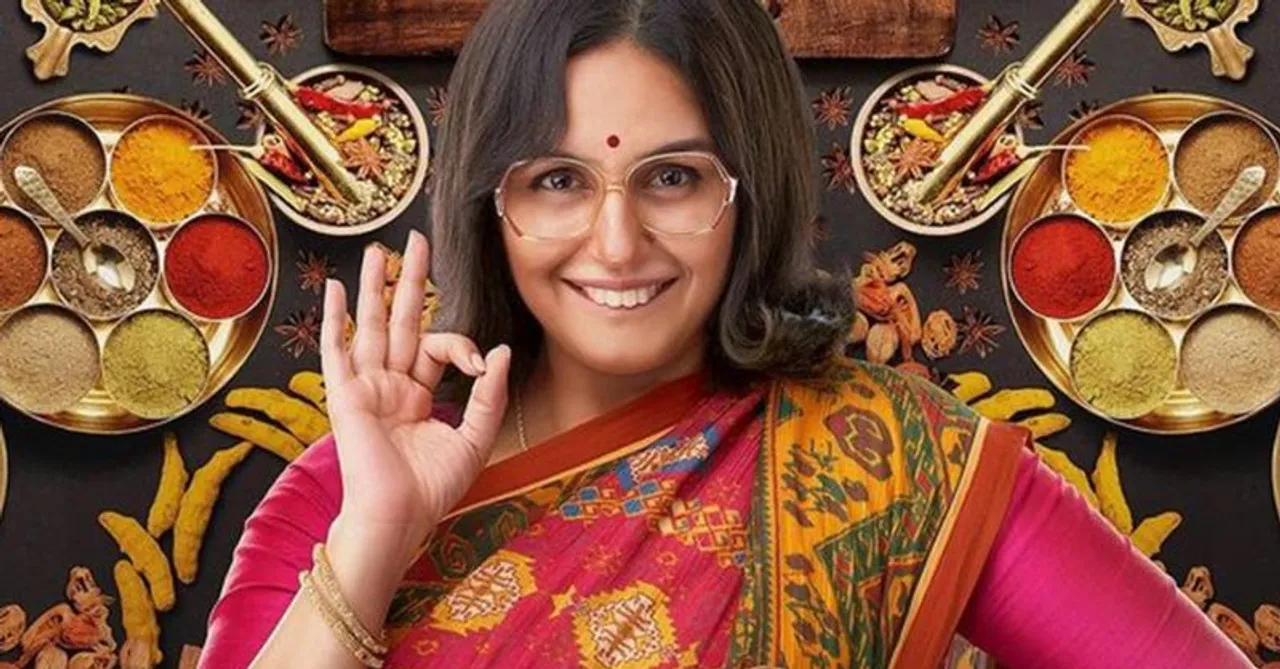 Huma Qureshi and Sharib Hashmi's film Tarla was released on Zee5 on July 7 and it's been the talk of the town since!
Directed by Piyush Gupta, Tarla is based on the life of the late Tarla Dalal and her journey of discovering her life beyond her housewife duties with the help of her husband, played by Sharib Hashmi. The movie explores the transition of a modest housewife, Tarla (Huma Qureshi) to being one of the most celebrated chefs in India, who made everyone fall in love with her vegetarian recipes around the globe. The film also features Bharti Achrekar, Purnendu Bhattacharya and Amarjeet Singh in pivotal roles.
When there's any movie starring Huma Qureshi, it's a given that the Janta is going to compliment her acting skills. Although Tarla felt like a lazy film to the Janta, they're singing praises for Piyush Gupta and the star cast.
Also Read: Bigg Boss OTT, after IPL JioCinema delivers India's next streaming mega-hit!
Here's what the Janta had to say about this one!
Finally got the chance to watch #Tarla a beautiful movie with a beautiful message. Huma you did amazing work @humasqureshi & Sharib ji you were superb @sharibhashmi @ZeeTV #zeetv pic.twitter.com/JqP3u1GcQD

— Apoorva Gupta (@apoorva7april) July 8, 2023
Best actress Huma Qureshi ji's film #Tarla is a very good film in which you have played a very good character, you keep moving forward, I wish you all the best, I would request everyone to watch #Tarla film. 💐👏👌👍😊#TarlaOnZee5 @tarla_dalal @humasqureshi pic.twitter.com/YbxCMS0hwG

— निशान्त कुमार 🇮🇳 (@Nishantkumarbjp) July 7, 2023
Watched #Tarla on @ZEE5India and what a heartwarming treat it was! The directorial debut of Piyush Gupta shows the life of a legendary cooking expert in a nuanced way with subtle understanding of feminism. Loved @humasqureshi and @sharibhashmi. Simple storytelling kept me glued. pic.twitter.com/q1udSOjUc7

— 𝖀𝖕𝖆𝖘𝖔𝖓𝖆 𝕭𝖆𝖓𝖊𝖗𝖏𝖊𝖊 ☀️ (@UpasonaB) July 10, 2023
#Tarla (Zee5 - Hindi) - Neat drama. Huma & Sharib both performed equally well. Has some lags towards the climax, yet ends well. Has shades of Jyothika's Katrin Mozhi.

Good one🤘🏻

Tamil & Telugu Dub available 👍🏻 pic.twitter.com/bMmK9a5s1L

— Kumarey (@Thirpoo) July 9, 2023
Watched #Tarla on #Zee5 ..so subtle and yet such a beautiful movie based on the real-life of the famous chef #TarlaDalal Not at all preachy still one can learn so much from the movie..A perfect movie on #GenderEquality and #Feminism @humasqureshi @sharibhashmi Take a bow 🥰 pic.twitter.com/B32Iryh9oU

— Ruchi Gupta Mankad 🇮🇳 (@iamruchimankad) July 8, 2023
#Tarla review

Easily one of the sweetest movies I have seen in recent times. Tarla movie is the biopic of India's renowned cook Mrs. Tarla Dalal. It showcased her journey from college girl to housewife, and how she discovered her love for cooking. pic.twitter.com/ryjkSk0y39

— J I G A R (@thatfilmymonk) July 9, 2023
#TarlaOnZee5 is a very lazy film. Below mediocre acting all through. Female lead is as expressive as dry paint. No voice modulation, no acting ability, manufactured laborious mannerisms.#tarla #tarladalal #zee5#translation is lazy too. Kheer/खीर is not sweetmeat!#subtitles pic.twitter.com/lRlRF7UZ4j

— ayvidwriting (@ayvidwriting) July 8, 2023
@sharibhashmi as usual mast #Tarla 😇 pic.twitter.com/Lgg68iobt0

— हिमांशु शेखर शर्मा (@TheViolentMonk) July 7, 2023
#Tarla pic.twitter.com/I3wepD6hxj

— Cinematic Quotes (@CinematicWordz) July 7, 2023
Just Watched #Tarla
Now i regret ki ye Film maine apni Maa ke sath kyu nahi dekhi....😇🌸
Amazing Story , Clear Content and Most Importantly A Complete Family Film... @humasqureshi & @sharibhashmi
Nailed Itttt...🔥
Sending special Love straight from a heart 💖 pic.twitter.com/VLPNR60RCr

— Siddhant Mohan (@SiddhantMohan19) July 8, 2023
Have you watched the film yet? Let us know your thoughts in the comments below!
For more entertainment content follow us @socialketchupbinge