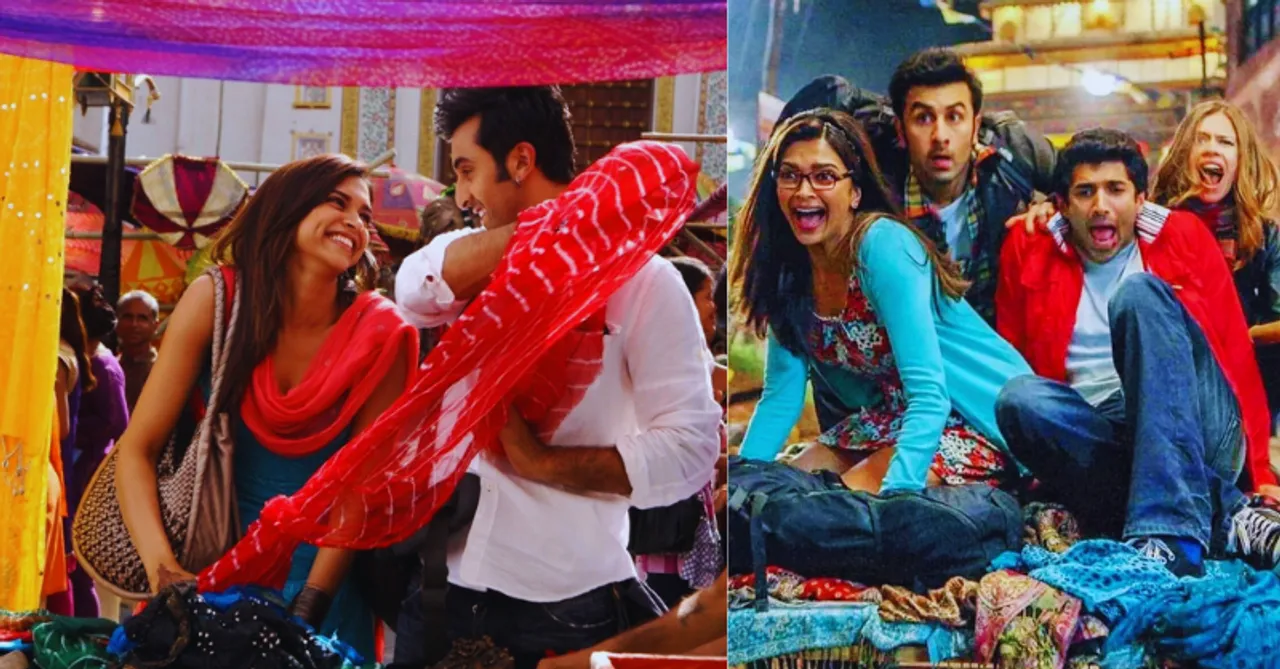 For 10 years of YJHD, here are 10 moments from Yeh Jawaani Hai Deewani that are still as fresh as the day we watched the movie.
It's been 10 years since Ayan Mukerji's film Yeh Jawaani Hai Deewani came out and has stayed forever in our hearts. Every minute of that film is memorable, from the comedy, friendships, romance, and trips to the dance, music, drama, and Aditi's wedding. It was like a letter penned down to growing up in the most Bollywood way possible. Before this film, we couldn't have imagined a film like this and after this, we can't help but want more! That's why even after 10 years, it's hard to choose just 10 moments from Yeh Jawaani Hai Deewani but we've tried nonetheless.
Amongst all the train rides, trip in the mountains, Bunny's adventures, wedding drama, and more, Bunny, Avi, and Aditi grew up with Naina coincidently bumping into them. While there are so many scenes and moments that make YJHD so wholesome, Bunny offering Naina his seat to share, Aditi's unrequited love wrapped in a sandwich for Avi, all of them playing 'never have I ever', the way Bunny and Avi wake Aditi up by performing 'jhumma chumma', Naina's speech for Aditi, Bunny and Naina's budding romance, and so much more. But here are some of those moments that left us with something valuable while being wholesome.
10 moments from Yeh Jawaani Hai Deewani
When Naina sat down with the yearbooks and all her school stuff saying "Kabhi kabhi kuch baatein humare yaadon ke kamre ki itni kidkhiyaan khol deti hai ki hum dang reh jaate hai. Aur yaadein mithai ki dibbe ki tarah hoti hain, ek baar khula to sirf ek tukda nhi khaa paoge". We all felt that nostalgia pouring in from our childhood!
When Bunny and Naina take a trip to the bhoota parvat to make a wish and they drink lugdi while talking where Bunny says, "Main udna chahta hun, daudna chahta hun, girna bhi chahta hun, bas rukna nhi chahta hun". As millennials, we all got a line to say to our parents to defend our needs to follow our passion as ambition!
The entire Bunny and Naina tussle while roaming around Udaipur where they talk about 'bancharepan se ishq' vs how it is like living in one place with loved ones all around. We got the perfect definition of an entire generation stuck between the two mindsets trying to achieve both!
When Aditi explains to Bunny how and why she loves Taran by saying "Kuch logon ke saath bas waqt bitane se sab think ho jata hai". We all understood the true meaning of loving someone!
When Naina and Bunny sit to watch the sunset and Naina says "Jitna bhi try karo, kuch na kuch to chootega hi isliye jahan hai wahin ka maaza lete hai". Also when Bunny says, "kahin paunchane ke liye kahin se nikalna bhot zarori nhi to gile-shiqwaye hone lag jaate hai". We got worthy bits of advice of the century to follow!
Bunny's proposal to Naina with all the "daal chawal till 50 saal till you die" and "beeta waqt hai par karch hum hote issue pehle main karch ho jaun there saath kuch waqt bitana chahta hun", and fake diamond ring, eclairs in the ring box, balloons with cake, and a perfect set backdrop of the new year. The hopeless romantic is us got the perfect realistic yet full of romance proposal!
The entire fighting and chasing sequence in Manali with Naina saving everyone by the end with her intelligence. We got the best laugh without making heroes too heroic.
When Bunny finds Naina studying and motivates her by talking about how cool she is and that "khud pe taras khana band karo aur khud se pyaar karna seekho". We got a word of advice on self-love in its most poetic form!
When Bunny and Avi fight like kids with each other and Aditi comes in to scold them and makes them apologise and hug each other and say "Karan-Arjun gale milo..ek sec main bhi aai". We got to witness a friendship bond that has its ups and down and is yet intact!
When Bunny and Naina walk down the road after 'Balam Pichkari' and have a talk with Avi and Aditi about Bunny's college where Naina holds herself back from confessing her feelings to him and rather motivates him to go since it's his dream. "Vo apne sapne ki piche aise bhaga ki 8 saal nikal gaye, na usne piche mud kar dekha aur na maine uska inteezar kiya". We got that feeling of heartbreaking feeling of unrequited love and what's it like to stop being childish and grow up!
Which moment from the film is your favorite? Tell us in the comments below!
For more such content, follow @socialketchupbinge