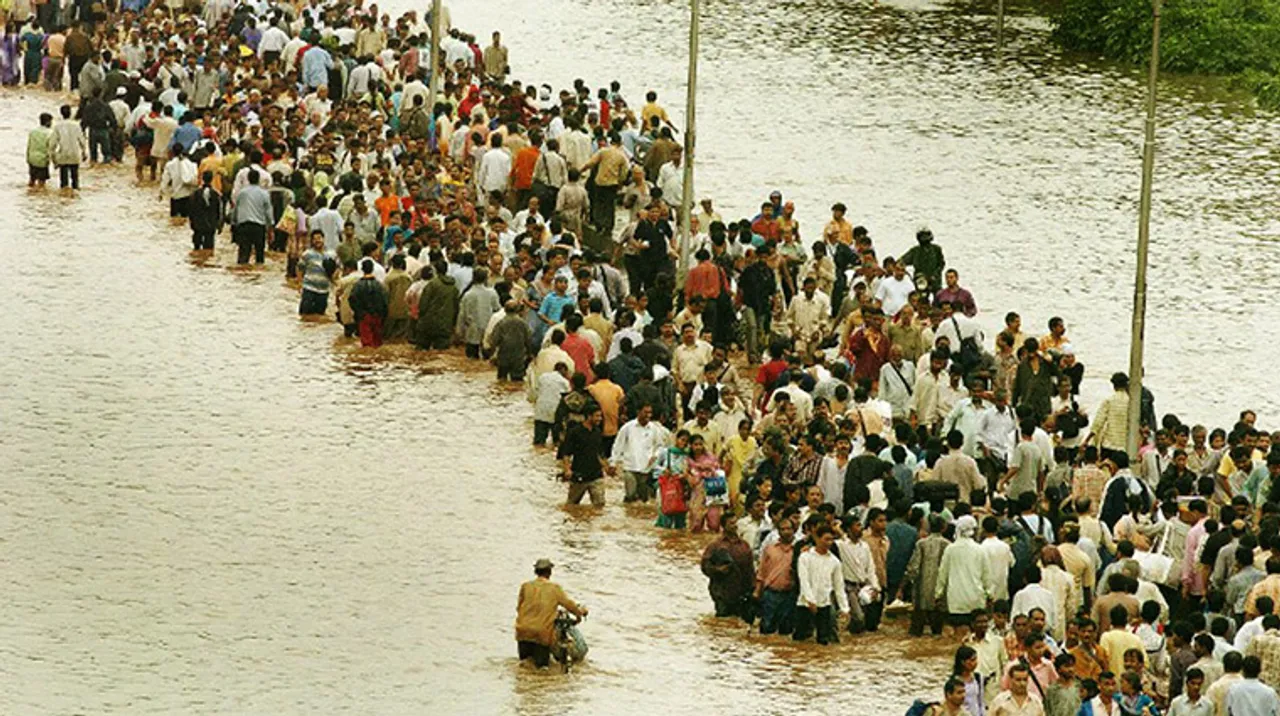 14 years ago today, Mumbai received an unbelievable measure of 944 mm of rainfall. People were stuck across the city for hours at a stretch with no food, electricity, or an alternative to reach homes. It is still dreaded and weirdly, every year since then, Mumbai experiences a heavy rain shower on this day.-
Even today, the unfortunate experiences of 26 July send shivers down Mumbaikars' spines. And even more sad is the fact that over 1000 people did not survive to tell their tales. There were countless people who were badly injured as well.
Even now, when it rains heavily every year on this date, Mumbaikars pray that the history doesn't repeat itself.
Most people who were in Mumbai on 26 July, 2005 have a story they'll never forget.
Mine: 18 hours to get fm Colaba to Andheri, a night spent in a car stuck in water, just a loaf of bread for dinner, several hours wading thru chest-high water. And no #Mumbairains Twitter!

— Ashok Lalla (@ashoklalla) July 26, 2019
Was in office at churchgate that day. Wife at home with 7 month old daughter. No power in entire area. Phone lines dead. Reached back home to dahisar after agonising 28 hours of walk. Was bed ridden for 3 days as a result of this walking. That's a memory permanently etched.

— PURUSHOTTAM D ಪುರುಶೋತ್ತಮ್ (@PD171203) July 26, 2019
40 hours uninterrupted straight shift as concierge head of Grand Hyatt , unlimited stories of despair and human valor, get taught first hand what a real natural disaster aided by reckless system looks like

— manujbahal (@IllusionAgain) July 26, 2019
#26Julymumbai 13 years ago on this day in the year 2005, mumbai made a record of most heavy rainfall 944mm. More than 1000 people died and it's so far the baddest day in the history of the city. But even after 13 years nothing changes, city still face water logging

— Dinesh Sharma (@dks2410) July 26, 2018
#26JulyMumbai received 39.17 inches within 24 hours on 26th July 2005. Unbelievable phenomena. @navgujaratsamay pic.twitter.com/yf2zTmvpYB

— Ritvik Trivedi (@RutvikNGS) July 26, 2016
It is sad that even after that terrifying day, the water logging is still a big problem for the city every year, and no concrete actions are being taken to rectify it.
Mumbai, it is an earnest request on our behalf to stay safe today and during the entire monsoon. We definitely do not want to hear such stories again.