Check out how Adam Sutler, the villain from V for Vendetta became one of the most iconic Hollywood villain characters.
A world ruled by a conservative party and a leader who tries to dictate the people is not a world we want to live in. Such leaders become the villains we never asked for. In movies, these leaders make for strong and fierce characters who add some much-needed depth and drama to the movie. The villain from V for Vendetta, Adam Sutler is an example of such strong character.
Adam Sutler is a fascist leader who belongs to a conservative party and who's motive lies in controlling the city and the lives of its citizens. He is the dictator who runs the country based on his own fundamental rules that make him take drastic and extreme measures when questioned. Adam is not the kind of leader any country would wish for. His ideology supposedly replicates that of real-life dictator Adolf Hitler and it is what makes him a scary fictional character. For the most part of the movie, he appears on a screen and yet the intensity of his eyes manages to terrorize every soul watching the movie. He took a seat as the Prime Minister to restore control in a country where the terrorists, with a bio-weapon, created a viral epidemic that supposedly killed 80,000 people. But with the truth coming out eventually that suggested it was actually his own party that instigated the epidemic is proof enough for his horrifying personality.
The Late Sir John Vincent Hurt aka John Hurt was the one who portrayed the character of Adam onscreen. He is an astounding actor whose acting career spanned for over 50 years. Hurt was regarded as one of Britain's finest actors. Apart from his character portrayals onscreen he is also known for his distinct voice. Some of his voice acting career films such as The Lord of the Rings (1978), The Black Cauldron (1985), The Plague Dogs (1982) and Dogville (2003), as well as BBC TV series Merlin (2008–2012) have been loved by audiences. In 2012, his outstanding contribution to cinema was honoured with the Lifetime Achievement BAFTA Award. He was also knighted in 2015 for his services to drama.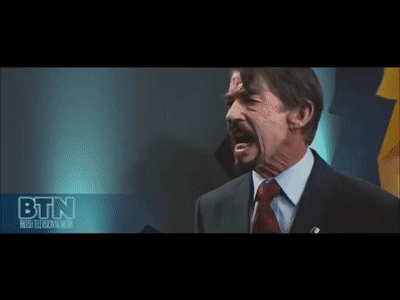 Here are some of the famous dialogues of Adam Sutler:
"I want this country to realize that we stand on the edge of oblivion. I want everyone to remember why they need us!"
"What we need right now is a clear message to the people of this country. This message must be read in every newspaper, heard on every radio, seen on every television. This message must resound throughout the entire InterLink! I want this country to realize that we stand on the edge of oblivion. I want every man, woman and child to understand how close we are to chaos. I WANT EVERYONE TO REMEMBER WHY THEY NEED US!!!"
"Gentlemen, I want this terrorist found… and I want him to understand what *terror* really means."
"If he does, and something happens to that building, the only thing that will change, the only difference that it will make, is that tomorrow morning, instead of a newspaper, I will be reading Mr Creedy's resignation!"
"Every day, gentlemen. Every day that brings us closer to November. Every day that man remains free is one more failure. 347 days, gentlemen. 347 failures!"
"Spare us your professional annotations, Mr Finch. They are irrelevant."