Check out how the character Amy Dunne from the movie Gone Girl manage become one of the iconic antihero characters.
A beautiful charming face, so innocent and loving that people hardly notice the evil that is residing behind that face. Can there be anything more terrifying than this? Evil being showed is, in fact, less scary than the one that is manipulated to look as good. While in earlier cinemas we had a clear image of what an antagonist looks like, this image has changed over the years. David Fincher gave us one such complicated character with Amy Dunne from the movie Gone Girl.
Anyone who has watched Gone Girl would agree on how they went from feeling sorry for Amy to completely hating her. Although her actions may seem justifiable at some point most of the time we could feel us wanting to not believe in it. By the end of the movie, we have this grudging hate for her that we can feel to our bones. That is what makes any antihero memorable. Amy Dunne is not the perfect lovable girl-next-door, she is not what her parents wanted her to be, the "Amazing Amy", she is a lot more. Her love and hate for Nick Dunne (her husband) played by Ben Affleck, is both heartfelt and scary. As the movie begins with a beautiful shot of him stroking her hair and asking "what are you thinking? how are you feeling? what have we done to each other?" we definitely had no idea of what was to come.
She pretended to be everything, the perfect girl for her parents and the 'cool girl' that her husband loved. But it is when she took that image down when things got ugly. Amy had the audiences stuck in a weird place where they wanted to love her but her deeds just won't let them. She got us all by the gut and ruled the screen with her antihero tactics. Her perfectly laid plan over the course of time just proves how smart and intelligent she is. She is ready to put everything at stake to make her husband pay for being ignorant and for cheating on her. Maybe she is not the strong female role model we all needed, but Amy is that ruthless character that broke female stereotypes in movies. She showed us a more vast and interesting spectrum of women and how far they can go if pushed hard.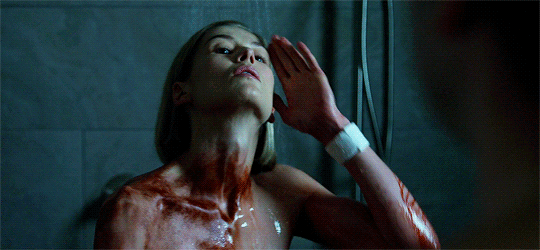 Rosamund Pike the actress who played Amy Dunne did an exceptional job bringing the character to life. The movie is an adaptation of the book by the same name. She began her acting career by appearing in the stage production of Romeo and Juliet and Skylight. And she made her movie debuted with the movie Die Another Day in 2002. She has been part of many movies and television shows throughout her career. Her role as Amy got her critical acclamation winning her the Saturn Award for Best Actress and receiving a nomination for the Academy Award for Best Actress.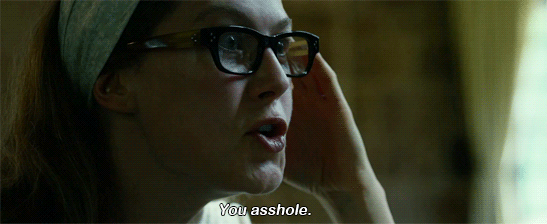 Here are some of the dialogues by Amy Dunne:
"Men always use that. Don't they? She is a cool girl"
"I've killed for you. Who else can say that?"
"When two people love each other and they can't make that work, that's the real tragedy."
"Nick Dunne took my pride and my dignity and my hope and my money. He took and took from me until I no longer existed. That's murder."
"Want to test your marriage for weak spots? Add one recession, subtract two jobs. It's surprisingly effective."
"I'm so much happier now that I'm dead."
"For Valentine's Day, I thought I'd buy a gun."