Made up of intelligence, cunning behaviour, manipulation and execution John Doe was every bit of what a hauntingly scary villain looks like. Take a look.
Villains are about fear and disgust. While drug kingpin and mafia dons will be our favourite kind of villains, there is always a special place for villains who perform crimes out of their psychotic thinking. There is a different level of fear that we experience when we see such beings on-screen who are not after money but enjoy the process of killing people. John Doe from the 1995 David Fincher movie Se7en belongs to this type of scary villains.
It is always fascinating and interesting to see someone so involved in stories that belong to our ancient mythology that they start believing them to be a part of it. We all have heard of sins and immorality in the ancient scripts but only heard it as stories. John, however, found himself to be 'chosen' to put an end to these. He belongs to the group of evil men who get engrossed in the stories they hear and think they are making things right according to stories they heard. Therefore he sets his path and goes on a killing spree who is obsessed with the Seven Deadly Sins. Him scrapping of his fingertips to renounce his identity and torturing his victims shows how insane and sick he is. And him believing that those crimes were his works and there is no wrong in taking pleasure in it only adds up to his wretch personality.
John Doe was portrayed by Kevin Spacey, the academy award actor who has given us some very notable characters throughout his career. Kevin is an American actor who began his career as a stage actor and went on to play some significant supporting characters in his career. His performances have been duly recognised and appreciated by critics with the number of awards and recognition in his name. Working in different genres from comedy-drama, thriller, sci-fi etc he has proved his versatility. And John Doe will always remain to be one of his best performances giving us one of the greatest villains of all times.
There is also a Se7en comic series that discusses and takes us through the whole life of John Doe. The series explains why John turned out this way and how he ended up believing that he is the chosen one to try and stop all the seven deadly sins. It is written by Mike Kalvoda.
For the movie, the role was first offered to former Batman star Val Kilmer and R.E.M.'s Michael Stipe who declined the same. The actor who plays the police captain R. Lee Ermey had earlier auditioned for the role but after it was offered to Kevin be ended up playing the part of the caption instead.
Here are some of the iconic dialogues by John Doe:
"Become vengeance, David… become Wrath"
"Wanting people to listen, you can't just tap them on the shoulder anymore. You have to hit them with a sledgehammer, and then you'll notice you've got their strict attention."
"What sick ridiculous puppets we are / and what gross little stage we dance on / What fun we have dancing and fucking / Not a care in the world / Not knowing that we are nothing / We are not what was intended."
"It's more comfortable for you to label me as insane"
"Detective Mills…Detective Mills…DETECTIVE! I believe you're looking for me."
"I don't expect you to accept it but I didn't choose; I was chosen."
"I'm setting an example. And what I have done is gonna be puzzled over and studied and followed. Forever."
"Don't ask me to pity those people. I don't mourn them any more than I do the thousands that died at Sodom and Gomorrah."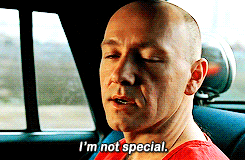 Seriously, our hearts still pound at the thought of his crimes.