Here's how one of Hollywood's scariest villains, John Ryder, made us fear highway rides and made it to our iconic villains' list.
No matter how old you are, one always finds highways scary and spooky. The long drive and the empty roads only add up to all the ghost stories we heard from our cousins. But guess who else contributed to instill this fear of highways in us? None other than John Ryder from the 1986 movie The Hitcher. The blue-eyed villain who got us petrified of taking the highways growing up.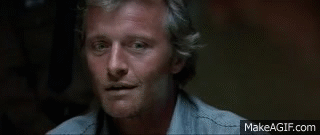 John Ryder is a psychopathic killer whose killing spree takes him on a ride to torturing a young man who happens to give him a lift. Ryder has no back story. All the questions as to where he is from? who is he? what he wants? etc remain unanswered until the end. But as the movie moves forward, the quest to know about him vanishes and we are only left with the fear and the need to escape from this psychotic killer. He is less of a human and more of a ghost with blood and flesh who comes out of nowhere bringing with him, horror and fright (Not to forget the 'guns'). It's impossible to hold one's sweat and anxiety every time he is on-screen smiling from inside the car window.
This scary character was portrayed by Rutger Hauer. He is a Hollywood actor who has contributed to the field of entertainment with his vivacious looks and startling performances. He has been part of movies with strong characters that are loved and admired by the people. Rutger found his fame with the sci-fi movie Bladder Runner. Batty become one of his most influential role that was largely loved by the audiences. He has also been part of movies like Batman Begins as Cardinal Roark, True Blood, Dracula 3D, Salem's Lot and many such movies. His stellar performances always left a mark on the audiences and movie fanatics. Apart from being in movies, Rutger was also an environmentalist who made sure to give his best back to society. Unfortunately, he passed away in 2017 due to an illness.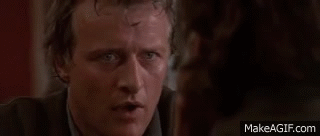 Rutger's role as John Ryder is said to have been heavily inspired and based on the famous and rather eerie The Doors' song 'Riders on the Storm' as per the film's writer. And considering all the crazy stuff that he does in the movie and the way he behaves, the song is an apt representation of his killer persona.
Here are some of the dialogues by John Ryder that spooked us:
"Don't worry about it… I wouldn't pick me up either"
"Strangers think I'm trustworthy"
"I want you to say four little words: I… Want… To… Die"
"He couldn't have walked very far. Because I cut off his legs… and his arms… and his head… and I'm going to do the same to you."
"I want you to stop me."
"You wanna know what happens to an eyeball when it gets punctured? Do you got any idea how much blood jets out of a guy's neck when his throat's been slit?"
Ryder clearly made our highway rides scarier, what about yours?