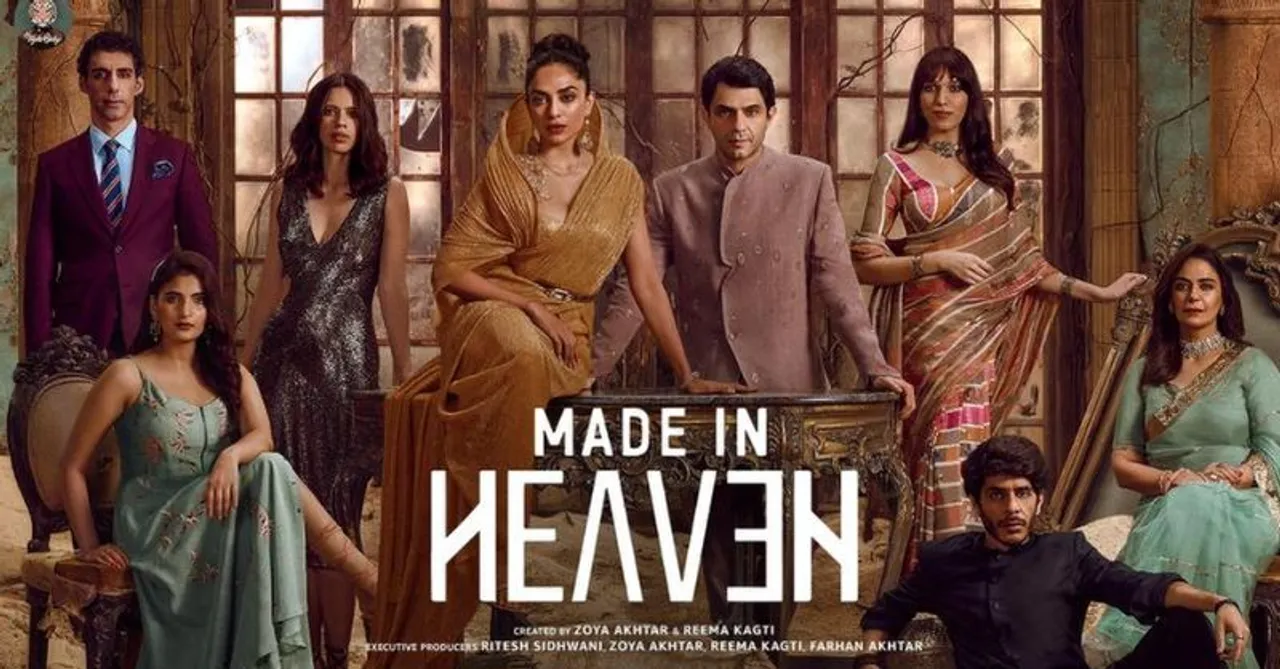 Made in Heaven season 2 premiered on Amazon Prime Video on August 10 and the Janta seems to be conflicted with their feelings!
Made in Heaven is back with its second instalment on Amazon Prime Video and it's all the Janta can talk about! MIH revolves around the lives of two wedding planners, Tara (Sobhita Dhulipala) and Karan (Arjun Mathur), who deal with the complexities of their personal and professional lives. This season also features several guest stars such as Mrunal Thakur, Radhika Apte, Shibani Dandekar, Dia Mirza, Sameer Soni, and Sanjay Kapoor. Made in Heaven season 2 picks up where it left off where Tara and Karan face financial challenges, a depleted client roster, and a crumbling bungalow for an office. They have to adapt to a new uncomfortable status quo and deal with the consequences of their actions from the previous season.
While some found the show rather slow paced, Mona Singh appeared to be a great addition to the show and watching a Buddhist wedding in a big budget OTT show made them happy!
Also Read: Prepare for season 2 with this nostalgic Made in Heaven recap
Here's what the Janta had to share!
Mrunal Thakur as usual is looking so pretty and Siddharth Karnick never fails to slay. I'm liking the casting more this time.#MadeInHeaven #MadeInHeavenOnPrime

— Lucky (@luckylyitsme) August 10, 2023
Damn, Man #MadeInHeavenS2 #MadeInHeaven2 is such a #slowburn can't even complete the 1st #episode , does anyone felt the same ???#MadeInHeavenOnPrime #madeinheaven #mih #zoyaakhtar

— Harshit Jaiswal (@jordanjaizbabby) August 10, 2023
It took 1 episode to make me fall in love with season 1 and 2 episodes of #MadeInHeavenS2 to realize that @ZoyaAkhtarOff has lost her magic it seems. #MadeInHeavenOnPrime #MadeInHeaven I still have 5 more episodes left of S2 let's c.

— an idealist. (@mividaesperanza) August 9, 2023
Zoya Akhtar's characters are people you meet on a regular basis. The nuances are wildddddd #MadeInHeaven #MadeInHeavenOnPrime #MadeInHeavenS2

— Dr. Mishika Khithani (@MishikaKhithani) August 9, 2023
I can't recall watching such a beautiful Buddhist wedding on screen.
Thank you @ghaywan sir@MadeInHeavenTv @kagtireema #MadeInHeavenOnPrime S2 pic.twitter.com/vbWu4CeY7d

— Manorath Phalke (@PhalkeManorath) August 9, 2023
Mona Singh is absolutely " Made in Heaven " for #MadeInHeavenS2 .
A perfect blend of Cold , Warm and Smart Auditor that captures the Delhi Woman Vibe so well!
SHE'S THE ONLY CHARACTER THAT STANDS out so far till 4 episodes.❣️

#MadeInHeavenOnPrime pic.twitter.com/tA06QWaGqs

— Rachit Vaishnav (@Ommkapooor) August 9, 2023
Just finished watching @MadeInHeavenTv and omg everyone was sooo goood. Loved the more focused storyline on characters but missed the wedding magic of last season. Also @monasingh was such a great addition #MadeInHeavenOnPrime @zoyaakhtarFC @FarOutAkhtar #reemakagti

— mr (@christiandoodle) August 10, 2023
Does Adil have any proof of what Tara did and told him?

None of it is relevant in court if the matter goes there. #MadeInHeavenOnPrime

— Arjun Singh 🇺🇦 (@arjun_singh111) August 10, 2023
I really hope Adil and Faiza don't end up staying together either. #MadeInHeavenOnPrime pic.twitter.com/N4bILVL4hJ

— Arjun Singh 🇺🇦 (@arjun_singh111) August 10, 2023
Completed 7 hrs of made in heaven in 3 hrs
All thanks to neet prep 🥶#MadeInHeavenOnPrime is gorgeous

— Bhupal (@drbhupalkola) August 10, 2023
Season 2 of #MadeInHeavenOnPrime is KILLING it.
Probably the first mainstream big budget OTT show to show an Ambedkarite Buddhist wedding.
Each episode is such a reality slap 👋 pic.twitter.com/SBPRDynZiR

— Ekta Chauhan (@ekta2993) August 10, 2023
#MadeInHeavenOnPrime season 2 episode 1 was meh. Hopefully it gets better

— Pavan's Labyrinth (@BardOfBread) August 10, 2023
Did you watch the show yet? Let us know your thoughts in the comments below!
For more binge-centric content, follow us @socialketchupbinge.