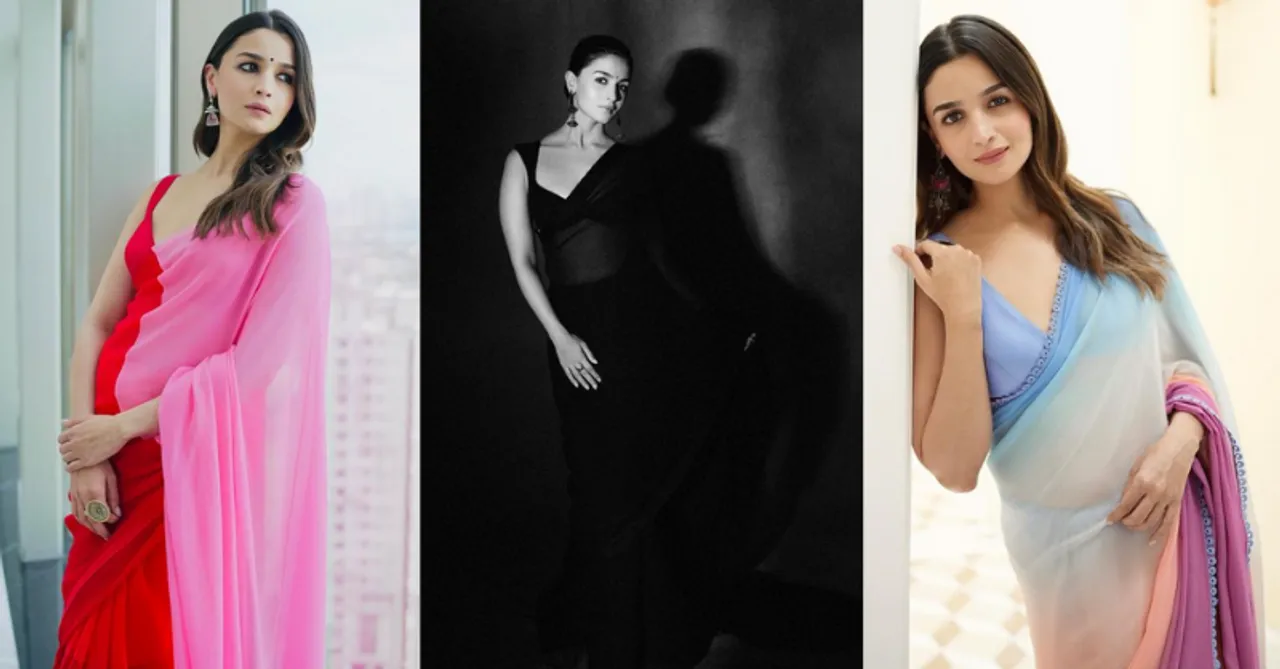 'What Jhumka', the RARKPK trailer and other songs from the film are proof that Alia Bhatt's saree looks bring out something beautiful in her.
Alia Bhatt has made a special place in all our hearts by not only being a talented and versatile actress with her stellar performances but also by being her unapologetic and unabashed self! Whether it is burping or forgetting the president's name on the couch of Koffee With Karan, saying the absurdist thing in press conferences, being confused or zoned out, sharing her beauty secrets or those behind-the-scenes, she makes it rather easy for us to stand up for ourselves because we watch a mainstream Bollywood actress do the same. Similarly, reflective of her personality with her effortless style and youthful charm, she has managed to set trends and create a unique fashion statement. But among her many diverse fashion choices, Alia Bhatt's saree looks are what we can't have enough of.
Here's how she does it!
Simplicity is elegance!
Bhatt clearly understands that less is often more because it is her forte to make a statement with minimalism and she makes a strong impression with understated elegance! She has a knack for showcasing beauty with simplicity. Whether she chooses to wear a traditional cotton saree in earthy shades or a plain silk saree with a delicate border emphasising the timeless charm of simplicity.
Playful vibrant colors and patterns!
Another aspect that she also embraces full-heartedly is vibrant colours and playful patterns ranging from bold colourful blasts, lively floral prints to unique geometric designs. With this, Alia's saree game is a visual delight for everyone and proves that sarees need not be restricted to monotonous hues but rather a canvas painted over with creative expression.
Experimenting with fabrics!
Just like her films, Alia isn't afraid to experiment with different fabrics, which adds a certain depth to her saree looks. Her willingness to explore various textures and materials demonstrates versatility and a keen eye for fabric choices that keep her looks fresh and exciting. She effortlessly transitions from one to another whether it is dazzling in breezy chiffon sarees or adorning regal silk drapes.
The perfect blend of traditional and contemporary elements!
Alia knows how to celebrate the rich heritage of Indian textiles and has embraced this traditional Indian attire with grace, panache, and a modern touch craftily blending old with new! Whether it's pairing a traditional Banarasi saree with a trendy crop top or donning a fusion saree with a modern twist. Proving that sarees are not just for special occasions but can be effortlessly incorporated into everyday fashion as well!
Accessorising but with finesse!
Her saree looks wouldn't be the same without the perfect accessories that she wears to highlight her overall look without letting it take the spotlight away from the saree. Often, she strikes the right balance by using statement jewellery to complement her outfits without overwhelming them from oxidised silver pieces to delicate gold accents.
Apart from her everyday saree looks, Alia has also set bridal fashion goals for many girls out there! With her ethereal bridal saree avatars whether it's her on-screen bridal looks or her very own real-life wedding, she has shown us that this quintessential Indian attire can be incredibly versatile and stylish. It exudes grace, charm, and elegance with a little bit of playfulness and magic! Her effortless ability to carry off these no-fuss looks displays her innate and impeccable fashion sense time and again. And has turned her into a trendsetter where minimalism is the key and sarees are something that you can wear anytime anywhere!
I can't wait to see her draped in all Manish Malhotra's sarees in Rocky Aur Rani Ki Prem Kahaani! What about you?
For more binge-centric content and reviews, follow us on @socialketchupbinge.