If you're a FRIENDS fan, you've definitely dreamt of sipping coffee with the cast at Central Perk at least once. Wait, you know what? This can happen for real now! Thanks to the All In Challenge 
The COVID-19 outbreak has challenged many individuals into poor living conditions and left them with no food to eat. Superstars around the globe have considered helping the poor souls with the help of social media. Some of them are providing food, shelter and other basic commodities while others are raising money through hosting web events Like the other celebrities who have announced events for raising money and donating to those who are worse affected by the pandemic, we have FRIENDS cast as well. Participate in the All In Challenge to donate for a cause and you might be the extra friend they're looking for.
YOU might just be the FRIEND they are looking for..
The actors have shared posts asking their fans to donate for a cause and here, you can get a chance to be invited to the Friends reunion episode! How amazing is that?! Just imagine, you and your five other buddies with your dream cast crew, you might never want a pinch to come back to reality.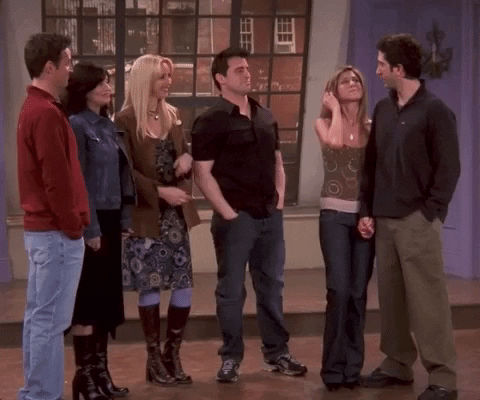 Take a look:
Here are other celebrities who have accepted the All In Challenge:
Madonna
I've accepted the #ALLINCHALLENGE and I'm all in to raise money for the millions in need right now – our most vulnerable communities who are experiencing food insecurity children out of school and individuals who have lost their jobs. 100% of proceeds… https://t.co/viFqNk3iHD pic.twitter.com/q8Vv6UhjHt

— Madonna (@Madonna) April 18, 2020
Ariana Grande
what queen @madonna says goes ?? thank u for nominating me & i am so excited to be participating in the #allinchallenge. 100% of proceeds go to four amazing organizations that i personally love and have been supporting: https://t.co/cu8z2v2H2e

i nominate queen @mariahcarey!

— Ariana Grande (@ArianaGrande) April 23, 2020
Drake
Drake joins the #ALLINCHALLENGE
pic.twitter.com/S6rwiU4gus

— Drake Direct (@DrakeDirect_) April 17, 2020
Ellen DeGeneres
Someone reading this is going to co-host my show with me, and all it takes is $25! Let's feed America. Are you All In? #AllInChallenge #AmericasFoodFund https://t.co/1JRDwl9wCM

— Ellen DeGeneres (@TheEllenShow) April 23, 2020
….and the list continues.
We hope you win your chance to be at Central Perk. Good Luck!