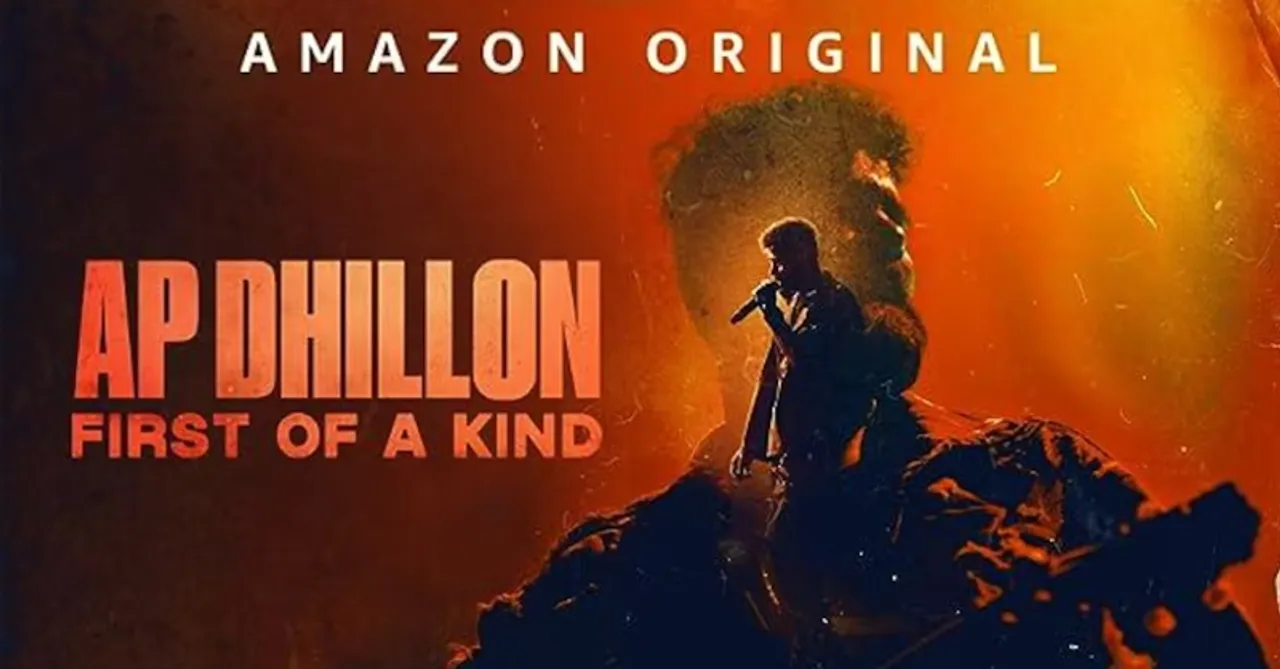 AP Dhillon: First of a Kind delves into the man behind all the fame, the pressure to always create the best music and his anxieties with putting on a show while dealing with death threats.
If you haven't listened to an AP Dhillon song yet, you're probably living under a rock. His music has captivated an entire generation that resonates with the way he describes heartbreak and love. Be it a long drive, a party, a club or of course a concert, his songs fit every occasion and mood. AP Dhillon: First of a Kind, a four part docu-series, helps understand how he became who he is today. A Punjabi munda born and raised in Gurdaspur leaves for Canada in 2015 and starts making independent music with a bunch of his Punjabi friends that he found there. They didn't expect a dream that started from a small garage, to sell out major arenas in the North American continent a few years down the line. 
AP Dhillon or the name he'll always be known in Punjab by, Amrit, was always interested in music. In college fests, on literally any occasion, he left no chance to sing on stage. The decision for him to move to Canada was made by his father. He felt so out of place when he first went there but he wanted to stay there until he could make some sense out of it. He met Shinda Kahlon, Gurinder Gill, Gminxr and together they formed Run Up Records. They spent most of their initial years making music on YouTube. They were kind of forced to go independent as no label wanted to work with them. They released their first song Fake in 2020 which got ten thousand views in no time. After that they just kept releasing song after song until they made a genre of their own and carved a niche for themselves. But then came Brown Munde that became a huge part of pop culture and that's when they really took off. Brown Munde was created with the idea of appreciating how Brown people really make ends meet there by grinding day and night. It's to put desi culture and Punjabi music on the map. The music video was shot in a day by pulling in resources from every Punjabi friend they knew. And the song went on to become a part of playlists from around the world. 
They knew they were hitting a chord with the NRIs but when their music started getting popular in India and Pakistan, that's when they knew they'd made it. But there's the good, bad and the ugly side of fame. On one hand you receive all the love you could possibly imagine but on the other end you also receive an endless amount of death threats. AP's phone number getting leaked, people following his car, standing outside the hotel he is living in. It's a scary world and while he tries his best to be the AP Dhillon people want him to be, he simply cannot help but want to be away from the spotlight once he is off the stage. The docu-series also addresses how Sidhu Moosewala's brutal murder impacted AP and how he wishes to honor his legacy further. 
AP is still Amrit on the inside though. That's always how he is when he talks to his father or when he visits his family back home. When he first came to Canada, of course there was a language barrier, but after 7 years in Vancouver, you can see that he tries his best to pick up the slangs from there and talk like them. While Vancouver is home to him now, when you see him, you cannot help but feel that you can take a man out of Punjab but not Punjab out of him. Ever. And that's also the secret to his success. He takes all these western arrangements but sings in that desi rustic voice and that's the voice people are intoxicated over. 
The final two episodes of the docu-series lead up to the three main shows that meant a lot to him. The Rogers Arena show in Vancouver, The Scotiabank Arena show in Toronto, and Lollapalooza India. Each of them holds a special significance. It meant a lot because he was playing at the same place as some of his favorite artists like Jay Z, Drake and Billie Ellish had performed in the past. AP overlooks every single detail of the show from the production, visualizer, sound, and even the merch. He wants to put out the best show possible. Rarely do we see artists make decisions about such technical parts of the concert. But with Herman and Kevin- his managers, the three of them do face a lot of hiccups together while making this tour happen. They may look big on the outside but given that AP still looks into most of the stuff himself, they clearly lack the manpower and backing that an artist like him deserves. He does snap and can sound dominating at times when he wants to get his work done and the docu series does not shy away from showing that side of him as well. 
The best part of the docu-series though is its duration. It's just 30 minutes each episode which keeps it crisp and concise without making you feel they are leaving something out. The series pulls you into the larger than life world of a pop star who has 5 billion streams and fans screaming for him when he comes on stage. The show is fast paced just like his life and it highlights how the stakes are always high for him. Having said that, it is easy to recognise the fact that this is for his PR at the end of the day. It's packaged like giving us an insight into his life and that would be great as a fan but the goal is to really just make you want to listen to his songs on loop and we aren't complaining about that either.
AP Dhillon: First of a Kind is currently streaming on Prime Video!
For more reviews, follow us on @socialketchupbinge