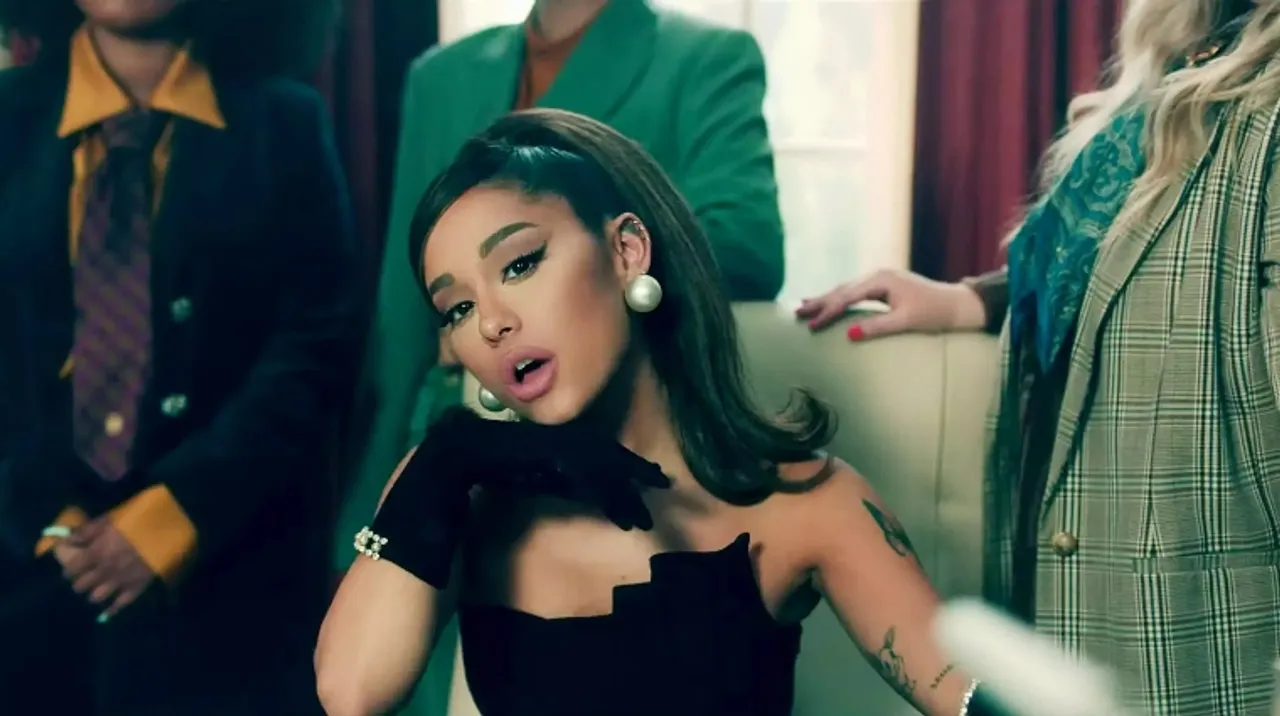 Take a look at how Twitterati reacted to International singer and producer Ariana Grande's new song Positions.
International artists Ariana Grande released her new single Positions from her upcoming album and it has the fans go crazy. The new video is everything we wanted and fans can't stop praising her. In the lead single, Ariana is seen as the President, holding press conferences, mulling over decisions in the Oval Office, walking her dogs on the White House grounds, and more. She can also be seen putting a medal on a USPS worker in one of the scenes.
The music video is directed by Dave Meyers, who also directed her hit song God Is A Woman and it shows Ariana in a powerful position being a badass boss. Her new album will be out on October 30th. Ariana who had a powerful start in 2020, received nominated for five awards at the 62nd Annual Grammy Awards. Ariana also performed "7 rings" and "thank u, next" at the ceremony. Grande featured on two major singles in May alongside Justin Bieber in "Stuck with U" and with Lady Gaga for "Rain on Me". Grande and Gaga performed their collaboration at the 2020 MTV Video Music Awards. Her next album is one of the most anticipated ones of 2020.
Here's how Twitter reacted to Positions:
SWITCHING THE POSITIONS FOR YOU COOKING IN THE KITCHEN AND IM IN THE BEDROOM IM IN THE OLYMPICS WAY IM JUMPING THROUGH HOOPS KNOW MY LOVE INFINITE NOTHING I WOULDNT DO THAT WONT DO, SWITCHING FOR YOU #POSITIONS @ArianaGrande pic.twitter.com/VEYlB1flZN

— shell sea 🐚🌊 (@prvtstage) October 23, 2020
Ariana Grande using her platform and all her media power to give a political message to her audience is all we needed, she again showed why she is the leader of this next generation.
- TIME. #POSITIONS pic.twitter.com/fcf5NBKZEu

— deiver AG6 IS COMING (@_honeyariana) October 23, 2020
THE POWER. #POSITIONS by @ArianaGrande 💚🥺🤍
/music video poster
made by me pic.twitter.com/41gxkMftjT

— stacey (@liampainnnn) October 23, 2020
Can we all appreciate Dave Meyers and Ariana Grande for serving us two of the most empowering MVs of all ✨#positions pic.twitter.com/ejNgjXf1qV

— sheryl is streaming positions ❀ (@breakablerep) October 23, 2020
ARIANA GRANDE - POSITIONS ☄️

Felt like makin a quick Fortnite skin concept / art piece for Ariana's new single "Positions". This was rlly fun to make and I LOVE the song so much!! She's boutta save 2020

(also hi ari if ur seeing this pls follow me ily)#POSITIONS #Fortnite pic.twitter.com/iqkgbz39y9

— D3NNI ✨ (@D3NNI_yt) October 23, 2020
ariana pack ☁️
rt/ask if you want
must be following — a#positions #positionstonight #ag6 pic.twitter.com/KmcGG2rvDA

— 𝐀𝐫𝐢𝐚𝐧𝐚 𝐥𝐨𝐜𝐤𝐬𝐜𝐫𝐞𝐞𝐧𝐬 ❀ (@lovarianalov) October 23, 2020
2020 is ariana grande's year. #POSITIONS pic.twitter.com/WZQ6O552Gl

— katie ❀ // positions tonight !! (@ntltcswift) October 23, 2020
she was definitely paying tribute to them #POSITIONS @ArianaGrande pic.twitter.com/I60mJ69zj5

— victoria ♡︎ 𝐩𝐨𝐬𝐢𝐭𝐢𝐨𝐧𝐬 𑁍 (@xsometimess) October 23, 2020
that's MY president #POSITIONS @ArianaGrande 🖤 pic.twitter.com/r5YY5oivKm

— 🌈 not so tiny elephant❀ (@dwtarianna) October 23, 2020
Check out the song here: