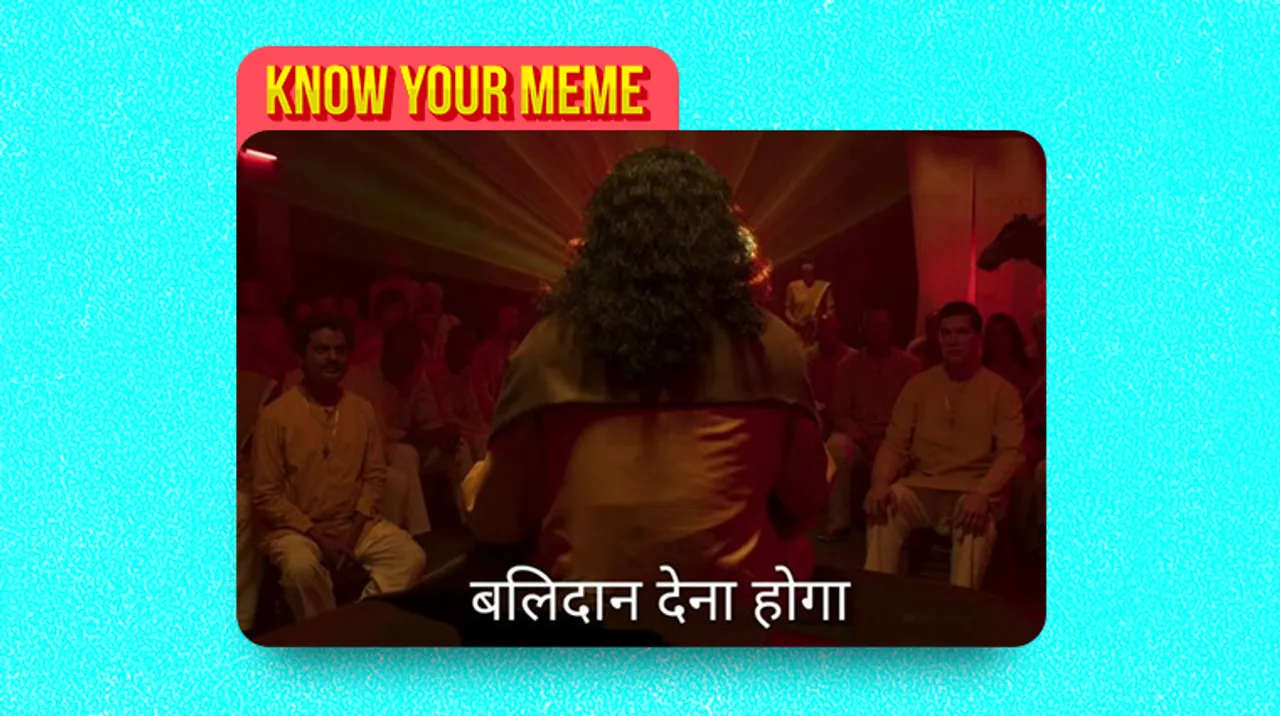 Picture this - You're bored at work or in a lecture waiting for it to get over. What's the one thing that is sure to keep you from falling asleep? We're pretty sure most of you thought 'memes'. Right from Avengers to Spongebob, to the classic memes with 'Hera Pheri' dialogues that practically fit every life situation just like Jofra Archer's old tweets! The social media universe is filled with memes which are a constant supply of entertainment and lols in our lives but do you actually know where most of them originated from? Or what earned them their 'epic meme' status? 
While the world throws Monday hangovers, working weekends and cancelled Goa plans your way, Indian Memers League ko tere ghar mein entertainment chahiye! Entertainment! Isiliye doston, why fear when Indian Memers League is here?! 
Indian Memers League is the one platform that is dedicated to shining the spotlighting on the unsung heroes and also bringing the best memes to you! Our Social Media Timelines are blessed with Memes that leave us laughing out loud and rolling on the floor. Some of these Memes have managed to strengthen our bond with family, friends and colleagues. Which is why, Indian Memers League neend, waqt aur hass uss cheez ka balidaan dene ko tayyar hai jo aapko epic memes se door rakhe. 
With Indian Memers League, we believe in sharing as much meme knowledge as possible and today we're taking a closer look at the famous Guruji dialogue, 'Balidaan Dena Hoga' and how it became a trending meme.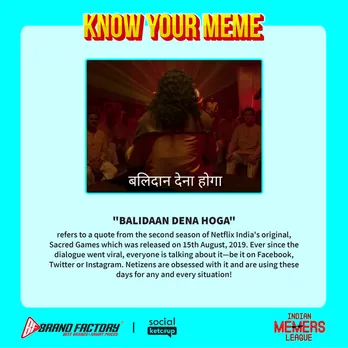 About the meme
One of the past year's most famous meme template is the 'Balidaan Dena Hoga' one featuring Guruji from Sacred Games aka Pankaj Tripathi. Pankaj did an incredible job playing the sinister catalyst leading the world towards its doom but we also loved the 'Balidaan Dena Hoga' meme, double-tapped on many of its versions and shared the best ones too. 
How it got famous
The meme with the line 'Balidaan Dena Hoga' caught attention after the trailer of the second season of Sacred Games was released and created an instant fanbase out of its viewers. The meme reached its epic meme status after the full season was released and fans started sharing it across all social platforms once again. The relatable dialogue struck the right chord with the Indian audience earning the show a lot more social media leverage! From Pubg lovers to students to friends with Netflix privileges everyone found a connection and used it to create content that left us in splits. Once it became a hit, of course, our feeds got flooded with hundreds of lol-worthy memes. 
Here are some of the most hilarious Balidaan Dena Hoga memes that came from this template:
https://www.instagram.com/p/BzugTYblW7Z/
Follow for more funny stuff?? @BestForFunBFF1 #SacredGames2 @netflix #sacredgames2trailer #SacredGamesSeason2 pic.twitter.com/Q54LYU287J

— Best For Fun < BFF > (@BestForFunBFF1) July 9, 2019
Eating golgappa ..
Asks for free Papdi..

Me to golgappa wala -#sacredgames2trailer #SacredGames2 pic.twitter.com/1y2osY1oDQ

— Prem Kumar (@PremKum86022204) July 10, 2019
If you love memes as much as we do and have a knack for creating the dankest ones then gear up! Brand Factory along with Social Ketchup is hosting the Indian Memers League where we hunt for the best memer in the country and crown them the 'Meme Lord'! 
If you think you've got it then follow Indian Memers League on Instagram and register yourselves to be a part of the league!