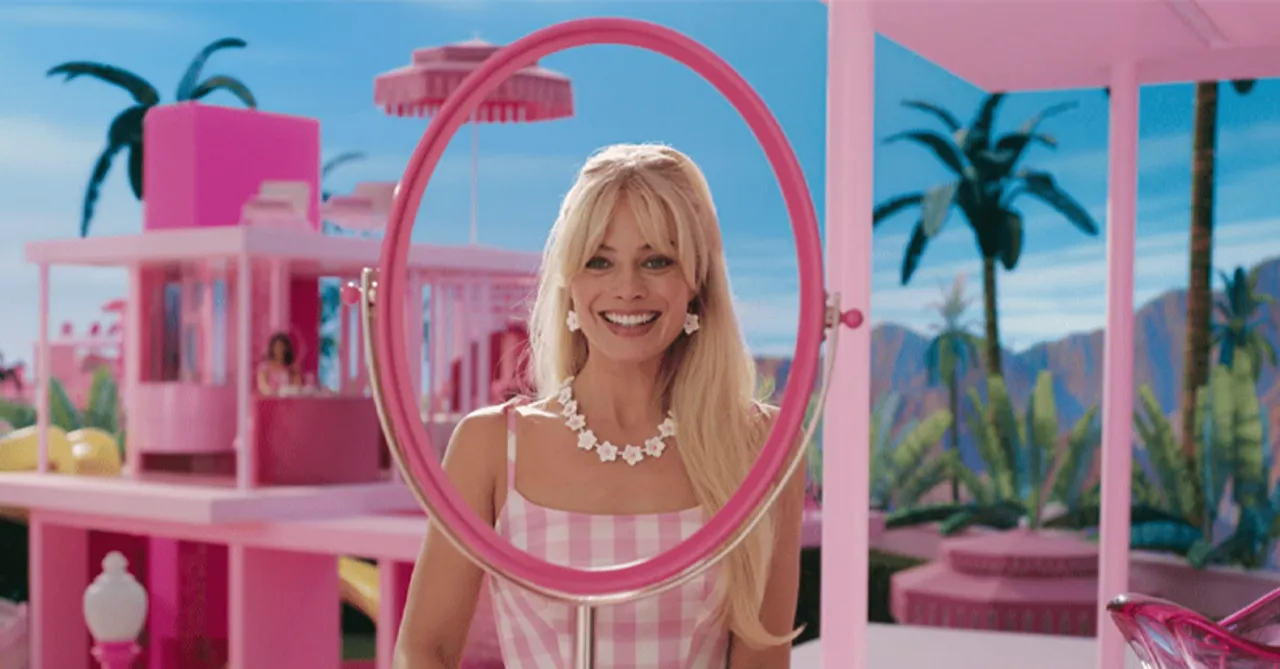 In our Barbie review, we talk about the core moral of the film, Greta Gerwig acing yet another woman centric story and wishing we had more Kens like Ryan Gosling!
Barbie review: Margot Robbie said in one of her recent interviews during the Barbie press tour that when she first read the script, she thought this film would never see the light of the day. At first I was confused to hear that but now having watched the film, I completely understand where that emotion comes from. But it was Margot's luck and our fortune that this movie indeed saw the light of the day in today's time. 
The first 20 minutes of the film is exactly what you expect it to be. All the Barbies and Kens live in a perfect pink world where you wake up looking absolutely gorgeous. Hair is always perfectly blow dried, everyone is in the best outfits, every night is girls night and there's a mandatory dance party at Barbie's house. Barbies rule the Barbieland of course and Barbie can be whoever she wants in the Barbie world. A president, a doctor, a lawyer, a Nobel prize winner, basically every male dominated career in the real world was completely led by women in the Barbie world. And all the Kens were just Ken. The only way they have a good day is if a Barbie notices them. They take permission from Barbies for any decision in their life and also understand that a no means no! Yes it is a humorous role reversal of genders compared to the real world. 
There are no negative thoughts allowed in the Barbie world, but guess what? One fine day, the Stereotypical Barbie (Margot Robbie) has a bizarre sensation. She starts…feeling things? She wonders about the concept of death, she feels cold while taking her fake shower, she burns her fake waffle and she gets FLAT FEET! That is a big no no in the Barbie world, in fact it's catastrophic to the point that even Doctor Barbie (Hari Nef) can't save her. And that's when she has to go to the black sheep of the family, the Weird Barbie (Kate Mckinnon) who has been ruined by children. Reality hits Stereotypical Barbie when she finds out she has to go to the real world to go back to the way she was because of a reason I'll leave you to find out. 
So Barbie sets off on a journey to the real world and of course her Ken (Ryan Gosling) tags along because he can't stay a minute away from her. This is when the movie really starts hitting you with the reality that we live in. The voyage from Barbie world to the real world for both Barbie and Ken was an eye opening experience. Barbie thinks that women in the real world would be thankful to her for opening up so many career options, and leading the world by a perfect example but she is crushed to know that is not at all what people think of her in the real world.
She is objectified by men and hated by women as someone who has set unrealistic beauty standards. Even after being inclusive, that's all that people see her as. And well, Ken discovers something that absolutely blows his mind - patriarchy. The fact that men can actually rule the world is so fascinating to him. When he has an encounter with a real man and blatantly asks him "Men really rule the world huh?" the human man answers "Well you can't say that out loud now but we've just become better at hiding it" is such an unabashed portrayal of our world. Will Farell's character as the Mattel CEO shows the only way men can be okay with women in charge is in fact in a delusional world! Independent women are just a capitalist idea for him to sell to the real world. He is an example of how patriarchy and unrealistic beauty standards are both concepts that emerged out of someone's insecurity.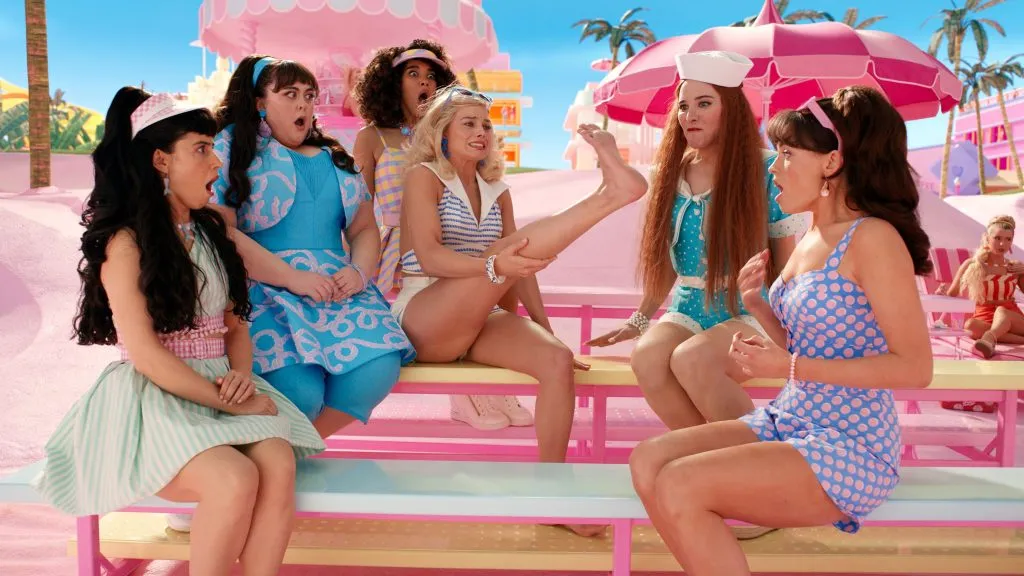 Don't get me wrong, this movie isn't a male bashing saga in fact if you are one of those who think feminism is synonymous to male bashing then this movie is for you! Barbie stands for everyone who is brave enough to figure out who they really are. Barbie can be whoever she wants but Ken can be whoever he wants too. Neither Ken nor Barbie deserve to live behind each other's shadows, they can go out, explore the world without being attached to each other. In fact you don't even have to be a Barbie or a Ken, you can be an Allan if you want. Barbie doesn't have to be just an imagination, she can have an idea of her own! It paints you this beautiful picture of what an equal world can look like if we really try without brainwashing each other into thinking one gender always has to be lesser than the other.
Everything from the set design, costumes, to the phenomenal soundtrack match the vibe of the movie. While the story is giving out an important message, it does that with a fun element throughout and makes it a wholesome experience. It brings our childhood dreams to life. The slide from Barbie's room to the fake pool, all the fake background and food in the film is done consciously to tell us it's a plastic world and that also adds a nostalgic touch to the film. It's not a one time watch, it is something you would revisit from time to time to get that same comfort. The real roots and the history of how the toy Barbie even started plays an important role in the issues the movie is trying to address. It is hilarious yet a soup for the soul!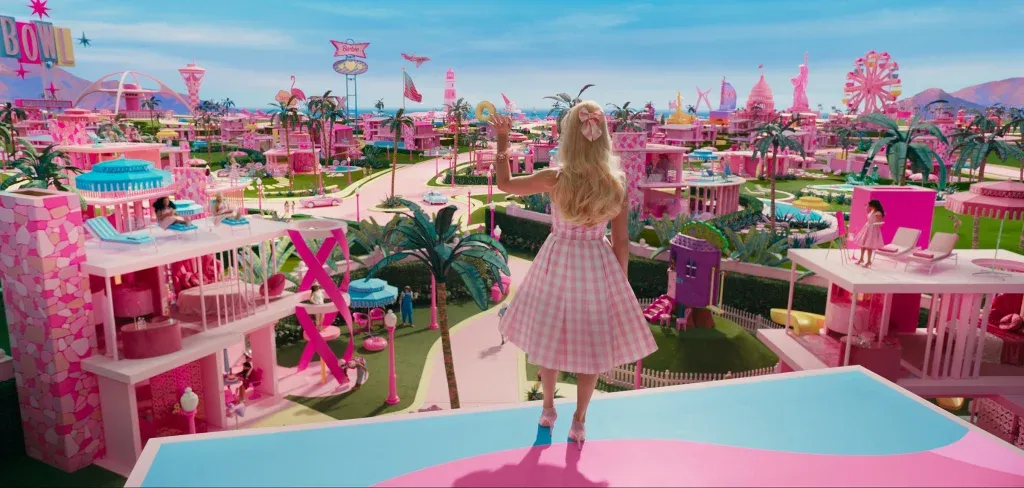 You know you're watching a Greta Gerwig film when there's a monologue about what it's like to be a woman in the modern world and what a monologue that was! Relatable and gut wrenching at the same time. Margot as Barbie is an absolute dream to watch. She is beautiful inside out and connects with you so well as a protagonist that when she sheds a tear, you shed a tear with her as well. But it was Ryan Gosling who stole the show. His undeniably breathtaking body aside, the way he plays Ken with a nonchalant on the outside but dramatic on the inside method is exactly what the character needs. He is funny, he cares, he sings, he is sassy, sarcastic and his idea of fighting another Ken is by having an intense dance-off. He is a Greta Gerwig hero through and through.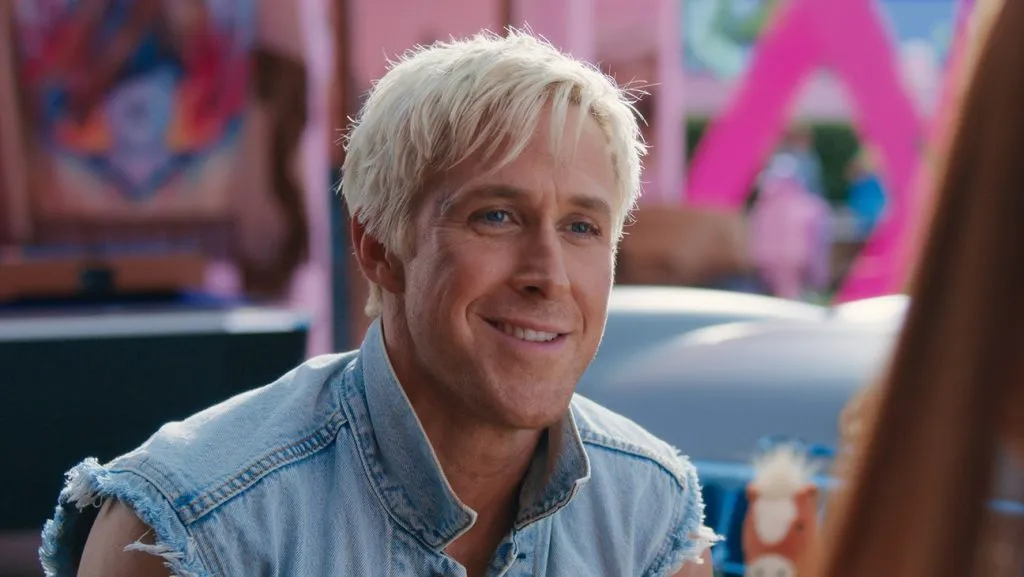 Lastly, yes, certain scenes do feel like they are spelling everything out for us which can slow down the pace, but looking at the bigger picture, it keeps your heart racing for the most part which is not something you would expect from a 'chick-flick' (as most people assume it to be) and it indeed surprises you in so many ways. The same 'chick-flick' has brought cinemas back to life. The first day first show had a full house with 90% of its audience wearing pink, including a young boy and his parents who had come to watch the film with the boy holding his Barbie doll. This is proof enough to know that this movie unites people who want to celebrate an equal world and is for anyone who wants to proudly embrace their reality. 
Barbie is currently playing in a theatre near you!
For more entertainment, follow us on @socialketchupbinge