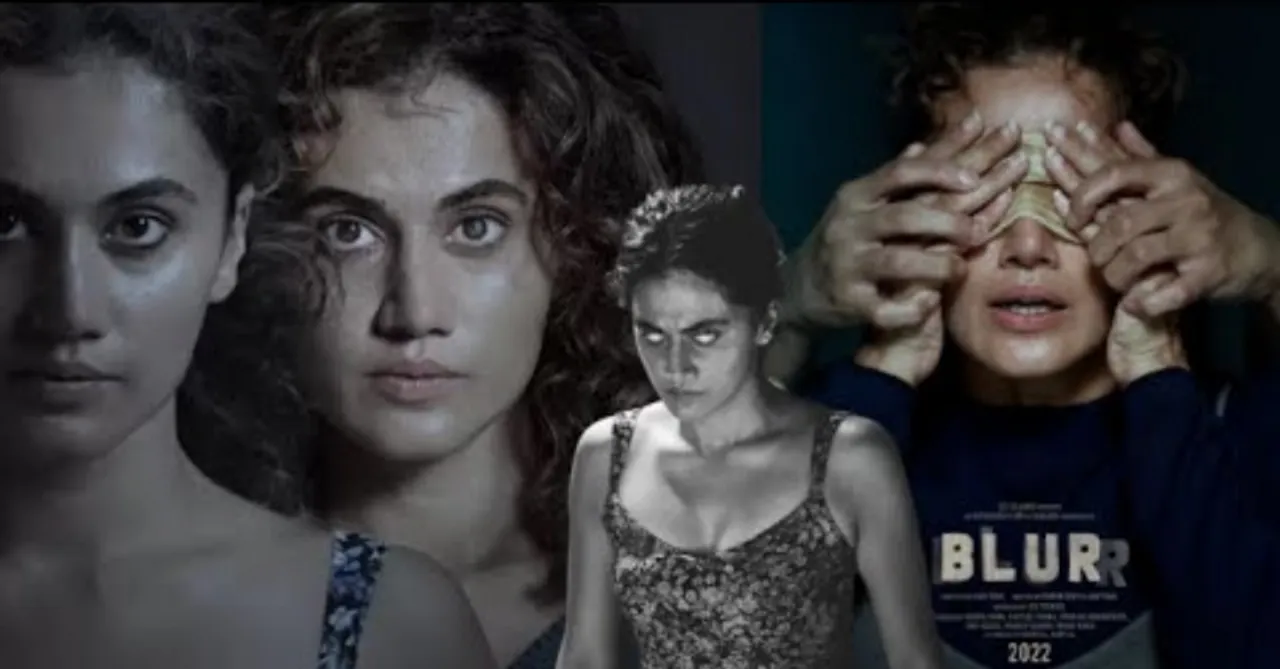 Blurr review: This Taapsee Pannu film is too confused about what it wants to be, so much so that it forgets about joining the pieces together to tell a hooking tale!
Whenever I watch the Harry Potter series, I get excited about the Invisibility Cloak. And I wonder what I'd do when I get my hands on it! But becoming invisible while being fairly visible to everyone in life, now that is a tragedy no one really wishes for! It can turn the kindest person bitter towards life and in general. This dark thriller that is Blurr wanted to capture this essence with a genre of whodunnit, but it got so busy resolving its murder mystery that it forgot about telling a gripping tale. It's like the jump from one scene to another doesn't make sense because someone forgot to weave them together, even when you understand the literal metaphor of blindness.
Gayatri (Taapsee Pannu), while dealing with her losing eyesight, tries to uncover the mystery of her twin sister Gautami's death. Even though the world believes that she committed suicide yet Gayatri cannot shake off the doubt about the mysterious ways in which Gautami dies. And in this wake, everyone comes under the radar, even her own husband, Neel (Gulshan Devaiah) who starts acting shady. Set up in the mountains, the film had great potential to be a good thriller yet falls on its head of experiments from fighting in the dark with just camera flashes, running aimlessly behind the killer who vanishes in thin air, with no emotional continuity and binding one thing to another.
The concept that the film picked up to focus on is immensely intelligent but not intricately built. While there are parts of the film that will definitely grip you and the eerie weird horror feeling is unique and builds the tone of the film, somehow, it's the structure and pace of the story that makes it not so exciting. Rather it's confusing and disappointing! It's true that some of the film's twists and turns are totally out of the blue, yet they act as blindsided gimmicks that ruin the fun of a dark thriller murder mystery. The film is also trying to be all over the place throughout its 2 hours of run time.
There's cheating, identity issues, mother-son troubles, attempting sexual harassment, and of course, failing eyesight. The most interesting and gripping time of the film comes when Gayatri has a cloth wrapped around her eyes and lives in her house with the help of a nurse as the unique cinematography approach there makes up for a thrilling watch but only for a while. This makes you realize that the film's problem doesn't lie in its core concept but rather in its way of storytelling, which doesn't give enough logic for the actions happening one after the other as well as space to let the information sink in and the audience to catch their breath to take it all in.
This structure of the story, viewing it from Gayatri's eyes, and the pace of the story, which is running way too fast, while intended to make the film a thrilling watch, end up making it an unfulfilled watch. The film is too lost in its technical aspects as it wants to be a horror and suspense. It wants to seem like it's outsmarting oneself and also stylish, which works in favor of how the film looks and feels above the surface but the humans and their stories inside the film get sidelined. And it's ironic in that way because Blurr is a film about side characters and how often they are the ones who become invisible.
This remake of the 2010 Spanish thriller, Julia's eyes, Blurr helmed by Ajay Bahl doesn't give Taapsee Pannu enough of a performing scope and has a similar kind of expression throughout. You can forget about Gulshan Devaiah creating magic with his acting power. Abhilash Thapliyal shines out in the film for a little while and is definitely a gripping character but he's lost by the film's hands. The film's name is Blurr and it feels like it took itself too seriously and starts becoming a blur for the audience as they lose the power to understand it since the film murders itself!
Blurr is currently streaming on Zee5!
For more entertainment content follow us @socialketchupbinge