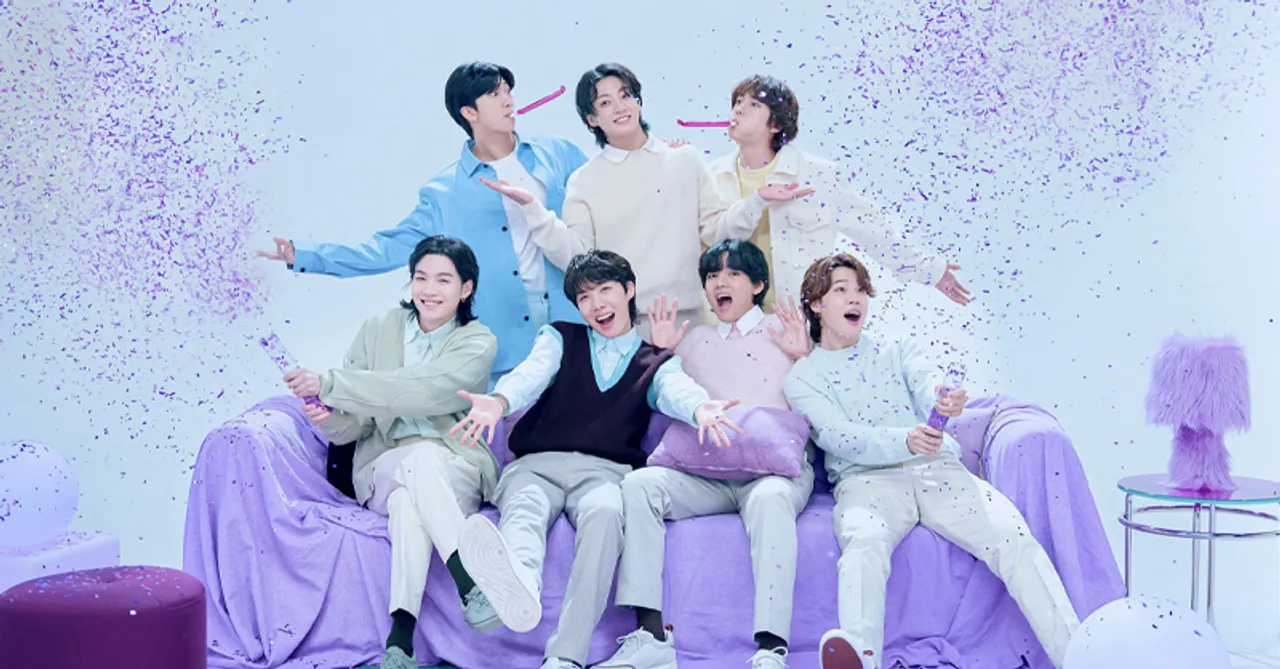 On BTS' 10th anniversary, we talk about their outstanding journey over the past decade and the unique relationship that they've built with their fans!
Last year, this time, the world turned upside down for every BTS army out there when our 7 favorite artists announced that they will be taking a 'break' as a group and only be focusing on their solo projects. Tears strolled down not just our faces but BTS too. This long distance relationship between BTS and Armys was something that was alien to both parties. We've never stayed away from each other for too long. Of course this news had so many preconceived notions on our part. As people, we've seen the biggest groups in pop culture rise to fame and then announce that they're disbanding, leaving their fans heartbroken. But BTS has always been different. Yes I know, every fan of every other K-Pop group out there feels the same way but I mean come on, does your idol spend time with you for four hours straight? 
BTS is not one to break promises, or ever do anything that'll leave their fans disappointed in them. In this so-called 'break' they have not only released more music than they ever have but they've also made sure we've never felt their absence. It's been 6 months since their eldest member Jin left for the military and while that left a void in our hearts, it was still so endearing to see that he had pre recorded short video messages for us which would be released once a month till the day he comes back. And now as the other members too are preparing to go one by one, it's a given that there will be an ocean of content pre recorded so it feels like they never left. Case in point, BTS' newest song 'Take Two' which was released last Friday. Who would have thought that we would get an OT7 song during their break? Or all these absolutely adorable group videos for FESTA? But then that's BTS, they're always 10 steps ahead of everyone else. It's all because they meant it when they said 'You Never Walk Alone'. BTS has given hope and changed so many lives over the years simply by making people feel there's always someone who is going to be there for you. Someone who reminds you to love yourself, who makes you feel like sunshine and makes you fall in love with life again. They are very well aware of the emotional dependency their fans have on them and hence not once do they make us feel like they've left our hands. 
With all the recent and super exciting FESTA celebrations, Run BTS, Bon Voyage, BTS in the Soop, all of their solo and group documentaries, their phenomenal solo albums that help us get to know them even better as individuals and now even a book about their whole journey that's coming out next month, there's just so much to look forward to everyday. There has truly never been a dull day in the BTS world. 
I have only been a fan for 2 years out of the 10 they have been active as a group but it truly feels like I have known them all my life. And what a journey it has been indeed! Who would've thought a small K-Pop group from Seoul, South Korea would be dominating mainstream music all over the world in the span of 10 years. BTS is a group that built itself from the ground up; they are self made through and through and which is why they resonate with many people around the world. Their stories of hard work, resilience, and pushing beyond their limits are the reason why they are where they are today. They started out as the first K-pop group under a small production house called 'Bighit Music' and trained tirelessly day and night until the 7 of them were selected out of hundreds of young boys and that is how BTS came into being. In 2013, they released their first album 2 Kool 4 Skool. Since then, they have released 20 albums so far, which have topped the Billboard charts, making them the first K-pop group to ever do so. They're also the first to win a Billboard Music Award, an American Music Award and become 5 times Grammy nominated artists. They're also the first K-pop group to be invited to the White House to meet the President of the United States, give a speech at the United Nations and hold diplomatic passports. 
They are such a benchmark example for the fact that as long as you believe in your dream and lead an honest life, nobody can stop you from reaching the stars. And you know what the best part is? They're still the same as they were on day 1! They still have the same magnetic stage presence at every concert, the same amount of insane synchronisation, the same vocals if not better - the only thing that doesn't stay the same though is the energy and love. It just keeps getting better and better each day. We've seen them take over the world over 10 years, but they'll be here for 10 more because the best moment is yet to come and nothing can stop army and BTS!
Happiest 10th Anniversary to the K-Pop group that paved the way for Korean culture to reach the whole world and set new records everyday! No amount of description will ever be enough for you. We armys will truly never walk alone as long as we have you!
For more entertainment, follow us on @socialketchupbinge