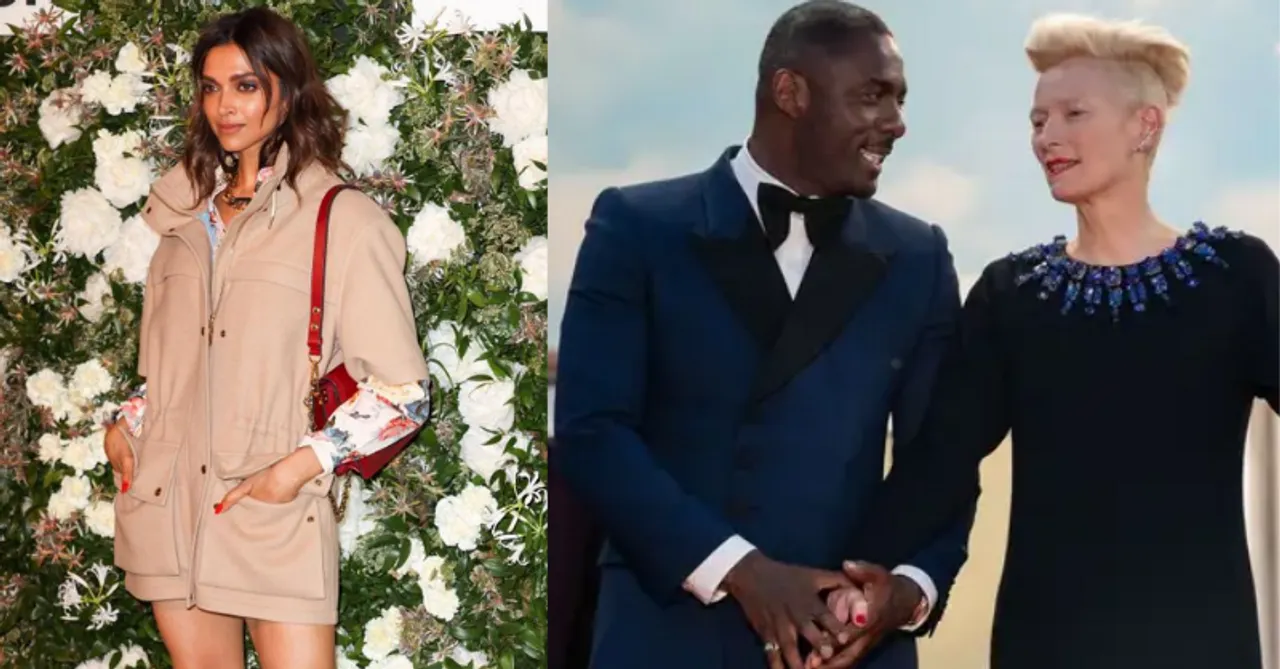 Cannes 2022 day 4 & 5 saw various movie premieres from Anne Hathway and Tilda Swinton's films to Deepika enjoying the streets of France.
75th Cannes Film Festival is currently ongoing in the South of France and while our Indian queen Deepika Padukone is making heads turn around everywhere through her red carpet looks, it looks like Cannes 2022 day 4 & 5 for her were dedicated to Louis Vuitton. And while she was busy with that we saw many films premieres from Anne Hathway's 'Armageddon Time' to Tilda Swinton and Idris Elba's 'Three Thousand Years Of Longing'.
Political statements made by a female activist on the red carpet, Armageddon time's director getting emotional after his film's screening and the presence of more than 100 children on the red steps for a film screening, here is all that happened on day 4 and 5 of the Cannes Film Festival beyond the red carpet looks!
Aditi Rao Hydari's red carpet debut
The actress promoting a mobile brand finally made her red carpet debut in a minimal yet classy look opting for a Sabyasachi ivory color saree with minimal jewelry and hair tied in a sleek bun.
Deepika Padukone for Louis Vuitton
Deepika Padukone skipped the red carpet and was busy for Louis Vuitton as she has recently become the brand's global ambassador. She was seen attending a dinner party of the brand and as well as flaunting the brand on the streets of the south of France.
Marion Cotillard's 'Brother And Sister' premiere
French actress Marion Cotillard's film premiere of 'Brother And Sister', a family drama against the backdrop of hatred.
Tilda Swinton and Idris Elba's 'Three Thousand Years Of Longing' premiere
Tilda Swinton and Idris Elba's 'Three Thousand Years Of Longing', a fantasy flick by 'Mad Max' director George Miller also had a premiere.
Hina Khan unveils the poster of her second film 'Country of Blind'
The movie is based on H.G. Wells' novel 'The Country of the Blind'. The film, directed by Rahat Kazmi, showcases the lives of a valley full of blind people and how despite not having the gift of sight, they are living a happy and fulfilled life.
Anne Hathway and Jeremy Strong's Armageddon Time had a premiere
A film by James Gray starring Anne Hathway, Jeremy Strong, Anthony Hopkins, Oscar Issac, Jessica Chastain, and Robert De Niro had its premiere, and afterward, when given the mic to Gray to speak he got all emotional.
Squid Game's actor Lee Jung-Jae's directorial debut film premieres
Well-seasoned South Korean actor Lee Jung Jae has broken into the big leagues of directors with his debut film "Hunt", which premiered at the Cannes Midnight Screenings section. It's an action-packed spy thriller set in the early 1980s and revolves around two agents of the Korean Central Intelligence Agency (KCIA) who differ drastically in their approaches to the job of protecting the nation.
And a few more sights from the festival!
From political statements, the director of a film missing from the festival to experimental films, here is more that happened that deserves your attention!
The Film festival is nearing its end and many celebs are to be seen joining in the celebration in the South of France!
For more entertainment content follow us @socialketchupbinge