What's happening with Jennifer Aniston, Hugh Jackman, and Deepika Padukone you ask? Well, read on to find out!
This roundup of entertainment is just what you need to find out what is happening in the industry on the weekend. Jennifer Aniston said something about cutting ties with unvaccinated people while Hugh Jackman gave an update on his skin biopsy and cancer. What Deepika Padukone said about Sanjay Leela Bhansali and Kriti Sanon sharing her transformational video, this roundup talks about this and much more that happened on the weekend with the celebs!
Check it out!
Jennifer Aniston on cutting ties with unvaccinated people
Actress Jennifer Aniston, recently told InStyle magazine that she decided to cut ties with unvaccinated people and defended her decision and said, "If you have the variant, you are still able to give it to me." She added, "I can give it to someone…who doesn't have the vaccine…That's why I worry. We've to care about more than just ourselves."
Hugh Jackman on a skin biopsy update
Hollywood actor Hugh Jackman gave an update about his skin biopsy, which he recently underwent for a possible cancer scare, and shared, "[The result has] come back inconclusive." He added on Instagram, "This means they didn't take enough. That said, the worst it can be is a Basel Cell Carcinoma…I'll have it rechecked…please get skin checks and wear sunscreen."
Deepika Padukone on her first meeting with Bhansali
Actress Deepika Padukone recalled her memories with filmmaker Sanjay Leela Bhansali as he completed 25 years in the film industry. Taking to Instagram, she recalled her first meeting with him and wrote, "I was…unwell and laid up in bed. I received a call from my management saying 'Sanjay Leela Bhansali wants to meet you.' I said, 'What?!' They said, 'Yes!'."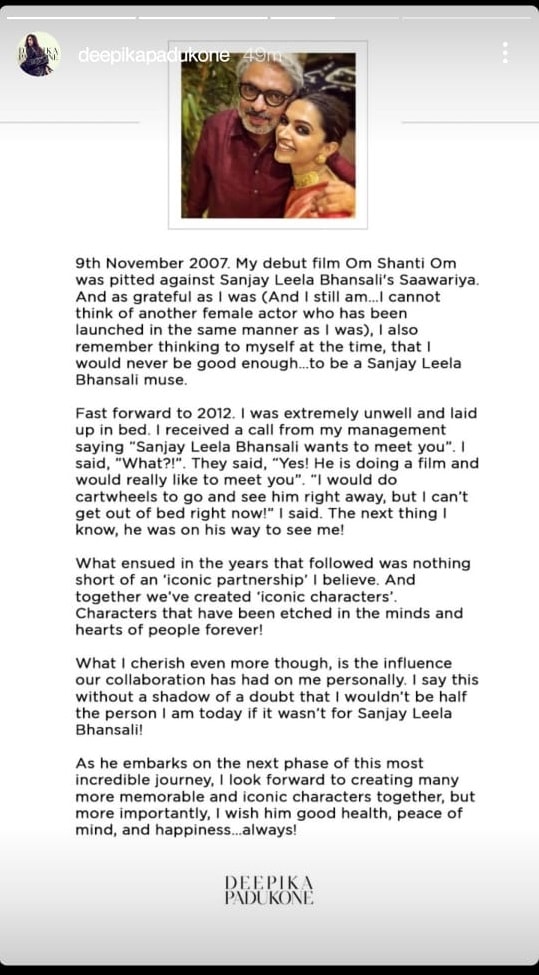 Ajay, Farhan, Saif & Sara to raise ₹25 crores for COVID-19 relief work
Actors including Ajay Devgn, Farhan Akhtar, Saif Ali Khan, Sara Ali Khan, and Shilpa Shetty will come together for a global fundraiser on Facebook on this Independence Day, which is expected to unlock philanthropic donations upwards of ₹25 crores for COVID-19 relief work. They will support livelihoods in India after the devastation caused by the second wave of the pandemic.
Breastfeeding is a beautiful, messy, rewarding experience: Mandy Moore
'This Is Us' actress Mandy Moore opened up about breastfeeding her and musician Taylor Goldsmith's son, Gus, and wrote on Instagram, "Nursing this baby boy for the past nearly six months has been a beautiful, messy and…rewarding experience." She also said, "Breastfeeding isn't always smooth sailing [with] clogged ducts, timing life around feedings and pumping for when I'm at work."
Wonder how Jaadoo would look like today: Hrithik Roshan on 18 yrs of Koi Mil Gaya
Hrithik Roshan celebrated 18 years of 'Koi Mil Gaya' on Sunday by sharing a few stills of his alien friend Jaadoo from the film. The actor took to Instagram and shared a picture of the fictional character. He wrote, "Jaadoo was merely three when he entered Rohit's life. 18 years have passed by…Sometimes, I wonder how he would look today!"
Manoj Bajpayee on Anupam Shyam's demise
Actor Manoj Bajpayee took to Twitter and paid tribute to his 'Satya' co-actor Anupam Shyam, who passed away on Sunday at the age of 63 due to multiple organ failure. "Rest in peace, my friend! You [were] loved…fully, both as an actor and as a person! You will be missed…may God give peace to your soul," Manoj tweeted. He had been suffering from a kidney ailment for the last few years and was hospitalized about a week ago. He was known for his role as Sajjan Singh in the TV show 'Mann Kee Awaaz Pratigya'. He also appeared in films like Dil Se, Slumdog Millionaire, and Lagaan.
Abhishek Bachchan, Nimrat Kaur wrap up the first schedule of 'Dasvi' in Agra
Actors Abhishek Bachchan and Nimrat Kaur have wrapped up their upcoming film Dasvi's first schedule in Agra, Uttar Pradesh. The team will now reportedly head to Lucknow for the second schedule. "Bimla Devi Choudhary [Nimrat's character]…will forever be etched in my heart as the happiest…place I got to explore through a part entrusted…to me," Nimrat wrote on Instagram.
Kriti Sanon shares a video showing her lose 15 kgs gained for 'Mimi'
Actress Kriti Sanon shared a collection of before and after lockdown videos on Instagram showing how she lost 15 kgs that she'd gained for 'Mimi'. "While putting on 15 kg for Mimi was a challenge, losing those kilos wasn't easy either," she wrote. "My stamina, strength, and flexibility had gone down to zero," Kriti said.
Pratik, Yami replace Fawad, Katrina in Aditya Dhar's next film
Filmmaker Aditya Dhar's romantic project, which was originally supposed to feature Pakistani actor Fawad Khan and Bollywood actress Katrina Kaif, will now star Dhar's wife, actress Yami Gautam, with actor Pratik Gandhi, according to reports. Reportedly, the project, which was originally backed by Karan Johar's Dharma Productions will now be produced by Ronnie Screwvala's RSVP Films.
Breaking Bad's Bob Odenkirk on surviving heart attack
'Breaking Bad' actor Bob Odenkirk, who recently suffered a heart attack, reportedly on the sets of 'Better Call Saul', shared an update about his health. "I'm doing great. I've had my very own 'It's a wonderful life' week of people insisting I make the world slightly better…Thank you, I love everyone right now but let's keep expectations reasonable!" he tweeted.
Sonam Kapoor was offered ₹11 for her role in Bhaag Milkha Bhaag: Rakeysh
Filmmaker Rakeysh Omprakash Mehra said that actress Sonam Kapoor was offered just ₹11 for her role in the film 'Bhaag Milkha Bhaag'. Rakeysh wrote in the book that, "Sonam Kapoor benevolently accepted to play a guest appearance for a princely sum of ₹11 only for her brief portrayal of 'Biro'…[Sonam] wanted to contribute to the film as well."
Shahid Kapoor after Jersey shoot
Actor Shahid Kapoor recalls being on the sets of his upcoming sports drama 'Jersey'. Taking to Instagram, he shared a video in which he could be seen playing cricket in his free time on the set of a project. Sharing the slow-mo, he wrote, "Played some cricket after almost a year of being on 'Jersey' sets. #majormissing."
Mammootty completes 50 yrs in the film industry, Dulquer pens note
Taking to Instagram on Friday, Dulquer Salmaan penned a note for his father, veteran actor Mammootty, as he completed 50 years in the film industry. "50 years of being an actor. Of dreaming big and never giving up. Still dreaming bigger. Of being better every day," he wrote, adding, "50 years of the most…glorious of careers is no small accomplishment."
Deepika Padukone won't star in Bhansali's Baiju Bawra over pay parity
According to reports, actress Deepika Padukone won't be playing the lead opposite her husband, actor Ranveer Singh in Sanjay Leela Bhansali's film 'Baiju Bawra'. Reportedly, Deepika wanted the same remuneration as Ranveer, but Sanjay Leela Bhansali regretfully turned down her request for pay parity. The couple has earlier starred together in three of Sanjay Leela Bhansali's films.
Smriti Irani shares meme on Messi's exit from Barcelona says 'Because it got messi'
Union Minister, Smriti Irani shared a meme on Friday about six-time Ballon d'Or winner Lionel Messi's exit from Barcelona. In the meme, Irani can be seen as the character Tulsi from 'Kyunki Saas Bhi Kabhi Bahu Thi'. Captioning the post, Irani wrote on Instagram, "Kyunki (Because) it got 'messi'." Messi left Barcelona after 21 years as contract talks failed.
Hope you are all caught with what all our favorite celebs were up to on the weekends!
For more entertainment content follow us @socialketchupbinge