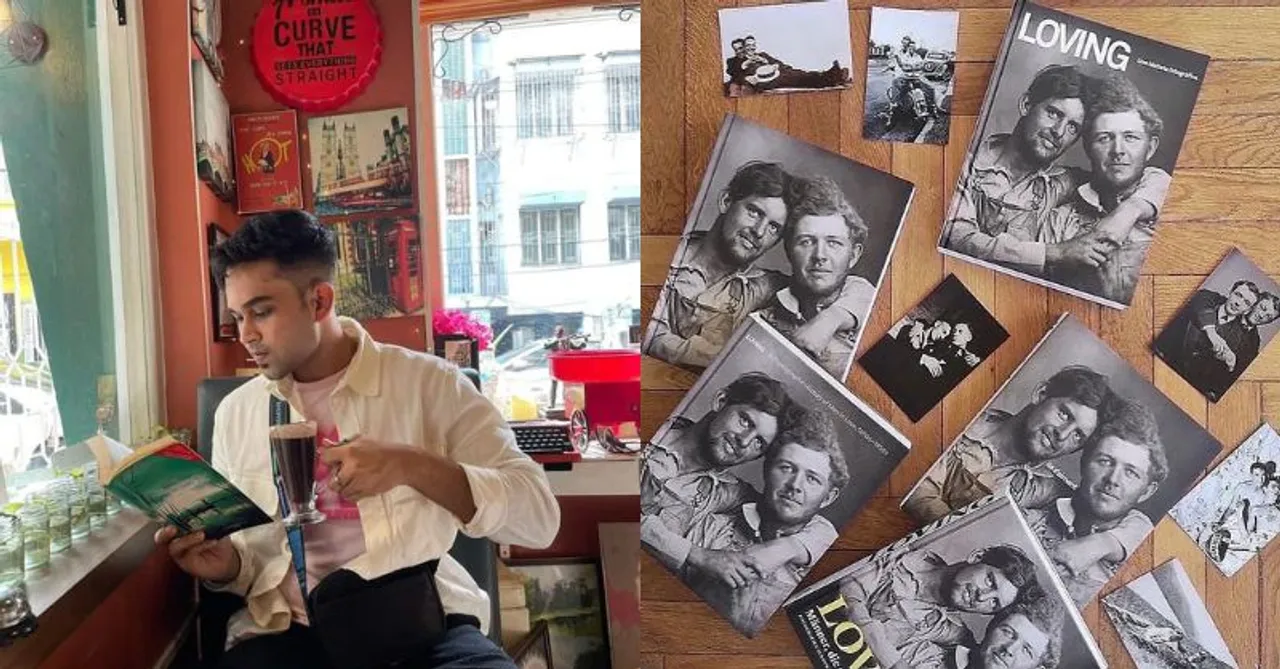 Queer memoirs like 'Deaf Utopia', 'Boyslut', and others make for interesting as well as informative reads according to Chaitanya Srivastava.
Whether you identify as someone from the LGBTQIA+ spectrum or not, the incredible thing about reading books is the enrichment it provides. It educates, stirs emotions, and makes you pause and think about things that you might not have dwelled on otherwise. Even though June specifically celebrates the LGBTQIA+ community, any day around the year is a good day to read books by queer authors and take a dive into understanding queer history, movement, and contemporary life among other things. Whether you prefer serious literature, casual rom-com, commercial fiction, non-fiction, or just young adult titles, there is something for everyone. We spoke to Bookstagrammar Chaitanya Srivastava, who manages communications and publicity for Penguin Random House India and Southeast Asia.
A 22-year-old pop-culture enthusiast, intersectional feminist, and an avid reader of rom-coms and fantasies, Chaitanya Srivastava is a passionate content creator in the field of books and literature. Through his passion project, Chai N Books, he champions the habit of reading, recommends books, and hosts best-selling and award-winning authors. Today, he shares with us some queer memoirs that we might like reading!
Also Read: 5 supportive dads in queer films and shows that show you what queer parenting should look like!
"These queer memoirs," Chaitanya says, "are not only interesting but also sensitively and beautifully written. They are filled with honesty and raw feelings that radiate joy, capture heartbreak, and delve into the challenges faced by the authors. These books are inspirational; you might find yourself tearing up while reading some of them!"
Pick up any of these queer memoirs, and let us know what you think!
A Dutiful Boy: A Memoir of Secrets, Lies, and Family Love by Mohsin Zaidi
Growing up in a devout Muslim community while also grappling with his identity as a gay individual, Mohsin Zaidi is today a best-selling author, keynote speaker, and management consultant, but his early years were challenging. Encouraging readers to empathise and understand the complexities and conflicts faced by individuals who feel torn between their identity and the expectations placed upon them by their families and communities, 'A Dutiful Boy: A Memoir of Secrets, Lies, and Family Love' is a beautiful book that offers a unique story of resilience, determination, sexuality, and self-discovery.
Boyslut: A Memoir by Zachary Zane
Zachary Zane's unapologetic exploration of his sexual identity, contemporary perspective on bisexuality, and navigating one's own belief (and that of the societal norm) towards sex and relationships is a perfect read for those looking for a sincere, bold, and thought-provoking read. Filled with a wicked sense of humour, the book addresses the serious subject with relatable elements, making it accessible and approachable for all kinds of readers.
Miss Memory Lane: A Memoir by Colton Haynes
'Arrow' and 'Teen Wolf' actor, Colton Haynes's powerful and timely memoir takes a deep dive into his exploration of and coming to terms with his sexuality, reflection on fame, and his challenges with addiction. For those looking for a read that doesn't shy away from sharing the highs, lows, and the ugliest, 'Miss Memory Lane: A Memoir' can be a promising read.
Deaf Utopia: A Memoir - And a Love Letter to a Way of Life by Nyle DiMarco and Robert Siebert
The author Nyle DiMarco has been the winner of popular reality shows, 'America's Next Top Model' and 'Dancing with the Stars'. In his inspirational and heartfelt memoir, 'Deaf Utopia: A Memoir - And a Love Letter to a Way of Life' written with Robert Siebert, he opens up about his experiences as a deaf individual growing up in a world primarily designed for able-bodied people, navigating his sexual identity, and coming out as sexually fluid. This book not only offers a story of resilience and determination but is also a love letter to the uniqueness of the deaf community's experiences.
Loving: A Photographic History of Men in Love, 1850-1950 by Hugh Nini and Neal Treadwell
A visual narrative of romantic love between men during a time when same-sex relationships were highly stigmatised and even illegal, 'Loving: A Photographic History of Men in Love, 1850-1950' by Hugh Nini and Neal Treadwell offers a compelling insight into sexuality transcending experiences of LGBTQ+ individuals beyond geographical locations. Deeply poignant and moving, this book is a testament to the fact that sexualities are not something born out of pop culture and the digitalisation of the world. It showcases, with a lot of pride, care, and attention to detail, that queer identities have been a part of human history since time immemorial.
Boy Friends by Michael Pedersen
Evocative, emotional, and unflinchingly honest, 'Boyfriends' by Michael Pedersen made me smile, cry, and smile some more. Exploring love, grief, and male friendship, this lyrical memoir, thanks to Pedersen's writing style, takes readers on a journey into the very heart of the complexities of male friendships. While this is not necessarily an LGBTQIA+ memoir, it still holds the transformative emotional depth which can impact the lives of LGBTQIA+ individuals or otherwise, and can be an unusually impressive and effective read.
Which book are you picking up first? Let us know in the comments below!