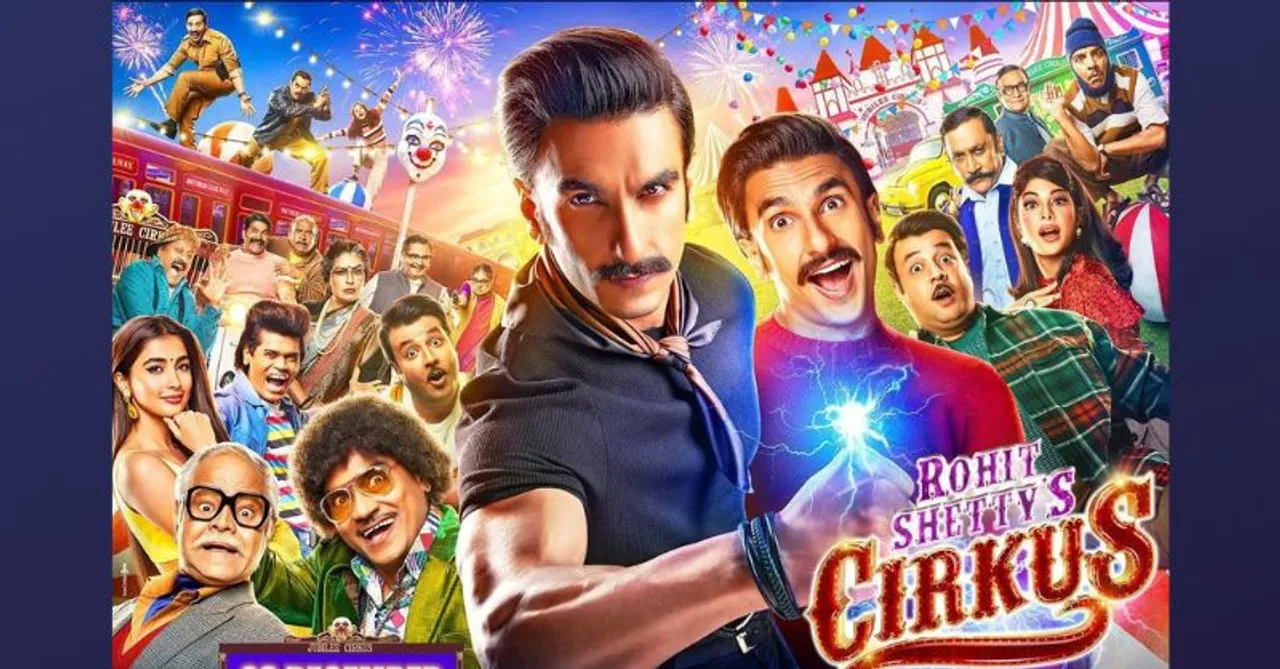 Rohit Shetty's 'Cirkus' is a shoddy film that shows what a substandard plot can do to even the best of actors.
Recently, I have been longing for a good old comedy. Indian cinema has lately been focusing on realism and I am not complaining. I have loved Qala, Darlings, and PS-I, among others. But I miss a good comedy, especially as the world turns messier every day. While I'm not a fan of Rohit Shetty's brand of cinema Golmaal was an impressive series without a doubt. And I was hoping that Cirkus turns out to be funny irrespective of its bizarre trailer. But I was rather disappointed with the film!
Cirkus revolves around two pairs of orphan twins. In the first pair, both are named Roy (Ranveer Singh- dual role); in another, both are named Joy (Varun Sharma - dual role). Dr. Roy Jamnadas (Murali Sharma) is working on a nature vs nurture experiment. So, he mixes the twins to create two Roy-Joy pairs who are then adopted separately. You're right! The names are confusing; they keep calling them "Bangalore wala Roy" and "Ooty wala Roy". For our understanding, let's call our protagonists Roy 1 and Joy 1 (Bangalore) and Roy 2/Electricman and Joy 2 (Ooty). A 'Comedy of Errors' occurs when pair 1 goes to Ooty for a business deal.
Also Read: 6 theatrical releases in January 2023 that cinephiles might like to watch!
In Cirkus, South-Indian cities of the 1960s look like Noddy's Toyland with a Barbie world design in a Tellytubbies' landscape. The circus, which we barely see, looks like something out of Las Vegas and we barely see any circus stunts either. Electricman himself just stands with a live wire because electric current doesn't affect him. Add to this weird setting, a group of highly competent actors but an appalling script, repetitive and cringe jokes. Actors like Johnny Lever (Polson Dada), Sanjay Mishra (Rai Bahadur), Ashwini Kalsekar (Shakuntala Devi), and others barely elicit any laughs thanks to the plainly bad dialogues. Siddhartha Jadhav (Momo), perhaps the only saving grace of the film, made me laugh a few times. Ranveer Singh always brings his energy to each of his characters. However, in Cirkus, he forces restrainment and gives a disappointing performance. He seems lively only during the "Current" song, which works because Ranveer acts as Ranveer, and not Roy 2. The charming Deepika Padukone seems awkward in Current with South-Indian masala-like moves.
Cirkus tries to demonstrate why love is more substantial than blood relations. However, the message is delivered in a rather underwhelming manner. And the religious stereotyping of most characters is irksome. Also, Mala (Pooja Hegde) and Bindu's (Jacqueline Fernandez) roles are stereotypical aka showing their lives revolving only around men. Ironically, "Cirkus" fails to explore valuable and nostalgic circuses that formed an inherent part of rural as well as urban Indian culture. A fair example of a genuine portrayal of circuses would be 'Phir Hera Pheri' which gave us a hilarious circus-based climax. Cirkus' climax is so dull that you won't realize that it's the climax. Another major aspect of the film, Roy 1 getting an electric shock every time Roy 2 holds live wires, is also used disappointingly. The bloated faces the characters make while getting a shock are not humorous, neither are the dialogues like "Shock you, man".
Cirkus takes two and a half hours to deliver nothing that it vows to. Far from being comical, it is not even mildly enjoyable. I wouldn't call it comedy, it was mostly errors.
Cirkus is currently running in theatres.