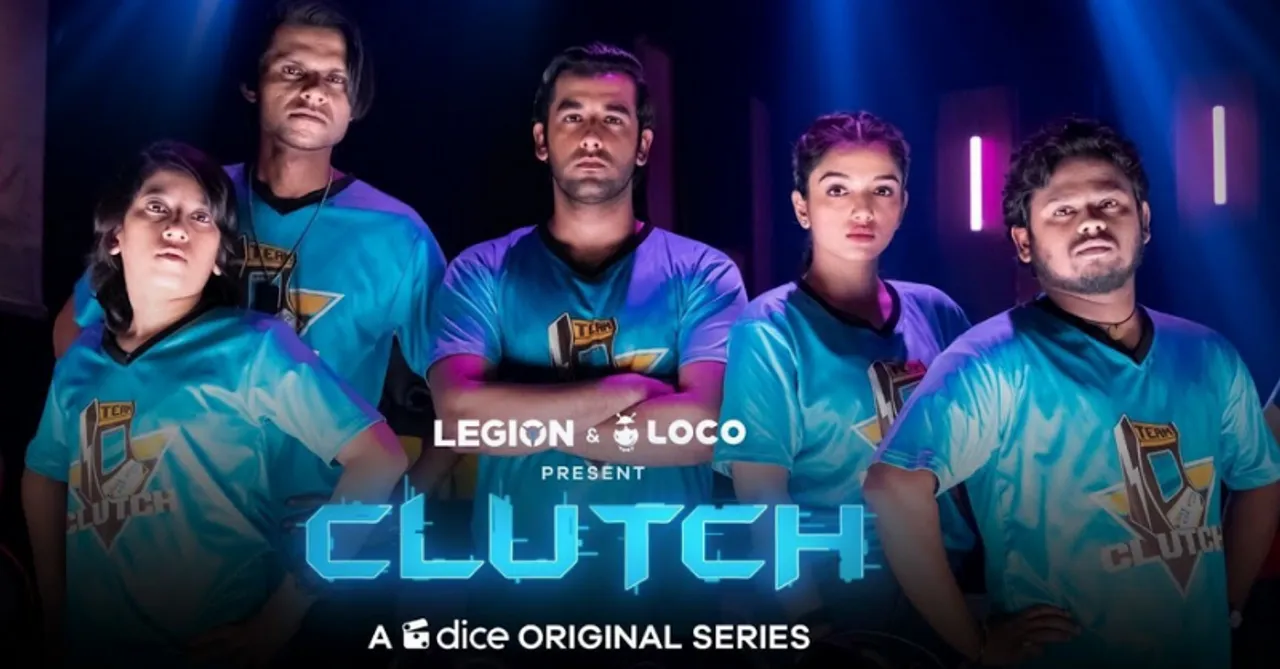 Dice Media launched the first episode of India's first esports-based drama, Clutch starring Vishal Vashishtha, Ahsaas Channa, Saurabh Ghadge, Pratiek Pachauri, and Tirth Joshier.
Adding a new genre to their creative playbook, Dice Media has launched India's first-ever eSports-based web series, "Clutch". Days ahead of the launch, the team at Dice Media organized a high octane virtual press conference which was attended by the cast and crew of the series along with the makers.
Set in the world of gaming, 'Clutch' captures the essence of passionate gamers and the ups and downs they face in wanting to compete for eSports tournaments. It's a story of Arun (Vishal Vashishta), who left professional gaming to follow a stable career path, returns to his first love, gaming, by setting up a team to compete in a major eSports tournament and takes them to great heights.
Addressing the virtual conference where the talented cast of the show- Vishal Vashishtha, Ahsaas Channa, Saurabh Ghadge, Pratiek Pachauri, and Tirth Joisher along with Pocket Aces' co-founder and CEO, Aditi Shrivastava. Dice Media's Creative Director and Writer Pranav Tonsekar along with his creative army Sandeep Jain (Head writer), Ruchir Arun (Director), Aditya Khanna, and Abhishek Srivastava (Writers) graced the event too and were seen visibly ecstatic to share their experiences on Clutch.  Manuja Tyagi is also the Director of the show, however could not join the event. 
Commenting on his experience, popular TV actor, Vishal Vashishtha said, "Playing the role of an aspiring character like Arun was a one-of-a-kind experience. With all the hard work of the talented team, on-screen and off-screen, Clutch is sure to be entertaining and nail-biting and I'm convinced that the audience will love every minute of it."
Echoing his thoughts, Ahsaas Channa said, "Gaming has been my love and of course, when the opportunity came, I had to grab it. Clutch is a project very close to my heart, given that it will show the world the unspoken excitement, and fun we gamers have in eSports. The team has done a fantastic job and cannot wait to share this with the audience."

"I am very glad to be a part of a web series that highlights the craze of eSports that our country is currently witnessing. It was indeed a very enriching experience for me to work alongside such talented actors and be a part of this series", said well-known content creator and influencer, Saurabh Ghadge.
Pratiek Pachauri said, "Working with the Dice Team felt like home and honestly, I did not want this journey to end this soon. But nonetheless, I had a blast shooting for Clutch with all my co-actors. Gaming and eSports are extremely thrilling and this series has a sense of newness in it which is why I did this show. Simply can't wait for it to launch."
Adding to the excitement, the child actor, Tirth Joisher said, "Being a fan of eSports myself, I couldn't contain the excitement of being a part of this series. The chance to be able to portray something you love, onscreen is totally inexpressible. I wish this fun-filled journey never ended. I am eagerly waiting for the viewer's reactions to Clutch." 
The first episode of 'Clutch' was released on 1st October with a new episode every week on Dice Media's Youtube and Facebook channels.
For more entertainment content follow us @socialketchupbinge