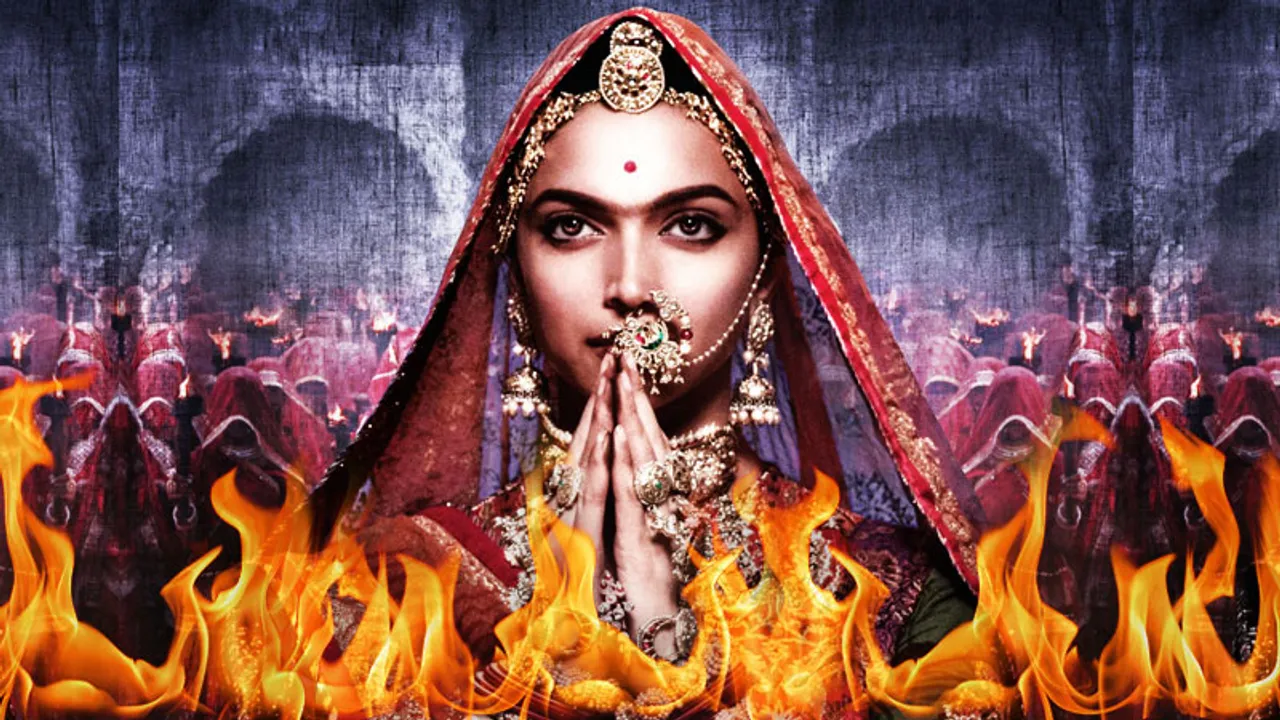 It has been decades since Albert Einstein passed away, and yet his words hold weight until this very day. The words I reference are, 'Only two things are infinite, the universe and human stupidity..' and well folks back here Indians are working hard to prove him right with the whole Padmavati controversy.
So, unless you have been living under a rock for the past couple of weeks, you might happen to know that as part of the entire fiasco known as the Padmavati controversy, Sanjay Leela Bhansali, and Deepika Padukone, the director and actress respectively have some 15 Crore INR worth of bounty on their head and nose respectively.
Yes that was announced publicly.

Yes, India still, on paper, claims to be a secular democracy with courts of law and representatives of the law.

Yes the people who declared this bounty are still roaming free.
Here's how the unfortunate incident has snowballed into a national contest for bigotry, lampoonery, violence and numerous threats of it, and pretty much everything that should not be happening in a democratic nation, has happened.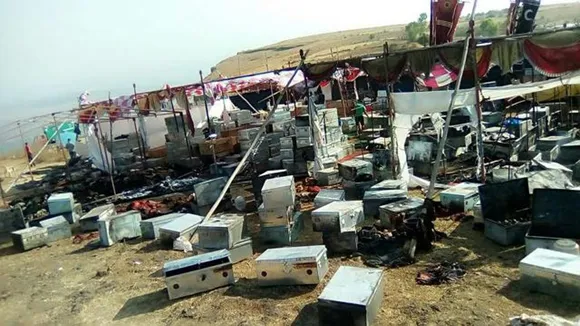 Source : Hindustan Times
Source : NDTV
Let us begin with the very beginning of this fiasco wherein the Karni Sena from Rajasthan first issued an ultimatum, then proceeded to storm and vandalize Sanjay Leela Bhansali's sets. They also manhandled the acclaimed director, claiming to know of a leaked script of the movie that includes a dream sequence wherein the characters of Allaudin Khilji, and Rani Padmini have been depicted romancing each other.
https://www.facebook.com/FilmPadmavati/videos/1605720432817977/
No proof was provided about the validity of these rumours and a few weeks ago, the director of the film, Sanjay Leela Bhansali, himself sat in front of the camera, reassuring every concerned indvidual that there are no such dream love sequences and these reports and rumours are false.
Sanjay Leela Bhansali categorically denied having distorted any historical facts, and even stated that he respects and admires the supreme sacrifice of Rani Padmini.
Things seemed pretty chill thereafter until..
Fast forward to a few days back when Abhishek Som, a somebody somebody announced on video that if Sanjay Leela Bhansali does not cancel the release of Padmavati, a bounty of 5Crore INR will be placed on his head. Whoever brings him Bhansali's head, will be rewarded with the money.
Padmavati row: Now, Abhishek Som, Thakur leader, announces Rs 5 crore bounty for killing actress @deepikapadukone #DeepikaThreatened pic.twitter.com/Bl0O0R4ubr

— TIMES NOW (@TimesNow) November 16, 2017
Yeah the video was aired on Television and shared on social media. He is still roaming free.
Sooooo… Some old nutjob named Suraj Pal Amu went ahead and doubled the previous bounty offered by the other buffoon, also chipping in his original two cents, threatening to break Ranveer Singh's legs, who plays the invading 'foreign' king, Allauddin Khilji. He reportedly said, "Want to congratulate Meerut youth for announcing Rs 5 crore bounty for beheading Deepika, Bhansali. We will reward the ones beheading them, with Rs 10 crore, and also take care of their family's needs."
I guess the country of Israel and all Jewish people should issue ultimatums and death threats to every actor who has played Adolf Hitler in any film, or television show in the past. That's how much sense this entire fiasco makes to me! How is an actor or actress under fire for portraying a character? Do we imprison and hang any actor that has played a terrorist in films?
Okay so then, after a brief few days of inaction by the goverment and law enforcement agencies, and no tweets or official statements either by the Prime Minister or any relevant person, a case was registered against Suraj Pal Amu.
How Come Smriti Irani And 'Most Popular PM' Silent On #Padmavati Controversy, Asks BJP MP Shatrughan Sinha https://t.co/xpmB57hCdR pic.twitter.com/LgUyLIHoMi

— Outlook Magazine (@Outlookindia) November 22, 2017
The CBFC then very conveniently decided to send the film back to their makers, citing 'incomplete paperwork' as the cause, and thus the release of the film has now been thrown into question with 1 December inching closer.
Numerous Twitter users have spoken against this behaviour, and the government merely watching the proceedings as the filmmakers and actors are bullied. Meanwhile, the film fraternity were busier harassing poor Ed Sheeran instead of standing up for their counterparts.
Ironic isn't it?
Dear @BJP4India, how about we put a bounty on the heads of child rapists and murderers instead? #Padmavati @deepikapadukone @RanveerOfficial @shahidkapoor pic.twitter.com/iaQK95LZ7b

— MissMalini (@MissMalini) November 22, 2017
Dead on diagnosis. But what a reservoir of easily aroused hate and mayhem to wield by the unscrupulous to their own ends. https://t.co/giU6meETOO

— Mira Kamdar (@mirakamdar) November 21, 2017
*Rajasthan*:
Pending corruption cases: 1,555 (1st in India)
Crimes against SC/ST: 6,998 (2nd)
Rape: 3,644 (3rd)
Crimes against women: 28,165 (4th)
Female literacy: 52.66% (33rd in India)
Infant mortality: 4,100 per 100,000 live births
Biggest issue: #Padmavati ???

— Shashi Tharoor (@ShashiTharoor) November 19, 2017
Chop, chop, chop! @sifydotcom cartoon #Padmavati pic.twitter.com/dUGnjL0ejm

— Satish Acharya (@satishacharya) November 22, 2017
Allowing 'upper caste' hecklers to veto a film based on rumour is the: *direct opposite of law and order
*illegal
*speaks of govt weakness/willing to break law for caste-bullies. #Padmavati https://t.co/pszBj1hhOC

— Karuna Nundy (@karunanundy) November 22, 2017
and that's why Madhya Pradesh and Gujarat have banned release of #Padmavati. https://t.co/Ja9poxA1mj

— The Tweeter formerly known as N (@coderzombie) November 22, 2017
Although sanity and logic seldom have the last laugh in our country these days. Deepika Padukone, Shahid Kapoor and Ranveer Singh, the three leading stars of the film mired in controversy have spoken about the issue on separate occasions.
Here is what they had to say,
I choose to be optimistic :@shahidkapoor on #Padmavati pic.twitter.com/ysaBLqhPQt

— Cinema World™? (@CinemaWorldz) November 22, 2017
Ranveer Singh
#WATCH: Actor Ranveer Singh says 'I am 200% with the film and with my director Sanjay Leela Bhansali' on being asked about #Padmavati film. pic.twitter.com/ARjONDucly

— ANI (@ANI) November 21, 2017
None of it mattered as vote banks and communal politics are rather more interesting and lucrative for our politicians as they proceeded to proclaim a ban on the film, as Chief Ministers of Rajasthan, Haryana, Gujarat, Madhya Pradesh and Punjab supported the protestors. Barring Punjab CM, all other Chief Ministers have proclaimed that the film won't be released in their states.
Guajarat CM Vijay Rupani
The Government of Gujarat will not allow #Padmavati - a movie hurting sentiments of Rajputs - to get released in the State. We can't allow our history to be distorted. We believe in freedom of speech & expression but any foul play with our great culture is not tolerated.

— Vijay Rupani (@vijayrupanibjp) November 22, 2017
Haryana CM Manohar Lal Khattar
We will take a decision on #Padmavati only after censor board clearance. We will not allow anyone's sentiments to be hurt. We don't think it is right to ban (a film) before censor board's decision: Haryana Chief Minister Manohar Lal Khattar pic.twitter.com/Q6b1YisTai

— ANI (@ANI) November 22, 2017
Punjab CM Capt Amarinder Singh
Nobody will accept distortion of history and those who are protesting are rightly doing so: Capt Amarinder Singh,Punjab CM #Padmavati pic.twitter.com/rkk7udI5Kf

— ANI (@ANI) November 20, 2017
Madhya Pradesh CM Shivraj Singh Chouhan
#WATCH:Madhya Pradesh CM Shivraj Singh Chouhan says the film which has distorted facts against #Padmavati, will not be released in the state pic.twitter.com/NOBXj6WF3P

— ANI (@ANI) November 20, 2017
One can't even blame them because threats of violence and vandalism are rife, and when another CM is openly issuing statements saying Bhansali and Deepika Padukone deserve punishment.
What a disgrace.
I mean look at these fools, risking severe burns just to light a damn dummy on fire and express their thoughts about a movie that they haven't even watched yet, about a figure that pretty much every historian claims never existed!
This makes us more crazy about the #Padmavati#PadmavatiBanned pic.twitter.com/4Jzrl5eaxY

— Satendra Yadav (@skglobfeel) November 22, 2017
The release date for Padmavati has finally been postponed and there is no end to the Padmavati controversy in sight.
What are your thoughts about the entire fiasco? Tell us in the comments section!