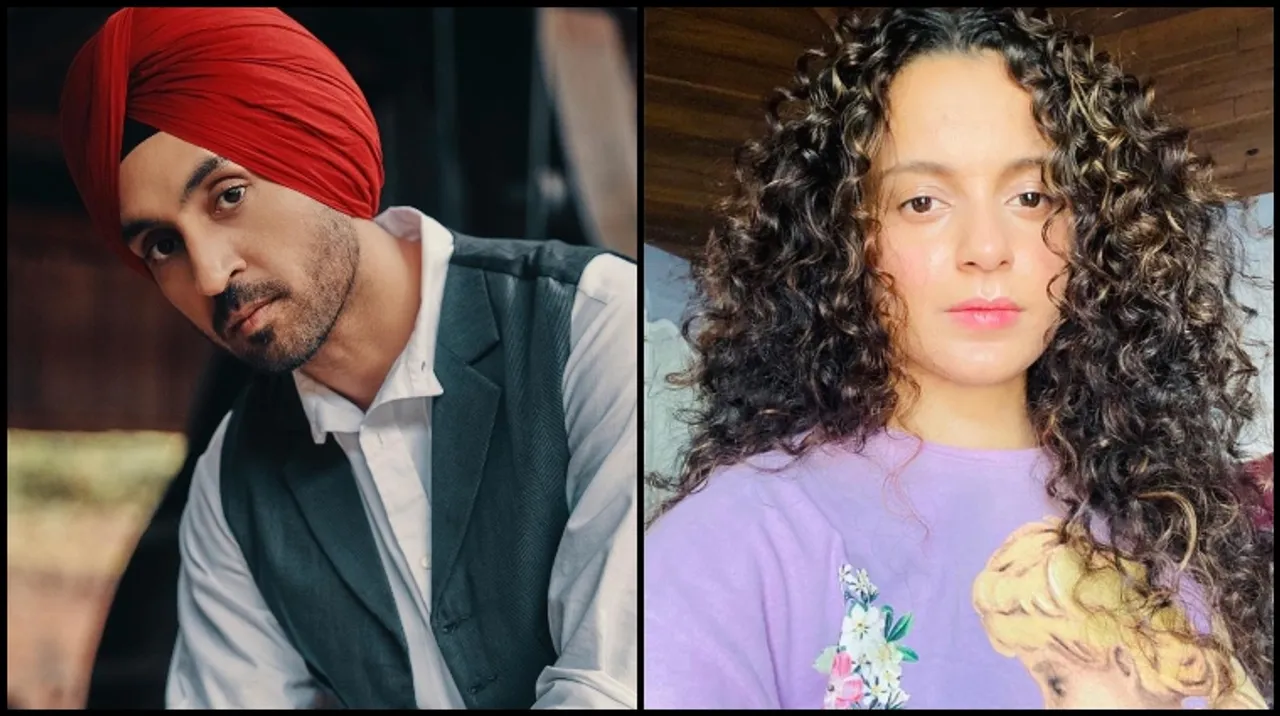 Bollywood actress Kangana Ranaut gets into a Twitter fight with Punjabi Singer Diljit Dosanjh after she made a false claim in her tweet regarding the ongoing Farmers' protest.
There has been a lot of conversation and talks regarding the ongoing farmer's protest happening in Punjab and Delhi. Thousands are walking on the streets carrying out peaceful protests against the Farm Bill. The protest is considered to be the biggest protest of the year in the country. While the talks around the same continue, one of Bollywood actress Kangana Ranaut's tweet led to a Twitter slamming her.
The actress shared a picture of 73-year-old Mahinder Kaur and calling her as the Shaheen Bagh activist Bilkis Bano, aka Bilkis Dadi, to be part of the farmers' protest. Kangana's tweet read, "Ha ha ha she is the same dadi who featured in Time magazine for being the most powerful Indian... and she is available in 100 rupees. Pakistani journo's have hijacked international PR for India in an embarrassing way. We need our own people to speak for us internationally."
Her Tweet, which was soon deleted, was called out as false and unverified. Following the same Singer, Diljit Dosanjh shared a video of Mahinder Kaur asking Kangana to check facts before making a statement of such sorts.
Respected MAHINDER KAUR JI 🙏🏾

Ah Sunn La Ni With Proof @KanganaTeam

Banda Ena V Ni Anna Hona Chaida..
Kush v Boli Turi jandi aa .. pic.twitter.com/Ie1jNGJ0J1

— DILJIT DOSANJH (@diljitdosanjh) December 2, 2020
This led to them sharing fight tweets against each other on Twitter. Kangana called out Diljit as Karan Johar's paltu and said that Bilkis Bano was seen protesting at the farmers' protest and that she had no idea who Mahinder Kaur was. This soon continued with the Singer responding to her and vice-a-versa in a Tweet chain.
Ooo Karan johar ke paltu, jo dadi Saheen Baag mein apni citizenship keliye protest kar rahi thi wohi Bilkis Bano dadi ji Farmers ke MSP ke liye bhi protest karti hue dikhi. Mahinder Kaur ji ko toh main janti bhi nahin. Kya drama chalaya hai tum logon ne? Stop this right now. https://t.co/RkXRVKfXV1

— Kangana Ranaut (@KanganaTeam) December 3, 2020
Tuneh Jitne Logon Ke Saath Film Ki Tu Un Sab Ki Paaltu Hai...?
Fer To List Lambi Ho Jaegi Maalko Ki..?

Eh Bollywood Wale Ni PUNJAB Wale aa .. Hikk Te Vajj Sadey

Jhooth bol kar logo ko badhkana aur emotions se khailna woh toh aap achey se janti ho..😊 https://t.co/QIzUDoStWs

— DILJIT DOSANJH (@diljitdosanjh) December 3, 2020
Punjabi samajh aati hai mujhe, jinhonne Delhi mein riots karvaye khoon ki nadiyaan bahae, dangge karvaye unko defend karte hue sharm nahi aati? Tujhe kya sharm aayegi, kjo kaise kaam deta hai sabko pata hai 🙂
— Kangana Ranaut (@KanganaTeam) December 3, 2020
Bolan Di Tameez Ni Tainu.. Kisey di Maa Bhen Nu..
Aurat Ho Ke Dujeyq Nu Tu 100 100 Rs. Wali das di an..
SADE PUNJAB DIAN MAAVA SADEY LAI RAB NE..
Eh tan Bhoonda De Khakhar nu Shedh Leya Tu..
PUNJABI GOOGLE KAR LI..👍 https://t.co/KSHb45Xpak
— DILJIT DOSANJH (@diljitdosanjh) December 3, 2020
Aa JAA Aa JAA...

Oye Bad Dimag Batmeez...

Gal HO RAHI JIS MAA NU TU 100 rs. Dihadi wai Keh ke foto paee c..

Os Bebe Da JAVAB Sun Leya c Yaan Dobara Bheja..

Avi gal na ghumaa Hun.. GAL KAR NI BHAJJI DA ..

Jod tod Bollywood ch chalda hona Tera.. Punjabi'an Naal Ni Chalna https://t.co/EmfatISrrk

— DILJIT DOSANJH (@diljitdosanjh) December 3, 2020
Peaceful PROTEST CHAL RIHA.. Sab Kisaan'an De Naal aa .. @KanganaTeam Edey varge kush Lok Jo Bhonk Ke Mahaul Kharab karn di te divert karn Di Politics khel rahe aa.. Sarey Note Karn..

Eh Janani Shuru ton Hee Muddey nu Divert karn Da kam kardi Rahi aa..

Punjabi Jaande aa tainu

— DILJIT DOSANJH (@diljitdosanjh) December 3, 2020
Various celebrities and people showed their support in the same on Twitter:
Kangana Runout right now pic.twitter.com/xQJI9icRDA

— Saloni Gaur (@salonayyy) December 3, 2020
Ikk hor peshkash
⁦@diljitdosanjh⁩ ❤️ pic.twitter.com/mLNfQleQDE

— Ammy Virk (@AmmyVirk) December 3, 2020
Diljit is the King 👑

If you don't appreciate his movements it's because you don't understand them@diljitdosanjh has become one of the most important leaders of our people

Live long King

— Humble The Poet (@humblethepoet) December 3, 2020
Dedicated to @diljitdosanjh di THUG LIFE😎. We need more like him. Vaise aa video banaaya ta insta lai c, par hun bande ne jigraa vakhaaya hai ta aithe vi post karta🙏 pic.twitter.com/Nk8MKMBiX7

— Ravinder Singh (@_RavinderSingh_) December 3, 2020
I used to have immense respect for @KanganaTeam, I even tweeted in support when her office was demolished. I now think I was wrong, Kangana being a woman you should show the old lady some respect. If you have any ettiquete then apologise. Shame on you.. pic.twitter.com/FqKzE4mLjp

— King Mika Singh (@MikaSingh) December 3, 2020
Well done @KanganaTeam god blessed more power of you. @diljitdosanjh ko din me tare dikha diye.#सब_पर_भारी_कंगना

— 🇮🇳 Manoj Singh 🇮🇳 (@manojkrs29) December 3, 2020
Be responsible national media. This is the face of a person who provides food to billions of people... it's the face of a farmer. #IamWithFarmers @diljitdosanjh 🙏 https://t.co/jV6R1CFW2Q

— ANGAD BEDI "Anshuman Saxena" (@Imangadbedi) December 2, 2020
#DiljitVsKangana
For those who were saying why only punjab farmers have problem with farm laws....
Rajasthan, Odisha , U.P. , Tamil Nadu , M.P. and many more are coming.....#KissanEktaJindabad pic.twitter.com/NBO6j2TYew

— Preetinder Singh (@0c32cd76d36f47a) December 4, 2020
#DiljitVsKangana I was a fan of kangna and seriously so ashamed of kangna. She has totally become a slave puppet of bhajpa now. Shame on her to spread lies about farmers protest and abusing the amazing @diljitdosanjh. Diljit u r right and I support u #कंगना_को_दिलजीत_पेल_रहा_है

— Thunder Dragon (@Me_MimiFanatic) December 4, 2020
#DiljitVsKangana I would sincerely & humbly request @diljitdosanjh not to fall prey to @KanganaTeam false social media propaganda. She has gone crazy & is trying her level best to get political recognition for herself. Please don't fall prey to her shrewd social media manoeuvres.

— saugat bhattacharjee (@saugatbhattach1) December 4, 2020
felt like this was necessary, Diljit paaji I love you. 💕💞💓💗💖💝💝💘@diljitdosanjh #DiljitDestroysKangana #diljit #DiljitVsKangana #DiljitDosanjh pic.twitter.com/rNTExqEdMl

— Vibhuti Kathuria (@VibhutiKathuri2) December 4, 2020
M vth @KanganaTeam #DiljitVsKangana #कंगना_रानौत_शेरनी_है sherni thi aur sherni rahegi❤ uh can call kangana and me a 'andh bhakt' it doesn't matter cuz devotion is pure:) pic.twitter.com/Lrx1wnGv3K

— ♡Dimple♡ (@golgolrani) December 4, 2020
@KanganaTeam should now keep a personal Punjabi translator now 😂#DiljitVsKangana

— Priyam Jain (@priyam_show) December 4, 2020
@diljitdosanjh bro tuc bilkul theek kitta...@KanganaTeam deserve this actually...... Sare. Kehndee #KanganaRanaut nu ki mooh lana..... Tuc ta kissi jogi chaddi hi nahi..... Respect for you... Grows more nd more..... #kangnashameonyou #DiljitVsKangana #Diljit_defeat_kangnapagal https://t.co/w77Jy09Q3Z

— Ashish Sharma (@Ashish551994) December 4, 2020
Dear @KanganaTeam
You don't need to get personal to win an argument if Diljit is cosy with Kjo and you are not, it's his personal choice. Bringing Kjo in every argument, you are just loosening your credibility. Take care of your words.#DiljitVsKangana

— Indian_jon_snow (@Indianjonsnow1) December 4, 2020
What #DiljitVsKangana issue taught us

-Think before you speak (Tweet) for #KanganaRanaut

-Don't hesitate to raise your voice if you found something wrong for #DiljitDosanjh

This man is very brave as many of celebrities avoid to speak on such social issues #FarmersIssue

— Tikesh Hebbar (@HebbarTikesh) December 4, 2020
#DiljitVsKangana Punjabi farmers and Govt. ke bich exactly same ho raha hai jo ye dono kar rahe hain twitter pe ... no kaam ki baat sirf bakwas

— Shiv Maurya (@shiv7maurya) December 4, 2020