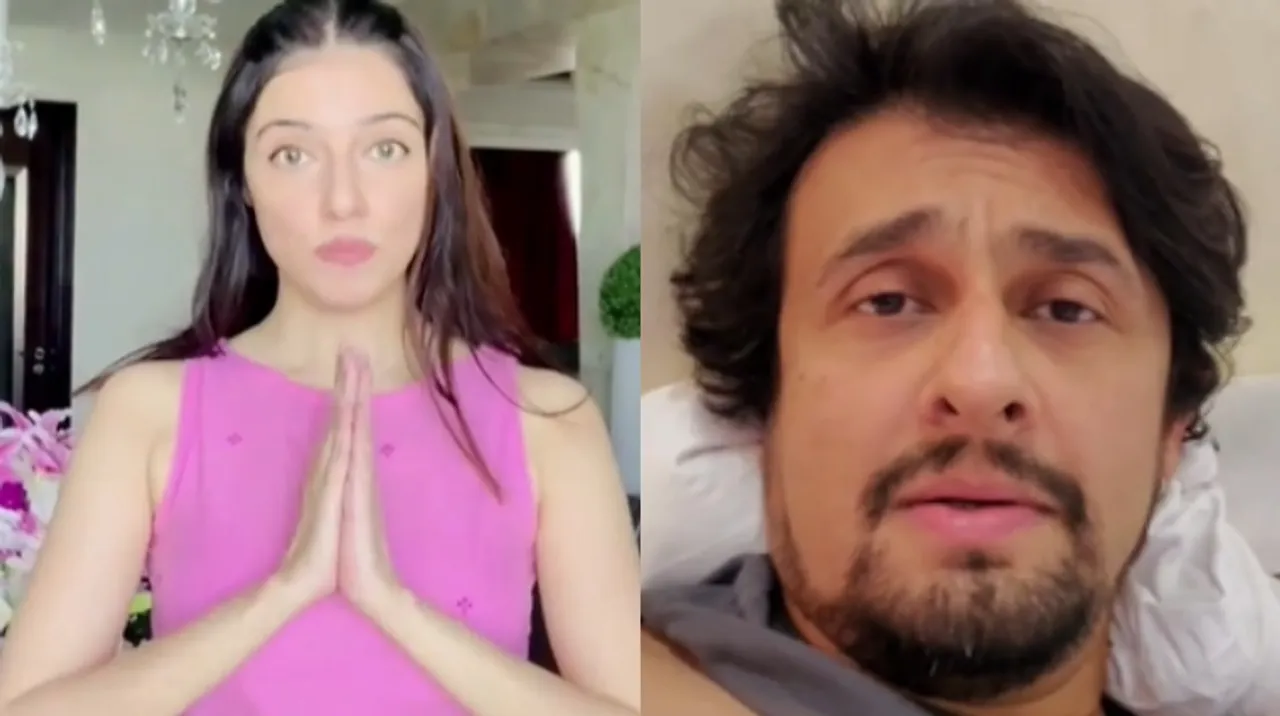 In the new video, Divya Khosla Kumar is seen denying accusations against her husband. Netizens stand with Sonu Nigam and their Tweets made it clear.
As the debate against nepotism and groupism intensifies, many industry giants have come forward to share their experience of the inequalities and favoritism that are deeply rooted in the industry. In the current #SonuLiveD | VLog series, Sonu Nigam uncovers the bitter truth of the music industry and accuses many of their misdeeds. The conversation was fuelled even further when Divya Khosla Kumar made a video as well.
However, this did not go down well with Bhushan Kumar's wife, Divya Khosla Kumar as she took to the internet to reply to Sonu Nigam for his alleged false allegations and trying to demean her husband. She made a long video and posted on her Instagram handle where she talks about how Sonu Nigam too, is  part of the problem.
https://www.instagram.com/p/CB0jC4hpo81/
Netizens sided with Sonu Nigam and shared their reactions to Divya's video:
#DivyaKhoslaKumar #Tseries

Public's reaction after watching Divya's video: pic.twitter.com/JhP4DkQAf1

— Tekre (@tekkre) June 25, 2020
#Tseries#DivyaKhoslaKumar tries to defend bhushan kumar by putting a video..

Le everyone to divya : pic.twitter.com/q2M4eMg7AU

— Naman (@ama_joking) June 25, 2020
#DivyaKhoslaKumar
**#BhushanKumar Right Now To Public pic.twitter.com/oq2Mg2CJh3

— Amit Singh (@__Amit__Singh__) June 25, 2020
A perfect meme does exist. #divyakhoslakumar pic.twitter.com/Gfo8seSm37

— narcassm (@narcassm) June 24, 2020
#divyakhoslakumar Devlok starts quoting Bhagavat Gita pic.twitter.com/H0K1MIJjts

— nishant mishra (@nishant27911324) June 25, 2020
Cringe we expect Cringe we get
#divyakhoslakumar pic.twitter.com/rRGryPf7dB

— Soham Naskar (@SohamNaskar) June 24, 2020
Wife of Bhushan Kumar
Owner Of T-Series#DivyaKhoslaKumar
Vs
Real Talent#SonuNigam pic.twitter.com/mOMQcaY0jV

— Lokanath Padhan (@lokanathishere) June 25, 2020
If you wanna see one more rakhi sawant you must listen#divyakhoslakumar pic.twitter.com/uix3mGypzW

— Bhatakta Tweet™ (@BhataktaTweet) June 25, 2020
#divyakhoslakumar makes a cringy video defending #BhushanKumar and #Tseries.
Meanwhile audience: pic.twitter.com/KG7UvCG8Ey

— Soham Naskar (@SohamNaskar) June 24, 2020
After Watching Video Of #DivyaKhoslaKumar

Bhushan Kumar Himself Be Like: pic.twitter.com/gI2hcSLhEW

— Anteiku Yagami (@CoffeeWaala) June 25, 2020
Public to #DivyaKhoslaKumar after watching her shitty acting in her vedio- pic.twitter.com/URrFts043U

— Paras Choudhary (@Paras96875440) June 25, 2020
Memers after watching #DivyaKhoslaKumar 'Tatti' video pic.twitter.com/OLqVGPe458

— Sudhanshu Ranjan Singh (@memegineers_) June 25, 2020
Everone after watching #DivyaKhoslaKumar video:#TseriesApologiseMNS pic.twitter.com/RZvHAbfd3v

— Charan Reddy (@CharanR57204959) June 24, 2020
After watching @iamDivyaKhosla video the subscribers count-
??
#divyakhoslakumar pic.twitter.com/Lbr3xbKIsq

— Divyansh Panday (@hindupanda) June 25, 2020