Catch up with your weekend dose of entertainment news with Robert Downey Jr's new series, the return of the Kapil Sharma Show and so much more.
This roundup dose of entertainment will catch you up to speed with all that happened over the weekend in the industry, global as well as Indian. From Robert Downey Jr's new web series to the return of The Kapil Sharma Show on TV. While an old picture of Amitabh Bachchan from a look test resonated with Sonu Sood for fans, Dwayne Johnson shared a tweet after wrapping up with the shoot of DC's Black Adam. Find out why Ashton Kutcher returned his ticket to space and why Angad Bedi and Neha Dhupia had a hard time figuring out a caption.

Big B shares pic from 'Reshma Aur Shera' look test, fans say 'You look like Sonu Sood'
Actor Amitabh Bachchan took to Instagram to share a picture of his look test for the film 'Reshma Aur Shera' from 1969. A number of fans in the comment section wrote, "You look like Sonu Sood." Do you also think that this veteran picture of AB looks like Sonu Sood?
Ashton Kutcher returned the ticket to space as his wife, Mila Kunis didn't think of it as a 'smart decision'
American actor and entrepreneur, Ashton Kutcher revealed in an interview with Cheddar News that he returned his Virgin Galactic space travel ticket bought in 2012 for $200,000. He said, "When I got married and had kids, my wife basically encouraged (me) that it wasn't a smart family decision to be heading into space when we've young children."
Neha Dhupia, Angad Bedi expecting their second child
Actress Neha Dhupia and actor Angad Bedi are expecting their second child. Neha shared a picture of her baby bump on Instagram and wrote, "Took us 2 days to come with a caption…The best one we could think of was…Thank you, God." Angad also shared the same picture on his Instagram handle, writing, "New Home production coming soon."
The conservatorship has killed my dreams, all I have is hope: Britney Spears
Singer Britney Spears shared a post on Instagram about her conservatorship and addressed people criticizing her videos. "Conservatorship killed my dreams…so all I have is hope and hope is the only thing…that is very hard to kill…yet people…try!" she wrote. "You're lucky I post anything at all…if you don't like what you see…unfollow me," she wrote for her critics.
Kapil Sharma reunites with Bharti, Krushna for the new season of 'The Kapil…'
Comedian-actor Kapil Sharma has reunited with co-actors Krushna Abhishek, Kiku Sharda, Bharti Singh, Archana Puran Singh, and others to shoot for the next season of his television show, 'The Kapil Sharma Show.'
I'm the mom and the dad, she's the boss: Amber Heard on her daughter
Hollywood actress Amber Heard, who recently announced the birth of her daughter Oonagh, shared a new picture featuring the 3-month-old and in the caption she wrote, "I'm just the mom and the dad. She's the boss."
Feels great to be back on floors: R Madhavan on resuming the shoot
After COVID-19 restrictions were recently relaxed across the country, actor R Madhavan has resumed shooting for a project in Mumbai and shared the news on Instagram. Posting the latest photograph of him from the set's make-up room, he wrote on his Instagram Stories, "Mumbai shoot. [It] feels great to be back on floors."
Anupam Kher announces his 519th film while flying above the Atlantic Ocean
Actor Anupam Kher took to Instagram on Saturday and wrote, "Delighted to announce my 519th film while flying above the Atlantic Ocean at 36,000 feet." "God has been kind to me. It is so humbling to be able to reach this possibility," he added.
Kamal Haasan on the first day of 'Vikram' shoot
Actor Kamal Haasan shared a video from the first day of the shooting of his upcoming film 'Vikram' and wrote, "Day one of Vikram. Felt like a high school reunion." Alongside the video featuring the cast and crew of the movie, Haasan added, "In the past 50 years, this is the longest I have been away from film shootings."
Actress Jameela Jamil joins the cast of Marvel's show 'She-Hulk'
Hollywood actress Jameela Jamil has joined the Marvel Cinematic Universe's television series 'She-Hulk' and she confirmed the news on social media. While the actress has not yet confirmed her role in the show, Marvel has already announced that Tatiana Maslany will play the lead role of Jennifer Walters aka She-Hulk in the series.
Farhan Akhtar shares pics of transformation for Toofan says 'Many shapes and sizes'
Actor-filmmaker Farhan Akhtar took to Instagram to share pictures of transformation for his role in 'Toofaan'. "The many shapes and sizes of Ajju aka Aziz aka Toofaan. What a ride. 18 months of relentless work but worth every drop of sweat, every sore muscle, and every pound gained and lost," he captioned the post.
Ayushmann Khurrana pays tribute to Surekha Sikri, his on-screen Dadi
Ayushmann Khurrana on Friday paid tribute to late actress Surekha Sikri, with whom he worked in the National Award-winning film 'Badhaai Ho'. "An impeccable performer. A consummate artiste. A legend. You'll be missed Surekha ma'am," he wrote while sharing a few pictures from the sets. "Thank you for the beautiful memories."
Robert Downey Jr to star in an adaptation of 'The Sympathizer'
Robert Downey Jr. AKA Iron Man will star in the adaptation of Viet Thanh Nguyen's Pulitzer Prize-winning novel 'The Sympathizer'. South Korean filmmaker Park Chan-wook, director of 'Oldboy' and 'The Handmaiden', has been roped in to helm the upcoming series.
Ian McShane to return as Winston in 'John Wick: Chapter 4'
Actor Ian McShane will reprise his role as Winston in the fourth installment of the 'John Wick' franchise. The upcoming installment, which will feature Keanu Reeves in the titular role, is scheduled to release on May 27, 2022.
Henry Cavill to star in rom-com film 'The Rosie Project'
Actor Henry Cavill will star in the upcoming romantic-comedy film titled 'The Rosie Project', which will be directed by Steve Falk, Deadline reported. According to the report, the film will be about a university professor who creates a special questionnaire in an effort to find a wife and meets an unconventional woman.
'Double suicide' at designer Gianni Versace's US mansion 24 yrs after his murder
Two men apparently killed themselves, police said, in a suite at the Miami Beach hotel that Gianni Versace turned into his mansion, nearly 24 years to the day before the fashion designer died on its front steps. Their bodies were found on the eve of the anniversary of Versace's slaying by a suspected serial killer. Detectives are investigating the deaths.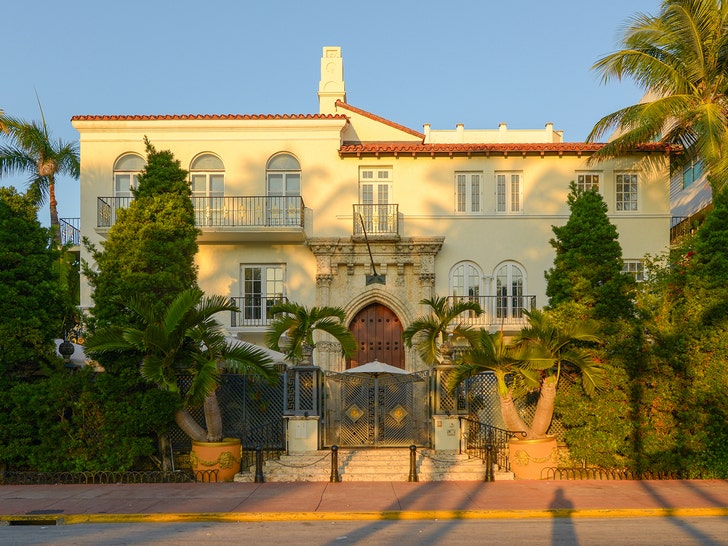 M Night Shyamalan would like to work with Indian actors
Hollywood filmmaker M Night Shyamalan has mentioned that he has considered working with Indian actors. He told PTI, "My mind has gone there a few times…There are a few actors I like, but I don't want to say so that others don't feel bad…But there are a few who have been on my mind."
Harry Potter New York introduces virtual reality experiences for fans
Harry Potter New York is introducing virtual reality experiences which will open on July 15. Reportedly, it will offer visitors a chance to live their Hogwarts dreams via interactive experiences set inside the Harry Potter store in NYC, created by WarnerMedia. The store will let fans explore the Wizarding World in two distinctive storylines based on the film franchise.
Dwayne Johnson on wrapping DC's 'Black Adam'
The production on Hollywood actor, Dwayne Johnson-starrer DC film 'Black Adam' has concluded and Dwayne shared the news on Twitter.
Hope you are all caught up with this weekend's entertainment dose!
For more entertainment content follow us @socialketchupbinge