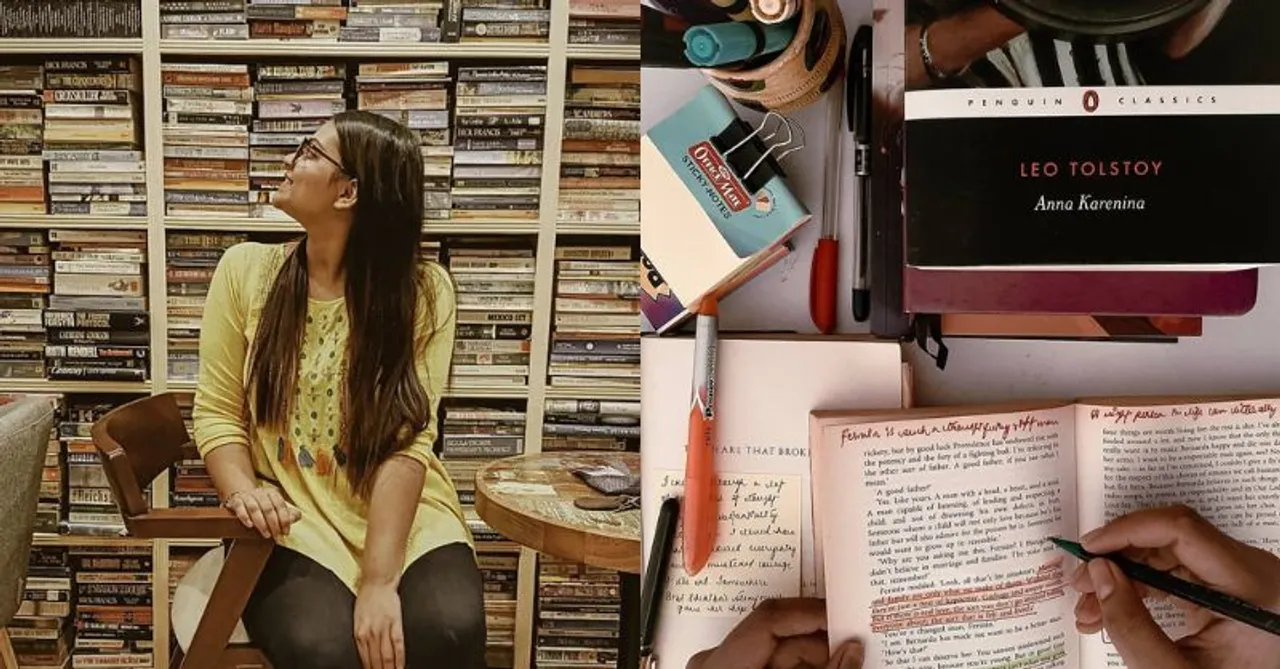 Book blogger Simran Das bunks stereotypes about classic literature and suggests timeless books that you must add to your to-be-read list.
Classic literature is a genre that may not suit everyone's pursuit. It might even feel intimidating as these books have been written some hundred years ago by authors who might not have been progressive enough when compared to the contemporary. There are so many stereotypes attached to classic literature. For instance, some believe that classics' complex vocabulary is tough to comprehend. Some find the descriptive length of the narrative exhausting. However, book blogger Simran Das finds classics to be far away from these stereotypes.
Stuck at home during the Coronavirus-induced quarantine, Simran started reading dedicatedly to kill time. However, she had a very vague knowledge of genres, especially of classic literature. She remembers picking 'The Great Gatsby' by F. Scott Fitzgerald, determined to finish reading the book within three days. Well, she was proven wrong as she could not finish the book even after a week. "One cannot plan to read classics according to the number of pages. A book as long as 'Anna Karenina' by Leo Tolstoy might take approximately 15 days whereas 'Pride and Prejudice' by Jane Austen might take a month or more for reasons such as the language, the detailed description, and sometimes, the translation," she says.
Even though she discovered many hiccups, she also discovered a lot of joy on her journey of reading classics. She took us through her delightful journey too.
Here are the classics she recommends you to read!
'The Handmaid's Tale' by Margaret Atwood
"The Republic of Gilead offers June aka Offred only one option: to breed. If she resists or retaliates, like many other dissenters, she will be hanged at the wall. What does her future await? The Handmaid's Tale is a dystopian classic, also famous for its Hulu adaptation. I personally enjoyed first reading the book and then watching the adaptation. Of course, it's not a happy watch. In fact, this book has built a premonition in me that the entire world might at one point turn into Gilead crusading its women."
Anna Karenina by Leo Tolstoy
"Anna Karenina has everything- wealth, beauty, and a family with an adored son. However, what she lacks in her life is love. She feels empty and desolate until she encounters the impetuous officer Count Vronsky. Their subsequent affair scandalizes society and family alike, and soon brings jealousy and vicious bitterness in its wake. Anna Karenina is not a mere love story. It speaks volumes about women and their tolerance in a society where women's lives are governed by society. Through the character of Levin, this book teaches the readers about self-sufficiency and contentment. The most beautiful part of the book is that the characters are flawed and hence, realistic."
'Animal Farm' by George Orwell
"The oppressed animals of the Manor Farm defeat their master taking over the farm for themselves. They believe it to be the beginning of independence and abundance. However, the devious elite commences taking control, eventually trapping the animals by replacing the former dictator. This novella is a timeless and overwhelming satire of idealism and totalitarian regimes. It's known to be one of Orwell's best works and a world-famous classic. The book is tiny in size but overwhelming in its content. Despite being written and published in 1945, when the world was witnessing the second World War, it still seems relevant."
'Frankenstein' by Mary Wollstonecraft Shelley
"Swiss scientist Victor Frankenstein aims to create intelligent life. However, when his creature first stirs, he realizes he has made a monster. Frankenstein, the first science fiction novel, is dark and gothic in nature. It was written by Mary Shelley at the age of 19. Initially, it is a little challenging to comprehend the narrative considering it was written in 1800. However, trust me when I say that it is definitely worth every minute and penny.
'The Picture Of Dorian Gray' by Oscar Wilde
"The book follows Dorian Gray, who, enthralled by his own exquisite portrait, exchanges his soul for eternal youth and beauty. Influenced by his friend Lord Henry Wotton, he is drawn into a corrupt double life, indulging his desires in secret while remaining a gentleman in the eyes of the polite society. This little classic leaves one wondering about the influences of a near and dear one on a person. It makes one ponder how words can make or break us. Written in 1891, The Picture of Dorian Gray has penned the bitter truth about human existence and its obsession with youth. It is a concoction of morality, pleasure, influence, art & culture. It is a brilliant piece of literature left behind as a trademark by a brilliant author."
Which classic do you plan to read?
You can find Simran's other book reviews here.
Also Read: Short books to help you get out of your reading slump ft. Shreya Verma