This week's entertainment roundup will tell you all about Emmy nominations to which famous films celebrated their completion and so much more.
This week the entertainment industry was dwelling in nostalgia. Where Devdas, Cocktail, ZNMD, and Legally Blonde completed a respective number of years since the release of the films. The cast and crew of the films celebrated the nostalgia while showing us some BTS footage and talking about their experience. On the other hand, the Emmys announced their list of nominations. This and so much more happened throughout the week in the industry.
'The Crown' and 'The Mandalorian' lead the 2021 Emmy nominations
'The Crown' and 'The Mandalorian' lead with 24 Emmy nominations each on Tuesday, followed by The Disney+ Marvel series 'WandaVision', with 23 nominations. It was the first time that the top three nominated shows were all from streaming platforms. In the top three categories, drama, comedy, and limited series, broadcast networks scored only two nominations.
Police complaint filed against Kareena by Christian group over 'Pregnancy Bible' book
A Christian group has taken objection to the title of a book, 'Pregnancy Bible', written by Kareena Kapoor, and filed a police complaint in Beed, Maharashtra against her and two others. The group accused them of hurting religious sentiments. "No case can be registered here as…incident hasn't happened here. I've advised…to file…complaint in Mumbai," an official said.
Taapsee Pannu turns producer with her new production company
Taapsee Pannu is joining hands with producer Pranjal Khandhdiya for her new venture 'Outsider Films'. She posted on Instagram about this news with a caption, "Last year when it was almost a decade since I plunged into the dream this Indian Film Industry is, I never knew I will not just float but actually learn to swim my way through. For someone who never dreamt of being a public figure, I am forever grateful to everyone who has bestowed so much love and trust in me and my work. Time for some payback, because with great power comes greater responsibility. So wish me luck and I promise to try my best to bring the best, coz the view is the best from the "outside". Writing a new chapter of life, now as a producer with the "Outsider Films".
Dia Mirza reveals she gave birth to her son prematurely in May, baby still in ICU
Actress Dia Mirza took to social media to reveal she and her husband Vaibhav Rekhi welcomed their son Avyaan Azaad Rekhi on May 14. She said she gave birth via an emergency C-section and added that her son was born prematurely. "Having arrived early…our little miracle has since then been cared for by tireless nurses and doctors in…Neonatal ICU," she stated.
If you misgender me, that's okay: Demi Lovato on their transition
Taking to Instagram, singer Demi Lovato spoke about their transition and said that it's alright to "misgender" them, especially since the transition has been fairly new. They wrote, "If you misgender me, that's okay. I accidentally misgender myself sometimes! It's a huge transition to change the pronouns I've used for myself my entire life. And it's difficult to remember sometimes!"
It was the role of a lifetime: Reese Witherspoon on 20 yrs of 'Legally Blonde'
American actress Reese Witherspoon took to Instagram to share a post on the 20th anniversary of her film 'Legally Blonde'. She shared a few behind-the-scenes pictures and wrote, "Playing Elle Woods was the role of a lifetime." "Every meme, graduation cap, musical number, Halloween costume…has brought me so much JOY over these past two decades," Reese added.
Grateful every day since: Farhan Akhtar on 8 years of 'Bhaag Milkha Bhaag'
Actor Farhan Akhtar, who portrayed the character of sprinter Milkha Singh in the 2013 release 'Bhaag Milkha Bhaag', took to Instagram Stories and celebrated 8 years of the film. He wrote in the caption, "8 years on…grateful every day since". Milkha Singh passed away a few weeks ago due to COVID-19 related complications.
Rajinikanth dissolves Rajini Makkal Mandram, says 'no plans to enter politics'
Tamil actor Rajinikanth on Monday announced that he has no plans of entering politics and dissolved his outfit Rajini Makkal Mandram. The announcement came after he met the members of his forum to discuss its future. "The forum will now function as Rajini Rasigar Narpani Mandram to carry out welfare activities," the 70-year-old actor said.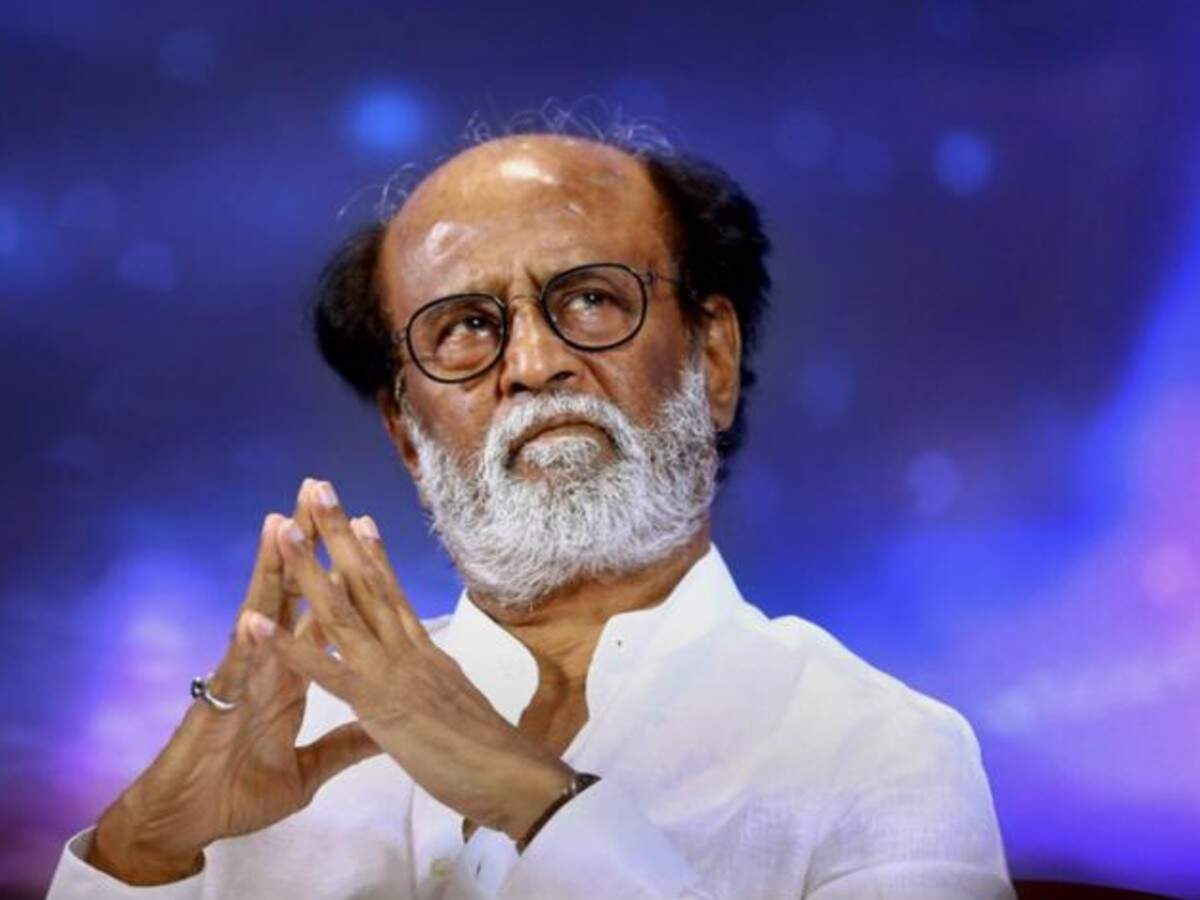 Will record his wise words in my voice: Big B on his father's writing
Taking to Twitter, actor Amitabh Bachchan made an announcement that he will now record one of his father's books in his own voice. Sharing a picture of himself with a speaker mic placed right in front of him, he wrote, "I don't distance myself from the writings of my Pujya Babuji; And now his wise words, in my own voice."
Take out that car again: Zoya Akhtar on 10 yrs of ZNMD
Filmmaker Zoya Akhtar's film 'Zindagi Na Milegi Dobara', clocked 10 years on Thursday. Taking to Instagram, Zoya shared a picture of the Buick super convertible that was used in the film, and wrote, "Time To Take The Car Out Again. Thank you to the best cast and crew ever!"
1st photo of Saif & Kareena's son, Jeh from her book on pregnancy goes viral
Kareena Kapoor's fan clubs have shared what they claim is an unseen photo of her and her second son Jeh. The picture seems to be from Kareena's recently launched book 'Pregnancy Bible' and has gone viral. Kareena and her husband, Saif Ali Khan, welcomed their second son in February this year.
I was told, 'dark girls don't look good on camera': Actress Sonali Kulkarni
Actress Sonali Kulkarni, who appeared in 'Dil Chahta Hai' and 'Singham', revealed to ETimes that a woman once told her, "Have you seen your face in the mirror? Dark girls don't look good on camera." The woman was accompanying her daughter to an audition in Pune. Sonali added, "I haven't faced colorism in Bollywood but I've experienced it in Pune."
Actress Jodie Turner-Smith robbed of her jewelry at Cannes, spends 2.5 hrs at a police station
British actress Jodie Turner-Smith, who attended the Cannes film festival, was robbed of her jewelry worth several tens of thousands of euros. Robbers broke into her room and stole jewelry from her room at the Marriott hotel. "Didn't think I'd be spending 2.5 hours in the police station on my final day in Cannes, but here we are…," Jodie tweeted.
David Beckham fist bumps Tom Cruise at UEFA Euro 2020 final; the video goes viral
Former England football captain David Beckham fist-bumped actor Tom Cruise after England's Luke Shaw scored the opening goal of the UEFA Euro 2020 final on Sunday. A video of their fist bump has since gone viral on the internet.
Amitabh Bachchan's first look from 'Goodbye' leaked online
Amitabh Bachchan's picture from the sets of his upcoming movie 'Goodbye' has leaked online, revealing his look from the film. In the picture shared by a fan account on social media, Amitabh can be seen shooting with his co-star Rashmika Mandanna. The movie, which will be directed by Vikas Bahl, will feature Amitabh with actress Neena Gupta.
Jackie Chan says he wants to join the ruling Communist Party of China
Action film star Jackie Chan has said that he wants to join the ruling Communist Party of China, state media Global Times reported. The 67-year-old actor who is also the China Film Association Vice-Chairman added that he could see the "greatness of the CPC". Earlier, Chan had been criticized for backing China's crackdown on pro-democracy protests in Hong Kong.
Shah Rukh Khan on filming 'Devdas' after the film completes 19 yrs
Actor Shah Rukh Khan took to Twitter and shared a note on the occasion of his film 'Devdas' completing 19 years of its release. He wrote, "All the late nights, early mornings, problems worked out bcoz of the gorgeous @MadhuriDixit, the stunning Aishwarya, ever cheerful @bindasbhidu, full of life @KirronKherBJP & the whole team slogging under the masterful Bhansali. Only issue-the dhoti kept falling off! Thx for the love," he wrote alongside a series of stills from the set.
Tabu on 30 yrs of debut Telugu film 'Coolie No 1'
Actress Tabu, who made her acting debut with Venkatesh Daggubati starrer Telugu film 'Coolie No 1', reacted to the movie completing 30 years of its release. "Slightly unbelievable and thoroughly overwhelming to know that it's 30 years since my first film Coolie No.1 released. It's a moment of much pride, along with many other emotions..most importantly of gratitude," she wrote on Instagram.
Sourav Ganguly's biopic confirmed Ranbir Kapoor expected to play his role
A film based on the life of BCCI President Sourav Ganguly is in the works. The former Team India captain confirmed the news to News18 and said that it will be made in Hindi. According to reports, Ranbir Kapoor is expected to play the lead role in the upcoming film. It'll reportedly be made on a budget of ₹200-250 crore.
Veronica changed a lot for me professionally: Deepika Padukone on 9 yrs of 'Cocktail'
As 'Cocktail' turns nine actress Deepika Padukone said that the film was a turning point for her career. She added, "Veronica will always be one of the most special characters I've played, one that changed a lot for me professionally." "If a character resonated with millions, then obviously there was something about it that audiences empathized with," Deepika said.
31-yr-old US rapper dies after he was shot 64 times on his way out of jail
A US rapper who goes by the name KTS Dre died after he was shot 64 times following his release from jail in Chicago. The 31-year-old, who was a local rapper, was walking towards a waiting vehicle when several suspects began to shoot in his direction, police said. The killing comes amid a rise in shootings in Chicago.
Rannvijay Singha and his wife Prianka were blessed with a baby boy
Actor Rannvijay Singha and his wife Prianka have been blessed with their second child, a boy. Sharing the news on Instagram, the Roadies fame actor shared a picture of a little red sports jersey along with a pair of tiny sneakers and wrote, "#satnamwaheguru." The couple has been married for six years, and are already parents to a four-year-old daughter, Kainaat.
Ranveer Singh and Jatin Sarna mourns demise of 1983 World Cup-winning batsman Yashpal Sharma
Actor Ranveer Singh and Jatin Sarna took to social media to mourn the demise of former India batsman, Yashpal Sharma. Ranveer shared an old picture of the 1983 World Cup-winning batsman on Instagram and added a broken heart emoji in the caption. Sarna also shared pictures of the 1983 World Cup-winning batsman with himself and the '83 team and wrote, "History will never forget you. The innings were still left…we had to watch the film together,". Ranveer's upcoming film '83 is based on India's 1983 World Cup victory and Jatin Sarna is portraying Yashpal in the film.
Will Smith's wife Jada on shaving her head
Hollywood actor Will Smith's wife Jada Smith, opened up about her hair loss issues in 2018 and shared a photo on Instagram revealing her fully shaved head. "Willow made me do it because it was time to let go. But, my 50's are about to be divinely lit with this shed," Jada wrote in the caption.
Yami Gautam announces her next project 'Lost' with Pankaj Kapur
Taking to Instagram, actress Yami Gautam announced her next film titled 'Lost' along with actor Pankaj Kapur. It is an investigative drama that will highlight the issue of media integrity. Sharing the poster of the film, she wrote, "Here comes another hard-hitting and thrilling tale that's more relevant than ever in today's time."
S Korean singer Taeil reaches 1mn Instagram followers in 1 hr 45 mins sets record
South Korean singer Taeil Moon broke the record for the fastest time to reach one million Instagram followers. Taeil, a member of South Korean boyband NCT, reached one million followers in one hour and 45 minutes after his first post, according to Guinness World Records. Harry Potter star Rupert Grint previously set the record at four hours and one minute.
21-yr-old US rapper Indian Red Boy shot in the head 3 times during Instagram Live, dies
American rapper Zerail Dijon Rivera, who goes by the stage name Indian Red Boy, was shot dead on Thursday in his car. The 21-year-old artist was on Instagram Live interacting with his fans and an influencer named Kapone. While the Hawthorne Police is currently investigating the homicide, rumors suggest that he was killed for allegedly disrespecting late rapper Nipsey Hussle.
We're grateful: Courteney Cox on 4 Emmy nominations for Friends reunion
The Friends reunion episode received four Emmy nominations. Reportedly Courteney Cox, who played 'Monica' was the only one of the six lead 'Friends' stars, who never scored an Emmy nomination during the sitcom's 10- season run from 1994-2004. Expressing her gratitude, Courteney took to Instagram and wrote, "The one where we are incredibly grateful to the Academy for this honour."
Mandira Bedi remembers husband Raj Kaushal, shares old pics
Taking to Instagram on Wednesday, actress Mandira Bedi penned a note for her late husband Raj Kaushal, who passed away at the age of 49 due to a heart attack on June 30. She shared some pictures of herself with Raj and wrote, "25 years of knowing each other. 23 years of marriage…through all the struggle…through every crest and trough."
Spice Girls' Emma Bunton marries fiancé Jade after a 10-year engagement
British pop girl group Spice Girls' member Emma Bunton married her fiancé Jade Jones after a 10-year engagement. The 45-year-old singer took to Instagram to share a picture with Jade and wrote, "Mr. and Mrs. Jones!" The couple has two sons together, Beau and Tate. Jade is also a musician, having fronted the R&B boy band 'Damage' during the 1990s.
Hope you are all caught up with this week's entertainment news with this roundup!
For more entertainment content follow us @socialketchupbinge