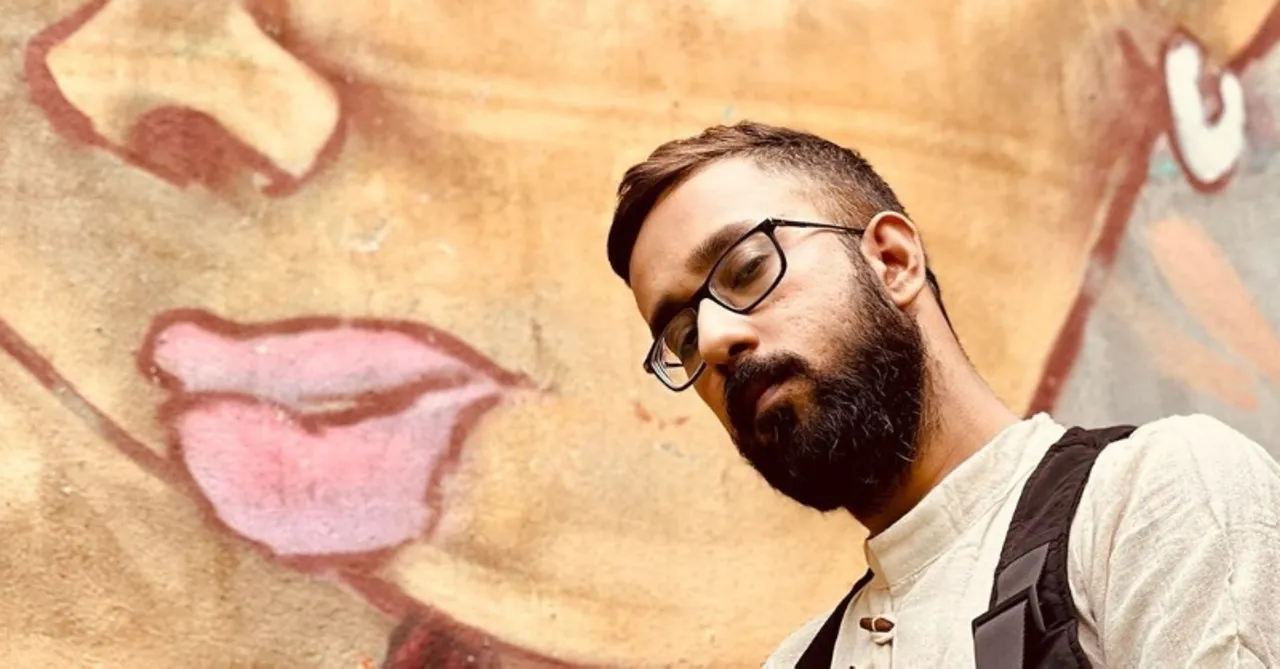 Indian rapper, artist and Protest Poet, Santhanam Srinivasan aka EPR Iyer talks about issues that matter to him in his latest Trell anthem.
Independent music is at its merriest in India because artists from the music industry are getting a platform to share their creations on. The fact that people are introduced to new genres of music is contributing to this growing number of new-age artists. Hip-hop is one genre that opened the door of underground hip-hop in India to a larger audience. With movies like Gully Boy, this genre shifted from being a niche to being more popular among the masses. Santhanam Srinivasan aka EPR Iyer is one of these hip-hop artists in India who gave music a new face in India.
The Younger and Raastafari artist was introduced to the world of music at a very young age. His discovery of his love for Rock and Hip-Hop was by listening to Linkin Park and Rage Against The Machine. This early discovery has left an impact on the kind of music that he creates to date. Apart from creating music and songs that make the crowd go wild, he makes sure that his music has something to offer. A person who is fond of haiku and poetry, EPR uses his verse to get people's attention on issues and subjects that matter. He says, "As the fifth element of hip-hop always stands for knowledge and awareness, it represents the voice that stands against social injustice and oppression." His song 'Ekla Cholo Re' that he wrote and performed in the finale of MTV Hustle highlighted the issue of farmer's suicide, while 'Reggae Hindustan' talks against institutional injustice & social ills. As we celebrate our 75th Independence Day, EPR Iyer wrote another empowering song called 'Azaad ho Azaad Raho' for Trell. With the release of the anthem, EPR talked to us about how he uses his songs to talk about social issues.
Here's what he had to share:
How did your musical journey begin?
I had a knack for writing since I don't know when. I always used to scribble down something or the other frequently be it poetry or prose. I got exposed to rap as an art form in 2004 and it sparked my inquisitiveness and that's how I started my musical journey. I was in school when we formed a band and spent most of my free hours making songs and jamming. That is when it turned out to be an undying passion.
You have your own band called the Underground Authority. How did the band come into being and how did you decide on the name?
When I was in college we formed multiple bands, we were constantly competing in National Rock Band competitions. We won a lot of them but we had problems maintaining a stable lineup. So, one fine evening in 2010 we met up at a park with our arch-rivals who would always compete with us. It was either them or us winning pretty much every competition. So, we decided to form a band and I decided to name it "Underground Authority" because our previous band had bagged a lot of awards and was well-known in the underground rock music circuit in the country.
You always make sure that your music has more to it. You have a message that you want to convey through them. And you are also called a Protest Poet, how did you get this tag and when did you decide to get into this genre of music?
I had always made music with an intent to express and not impress. I was deeply influenced by the works of bands like Ratam and of course old school hip-hop legends like Requiem. Their music helped me find a purpose in why I write or make music. As the fifth element of hip-hop always stands for knowledge and awareness, it represents the voice that stands against social injustice and oppression. Since most of my work speaks about the social-political scenario of the country and the world, I started identifying my music as 'protest poetry'. A lyrical genre that is free to incorporate any style of music but that which calls a spade a spade and hence people started calling me 'Protest Poet'.
If you had to define freedom, how would you define it?
Freedom to be is a Rabindranath Tagore poem, "Where the mind is without fear and the head is held high, Where knowledge is free, Where the world has not been broken up into fragments by narrow domestic walls".
Can you talk a bit about the anthem you created for Trell?
When I jumped on to produce a track with GJ Storm, I wanted to make it simple yet impactful and something that carries the message that we're free to follow our dreams despite what people might say against it. I love the concept and the message Trell was trying to put out. I wanted to amplify it even more through my music and so we did it.
How do you think platforms like Trell help in creating awareness among the people?
We live in a digital era and platforms like Trell have a powerful network where millions are connected. Any message put out there for awareness instantly reaches out to all and can definitely bring about a positive change.
Among all the songs that you have created, do you have a favourite song or line that you would love to share?
My favourite lines would be ones I wrote for Ekla Cholo Re. The last lines from the second verse "Krishi Pradhan desh krishi sankat pe na gaur, Ab ya toh atmathatya yaa phir aandolan ki aur".
Which of EPR songs is your favourite? Let us know in the comments below!