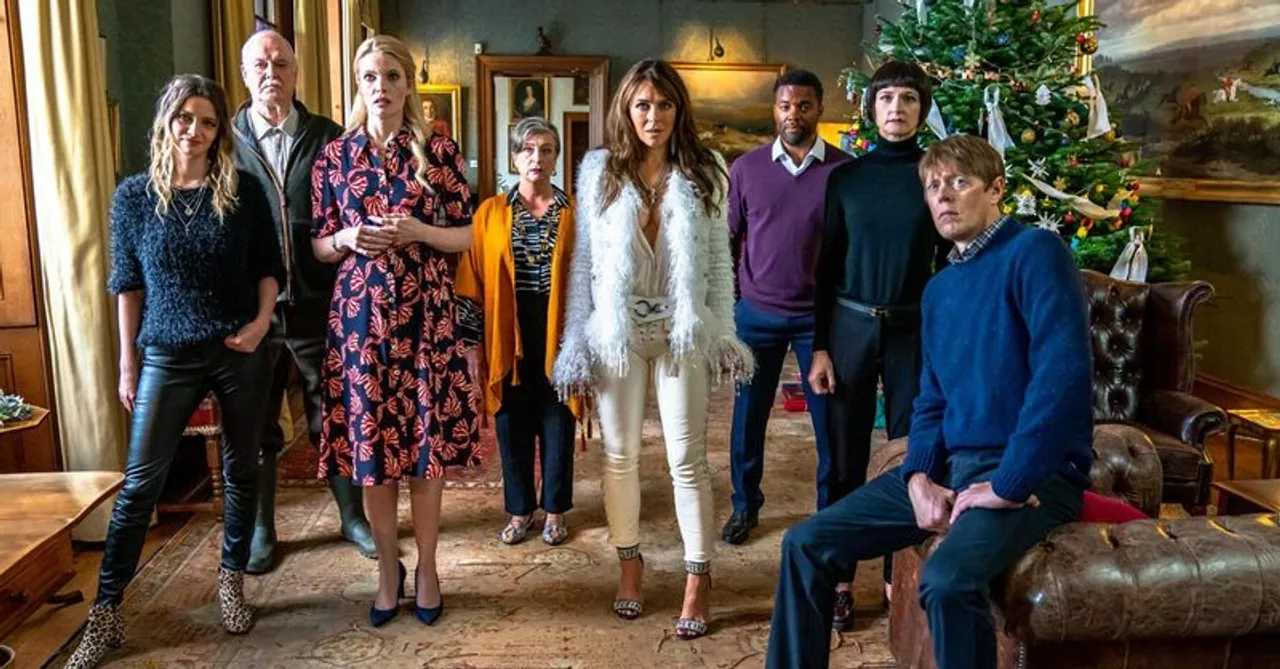 What was meant to be a UK melodramedy with a fully stacked cast, Father Christmas is Back tries so hard to be eccentric, warm and silly that it ends up being everything but!
For someone who loves watching Christmas films for all the warmth, hope and holiday cheer they spread, this one felt like the complete opposite! No kidding! Directed by Mick Davis and Philippe Martinez, Father Christmas is Back takes a ridiculously talented cast and gives them a crappy script, badly written characters and an idea of a plot at best!
Cast - Kelsey Grammer plays James Christmas, the absent father who abandoned the family 27 years ago. Elizabeth Hurley is seen as Joanna Christmas, the OTT editor who is horrible for reasons unknown, Nathalie Cox plays Caroline Christmas - Hope, a mother to two girls who hosts her entire family every Christmas. Talulah Riley plays Vicky Christmas, the most notorious of the Christmas sisters, a fact that's established by her leather leggings and her inability to sit straight on a couch and Naomi Frederick is seen as Paulina Christmas, the sister who has no characteristics except being obsessed with The Beatles! Caroline Quentin is seen as Elizabeth Christmas, mother to these daughters. April Bowlby is seen as Jackie, James' rather young girlfriend. John Cleese is seen as John Christmas, James' older brother.
Storyline - The movie begins with Caroline Christmas getting her Yorkshire mansion Christmas ready before her kids and husband can decorate the tree with toilet paper. One can tell from that scene itself that Caroline is highly strung especially when it's Christmas we're talking about because she hosts her entire family for the holidays and they're not the easiest or nicest bunch to deal with. It almost feels like nobody from the Christmas family cares about getting along and she's taken it upon herself to recalibrate Christmas 27 years in a row, ever since her father walked out on them all those years ago! This year, all of them gather at Caroline's, even her estranged father who decided to show up unannounced with his newest paramour! As expected, tons of misunderstandings follow which ultimately reveals the reason behind James abandoning his family!
Also Read: Friday Streaming – Prime Video's Your Christmas or Mine makes you want to spend yours with these two families!
Watch the trailer here!
What I didn't quite like - Everything that one looks forward to in a holiday film is missing in Father Christmas is Back! Like that wasn't enough, this one is stuffed with unlikable and absurd characters without any backstory on why they are the way they are. Case in point - Elizabeth Hurley as Joanna in every single scene also Naomi Frederick seen as Paulina Christmas; Her entire personality is centred on being too into The Beatles and coming out of the closet every Christmas! That's it, no explanation given! Where's the character arc, some heart and soul? Where are the apologies and giving second chances? Also, which parent seems unfazed by listening to their children bicker like they're 5 with the language of a 19 year-old grad student? None of these characters seem to know what they're doing and combine that with Christmas movie clichés like an annual Christmas fair and everyone magically coming together in the end and you're just left rolling your eyes!