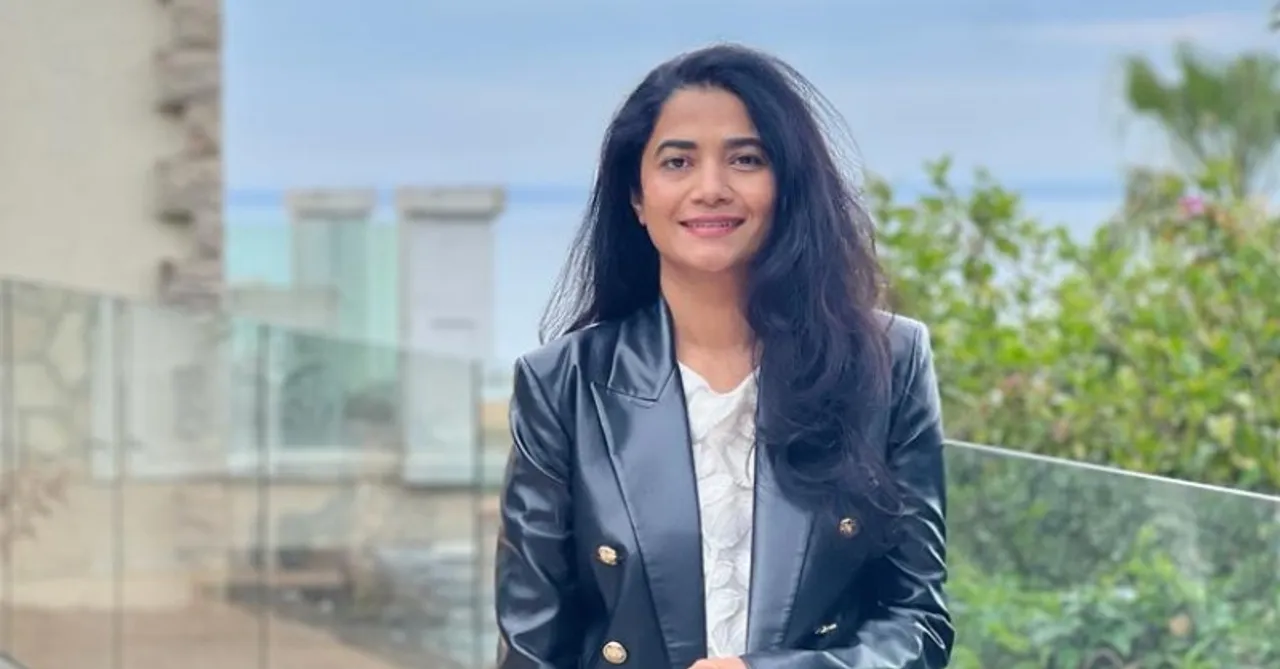 In a conversation with us, Founder and Director of Fetch Consulting, Pankhuri Harikrishnan talks about her experience of building content led campaigns and exploring new opportunities in the creator economy.
The ten-day long Cannes Film Festival happened last month and we saw an a large number of Indian celebrities and content creators attending it to represent different brands. While the red carpet looks and the brand associations might meet the eyes of media and fans of these celebrities and creators, there is a lot that goes behind these events that gets missed. Pankhuri Harikrishnan takes us to the world that might look like a party from the outside, but the show runners of it, isn't just having fun in it. She talks to us about her experience of making Fetch a one stop consulting agency for brands, what goes behind associating with brands for an international event like Cannes Film Festival, and all things from a founder's diary.
Here's what she has to say!
Mrinil Mathur: I would like to begin with the story behind the inception of Fetch. What inspired you to start it?
Pankhuri Harikrishnan: I've been in the workforce for many years. I used to run a talent company called Elite Model Management for many years, which is responsible for finding some of the biggest faces that you see today in Bollywood. So Sidharth Malhotra, Kangna Ranaut, Anushka Sharma, Frieda Pinto, etc they were all people who we had sort of found and worked with and launched into the business of movies back in the day. That's what I used to do in my earlier avatar, after which I moved to do PR, and then having done all of that, I wanted to sort of do something that brings brands and creators, influencers and celebrities together. And so I started my own company about five years ago called Fetch, which was going to do all of it. So it's basically a creative marketing agency. That takes up of ideas and IPS to tell bring people together and do that creatively. So that's really where the journey for Fetch started.
Honestly, I didn't think of it so hard. I just knew what were my capabilities and what I wanted to do. I had a few clients who were working with me, we started ideating for them. Also, what's happening now is that the dynamics in the market keep changing. It's not how you did the business, and you did it for many years. It is changing every six months, eight months or ten-months. So you start with something that you pivot into something else and then you went to something else. I knew I wanted it to be a 360-degree marketing and communication agency. But what I've realized is that over a period of time, there are different things that take precedence over something else. Sometimes it's a very PR-led campaign that we're running some other time, it's a very content-based piece that we're doing and sometimes, it's brand storytelling that is taking all of these pieces and creating a more holistic communication piece. It keep changing but overall we were into communication which is done creatively through various mediums. And that's really what Fetch stands for. 
MM: As the Founder and Director, what is your vision for Fetch India? How do you differentiate Fetch from others?
PH: I don't know about a differentiator, but what sort of makes us unique in our way is that we are very agile in terms of how we work. From starting the process of ideating to actually executing it, we do all of that, and we do it very quickly, and we do it smoothly. We are truly a one-stop agency where if you have a vision, we're able to bring it to life from zero to 100. While we may not be a very large agency, we are a very complete agency.
When a client comes to us with a brand brief or a brand idea we are able to break it down into the need of the hour at that moment, and from start to finish we're able to give you the solution. That is really our USP in today's scenario.
We've got different divisions to do specific jobs, but most of my team is actually multifaceted. We are running a PR campaign on one side, on another side, we are also working on a content creators campaign, and on the third thing, they are looking to pitch for a new idea. I feel today that is the requirement because nobody is looking for just one thing, and nothing is coming exclusively. Also, a lot of our projects have bits and pieces of everything. Sometimes one thing is larger, sometimes in other pieces larger but it's actually all of it eventually that makes the whole piece.
Tell me, what does a day in Pankhuri's life look like?
Basically, the mind never sleeps. I am constantly thinking of what to do next. Thinking about how to make it better or how to do it differently. And honestly, the competition is with myself. I really don't have the time to compete with anybody else. The day starts with a lot of thoughts and ideas. Sometimes I have ideas in my sleep. Hence the day is filled with constantly thinking about concepts and then trying to see how I do that in the best possible way.
At one particular time, I'm actually thinking of five different things together, and three will materialize, and then another five things will happen, so just a lot of ideating and executing and making sure that things are on track. Because eventually, when I am winding up the day, I do need to feel that I started out with X number of things and these many have been accomplished.
I'm not somebody who does lists, I have been very chaotic actually. But in that chaos, we are able to achieve a lot by the end of it because there are multiple things that I'm trying to do together. So my days are chaotic, but also fulfilling, and in between all of this as you would know there are these OTPs that keep coming, other HR issues and more.
I worked for years for other people. And I did a great job with that. Wherever I worked, I took full ownership of things. From the time that I started working for myself, I realized that things that I didn't like at any other workplace, I must not have for the people who work with me. I'm constantly thinking about how to make it an interesting work environment and a better workplace. I cannot say that it's going to be a 100% great environment. But how is it a stimulating work environment? How is it an empowering work environment? I have 80% of women who work with me, and we come with our own challenges, right? How do I make sure they feel empowered, fulfilled, and they want to be at work? Or want to do the work as authentically and as happily as I want to do it? I feel like that is also a big part for me. It's more than just did I get clients? Did I get the money? I do want to have an environment where I created something that was quite something. 
With about 20 years of experience in this industry, and after running Fetch for over 5 years, how do you think the business of content has evolved? 
When I started Fetch five years ago, we didn't call it content at that time. I could sense that there was a space that was building up, but it wasn't called content or called content creators. And Instagram was just sort of taking off. I have done content in various formats earlier, whether it was long-form video or even curating content for magazines and more. We've done all of that. In fact, 2018 is when we first did our first edition of the Cannes Film Festival that we did from Fetch, it was very heavy on PR. Instagram was a part of it. But it didn't take as much space as many other things, and I will explain that to you as we move forward. 
But over the years, we realized that Instagram content, YouTube, and all of that started taking more space and the traditional piece sort of took a little bit of a backseat. The way content changed or the business of content evolved was that we saw it sort of growing little by little, but during the pandemic, there was a complete shift, and it pivoted, obviously because that is the only thing we were consuming and it was the only piece that was you know, basically being created because it was through everybody's phones that they held. I think that completely changed the game, and the good part was the whole creative economy pivoted and when it took off, everybody could become a creator and founder. If you were cooking, you were relevant, if you were singing, you were relevant. That really opened it up as a very huge space for everybody. 
On the other hand, obviously what happens is people who have been around for long know which brands are working with creators, and you wonder, how do I build something which is of value for clients? How do I make sure that we're picking the right kind of influencers? Because suddenly there's an influx of influencers and creators, how do you pick the right platform for the right brand? So that became slightly tougher, and secondly, I just feel like the competition increased. Earlier, there were only a handful of people. Suddenly everybody started doing it and then you're like, okay, how do I stay ahead in the game? We keep wondering, how do I do it in a way that my voice is heard? But literally, I think there is no going back. It's only evolving! There are more and more new ways of content creation and engagement. We started with pictures and went onto videos, and then it's been going from one format to the other. It's going to keep reinventing to become bigger and bigger. Now a lot of people are trying to use Instagram to drive people to YouTube and monetize that. 
Cannes Film Festival ended recently, and we saw you and your team have done some fantastic associations at the festival. We saw Kusha, Aditi, Mrunal, and many more for brands like AirBnb, Grey Goose, and more. Tell us, how did it happen, and how was the experience?
When we started in 2017, that is when I started Fetch, and Grey Goose was my first key client and they have been actually around the world associated with some of the best events as celebration partners. I used to always hear from them that 'we do Oscars, we do Cannes' and I questioned them, if you guys do Cannes Film Festival then why can't we,  from India, also be associating in some capacity. Initially they were hesitant since their International team took care of it. I convinced them that the festival itself has so much relevance in India because from years we've been Aishwarya Rai attending it. I reasoned that the kind of eyeballs the festival gets India definitely has potential of creating something bigger and that year, they were looking at some people from the press from different countries coming in for Grey Goose International for the festival. 
They said we can get two seats, would you like to take someone from the press, then I just jumped on the idea and I said, if you are going to give me space on the red carpet, and I'd like to take a star because that's where I'll get the eyeballs for the brand and assured them that I'll get you all the press irrespective. We spoke to a couple of star friends who I knew, and people who I thought I could take a chance with. We called up Huma and Kangana, and we went on the red carpet, and then it was all new for us. We had never done it. The brand had never done it. It started like that. 
But we learned along the way. It was a great experience. We created so much buzz because we took someone from India outside of the realm of big companies who use to be part of the festival. And it was a big and bold step. I really didn't know how that would fly. Because it's an event we don't own and we don't understand how it runs. It's so close to anybody who's not part of the circuit. And I got a small chance to sort of get in because Greg Goose internationally was doing something there. So we went in, we learned, we did well, we got a lot of press and that's where I got the confidence. While one small piece that I've done can get so much excitement going.
I am going to be bold enough to say that we really started this whole trend of creating looks, content etc at the festival, because we were on our own. We were not following a certain pattern that a film or a festival was doing. We had gone there really to have fun, to see how things work and to show it to the world and to do some great brand building. It was very brand focused. We had a free hand, and creatively doing what we wanted to, we had some great stars we were working with. What we did was, we actually broke a lot of traditional norms of how it has to be done at the festival. We thought, we can do whatever we want and integrate and showcase the star's platform, or I also flew in magazines. I did crazy stuff into magazine integrations and shoots there. We stayed longer. We created more content and did some shoots with some big magazines. It was mind-blowing. It was like a whole campaign that we shot there. While it was tough at many levels, for varied reasons like, we don't speak French etc, but once we were able to get past it, we realized that there was huge potential.
Therefore, next year we went back again, slightly bigger with Greg Goose, and bigger partnerships on board. We added more stars in the campaign. We added Diana Penty, etc along with creators and influencers. We did lot of activities there. And the idea was to take it bigger the next year but then the pandemic happened. So we went there for 2018 and 2019. 2020 nothing happened and 2021 they did a very small version of it. So we waited and then we started it again last year. 
For 2022 we changed it completely and we added new brands and more stars. Last year is when we went absolutely content heavy and we realize that actually the only thing that matters is how you showcase and everything else will happen around it. 
So it was a very content heavy piece that was replicated this year again with more brands. So it's been a journey! I've seen a lot of people started going there. It's an open field and everybody can be there. Everybody can dress up the way they want and tell their story as long as it stays authentic to the platform and the festival. There's so much potential in what we can create not just at Cannes but even other international platforms. The whole of last year we've done a couple of assocaitions with International Fashion Weeks as well. So we did a partnership for Rahul Mishra for Lenskart for Paris Fashion Week. And then we did another one for Gaurav Gupta last year in Paris Fashion Week for Grey Goose. So we've been thinking of multiple formats of creating associations between creators, platforms, brands, and telling the story in unique ways. If we feel like the platform itself has something new and different to offer. So we're constantly thinking ahead of time and trying to see how we can break the clutter.
Over the years, you have strategized and executed different kinds of campaigns for creators and actors; what is your most significant learning. Is there any campaign that taught you something?
As I was saying, if we are very clear on what we're trying to achieve out of a project. Then we run towards that as the goal. Over the years, with all of the experience that I've had, we have to be very focused on what we're trying to get out of this. So for the brand, it is the messaging that needs to come out very clearly. For me as a project, I need to be able to land X amount of deliverables that I have promised myself and the brand and for a creator or a celebrity or whoever else is a part of it, they need to feel like the story was authentically told. If you're able to do these three things and piece them together, you will have a project that you have landed well.

For instance, this year I took a huge leap by taking multiple people and multiple brands. Obviously at the Cannes festival, it is so chaotic because, we don't own anything, everything has to be created from scratch, and everything is changing every day. You and your partners have to know that you got to achieve 100%, but there are always vagaries of what is possible at the moment. Because when you're covering events, it's very different from doing it in studios and sets. You will have to know that it will dynamically keep flowing, and you have to keep thinking on your toes as you move. So you have to have a team that thinks along with you. It's impossible to do this on your own. There is an ops team, there is a team that is shooting, editing, creating, and there is a team that is also servicing, whether it is the star or it is the client. You have to go with a team that understands the pressure of this, and then you have to know how you have to be able to get the delivery out of it. 
So that really is the learning that you have to keep flowing with it. You have to be flexible. You have to change yourself; in case you feel you re not able to achieve something. If you keep changing and you keep moving with the target in your head, you will manage. 
What myth do you think is still associated with content and creator business? 
Oh my God, people think it's so glamorous. While it is to an extent, it's really just the last part of it. I mean, when we go to Cannes and when we are shooting with the stars and the creators they are shooting more than they shoot anywhere else because we have limited time. We have got a very small team there, everything is very contained. And in that, you have to deliver X amount of reels, X amount of shots, X amount of changes, it's back-breaking.
And while it looks so amazing, that so and so walked the carpet or wore this designer, there's so much heartache and stress work that goes towards the final piece that I think people sometimes forget and people only land up judging that last bit that they see in good or what they don't realize is what goes behind it. I feel what people see is only just a little bit of the output. But there's so much more that goes in there. I had kids who come and say we want this job because we think it's so glamorous. And I'm like, but it's not glamorous, it's everything else. What you didn't see is me picking up someone's shoes and running so that we reach on time or me trying to get a cab or something else. What you only see is the two Instagram posts that I put up that's not what it is. I think that that is what the reel versus real reality difference. 
What are your future goals and aspirations for Fetch? Are there any new areas or opportunities you plan to explore?
One thing is for sure, we are constantly evolving. We're doing new things anyway, simply because we need to stay ahead of the curve. I get very bored if I do the same thing over and over again. I need to challenge myself. I'm constantly thinking of how do I make what I'm doing better or how do I do it differently. Therefore, we are constantly adding things. As I said, we started at this point, I've got multiple divisions, we have got a PR division, we have got a production division that is churning out all of this content and then we have got a full-fledged influencer division as well. And while Kusha is one talent, we also have to Kareema and Agasthya. I'm hoping to be able to make the roster slightly bigger this year and put a little bit more focus on that.
Also, looking to do different things more creatively. I love adding different genres of brands to our portfolio. For a festival like Cannes, I think a phone is a perfect partner. So I literally said I want a phone partner. I went after it, and I created the entire piece from scratch for Vivo. So more and more new kinds of brands I'd love to work with and with new people because I feel with new energy, we are able to create new things. So the idea is to expand and explore more, where we go and what we do, I don't know, it's really just, it just flows.
For more entertainment and news, follow us on @socialketchup