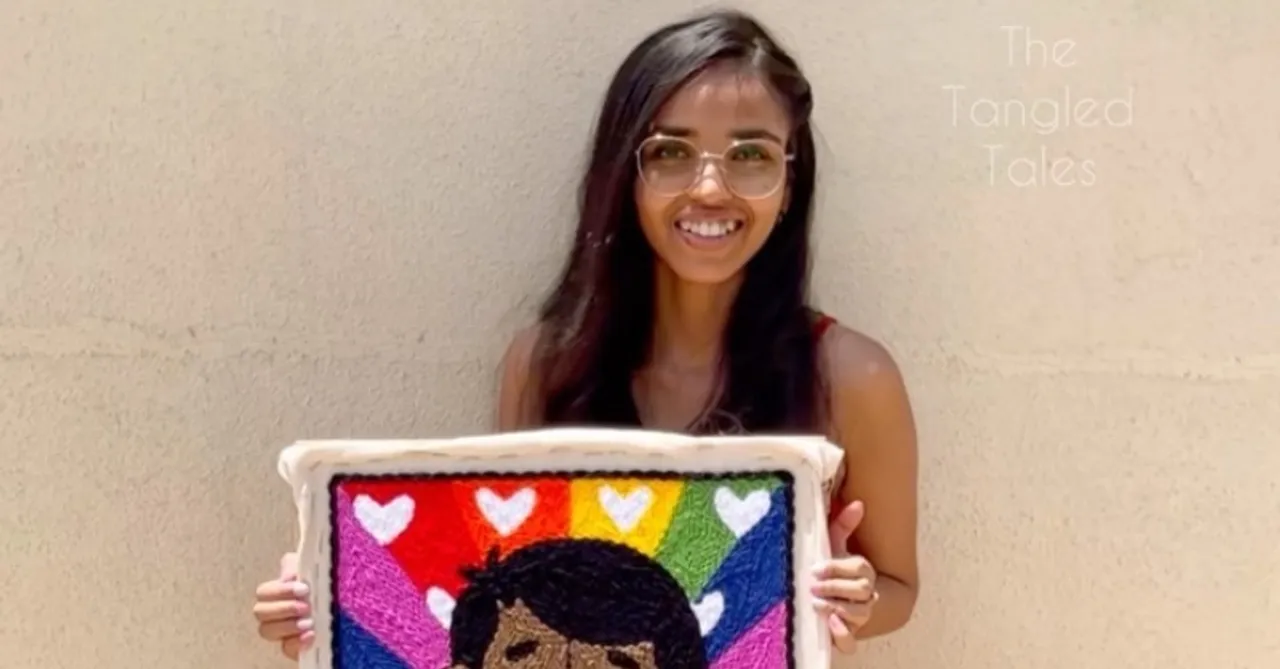 Indian artist, animator and creator Debarati Roy aka The Tangled Tales and her amazing creations have our hearts!
Every person has a way of coping with life and the problems it throws at us. Some like sports, some engross themselves in movies while others make art. Creating something from scratch and watching people admire it has to be the best feeling in the world. And Indian artist and creator, Debarati Roy aka The Tangled Tales has been feeling all of this and more. "I come from an artistic family, my parents never forced me to do anything that I didn't want to do."
A fibre artist, Debarati is also an animator who worked in the animation field for five years away from home before she decided to take a leap of faith and start something of her own. Although she loved being an animator, she didn't like working for others and that encouraged her to start doing it full-time for herself.
The decision to take it up as a full-time job was also not an overnight thing. As someone who had a steady job in hand, like anyone else, she held on to it before letting it go altogether. Before leaving her job, she started taking up freelance gigs as an animator. But as soon as one of her Reels went viral, she found orders pouring in, "so I thought it is the best time to focus and give my 100% in this with my fiancé's support."
Her journey as a creator and businessperson started as a result of a gift that caught her friend's eye. As someone who always loved art, Debarati find ways to give handmade gifts when it came to celebrating her friends or people she loved. "I used to gift my friends handmade things for their birthdays and they always used to get very overwhelmed". The sheer joy that it created made her want to start something of her own but for some reason, she never acted on it. But one of her friends took note of how great she is and gave her the push she needed. "One day I went to meet a fellow artist (Sanjana Desai) because I wanted one of her drawing posters but she refused to take money. So I made something for her and as soon as she saw it, the first thing she told me was 'You made this by yourself? You should start making these to sell.' and that was the final push I never knew I needed."
Apart from all her talent, one thing that also makes her even more inspiring is that she's an adult with ADHD and does not shy away from sharing it with her followers. "I play the violin (very poorly if I may add) also I have Adult ADHD." She knows it's not something that defines her but a part of her. She continues to share her stunning art in all its colourful glory.
What sets her apart from a lot of artists is the art that she creates. She's known for the incredible art she can develop from wool. Fibre art is taking over and grabbing people's attention for how unique it is. From wall hangings, accessories, and custom pieces, Tangled Tales is a treat for the eyes. Some of the credits for her fibre art belong to her mom who happens to be a textile designer and a former Kala Bhavan Santiniketan student. "My mom taught me how to weave when I was a child and I never knew that it will give me a new reason to live."
Short video platforms have become an exciting place for people to share what they love. There's an increasing number of artists experimenting in India and social media is a major reason for its growth. And Debarati agrees to it. "Definitely, Just think we live in such a nice time where you can make something and show it to millions of people and sometimes if they like they come and buy it from you it's all for social media only." This popularity also was the reason she decided to become active on the platform and try to keep up with the trends. She began working on herself and also was able to find her own style that people enjoyed watching on her page.
It could be bad to ask someone what their favourite post is because for every artist every piece of art they create is special and they cannot pick one. But we also know that one piece of art manages to become a favourite over the other. Debarati did not shy away from sharing her favourites with us too. "Long rainbow weaving, inside mirror, shades of love, a person of colours, love humanity weaving, ma and me. And in videos, there's a small stop-motion Reel I've made with some of my necklaces. It's still my favourite video."
She also appreciates how the platform introduced her to people she would not have met otherwise. According to her, the best part is that millions of people can see the work she is doing inside her small room. But the algorithm is what she finds upsetting as it chooses what to show the viewers and what not, "I know many many good artists whose work is mind-blowing but at the same time reach of their work is very low which is forcing some of us to create video content more than we want to just so more people can see our work which is compromising our mental health."
We had the opportunity for a one-on-one with the creator and here's what she said!
Do you follow any Indian creators whose content you enjoy?
Sayan Chanda, Alicia Souza, Sanjana Desai, and Keerthana Ramesh, these people are brilliant at their work and I would love to meet them in person, I've met Sanjana Desai in person.
Who are the people that you look up to find inspiration?
Mrinalini Mukherjee, Amy Oxford, Alicia Souza, Seema Anand, and last but not least, my mom Nibedita Roy.
A quote that always motivates you.
"If you can dream it you can do it" - Walt Disney (from my animation days)
Have you received any DM from your followers that stayed with you?
Yes, I do know many followers who have stayed with me from the start and they always send me the best messages whenever I self-criticise. 
If you had to describe what your hopes are for 2022?
Not only this year, I  just want 3 things from life. People to know me for my art, travel the world and marry the love of my life. I want good mental health where I will learn to love myself.
Check out Debarati's page on Instagram!
For more creator-related content follow us at @socialketchup