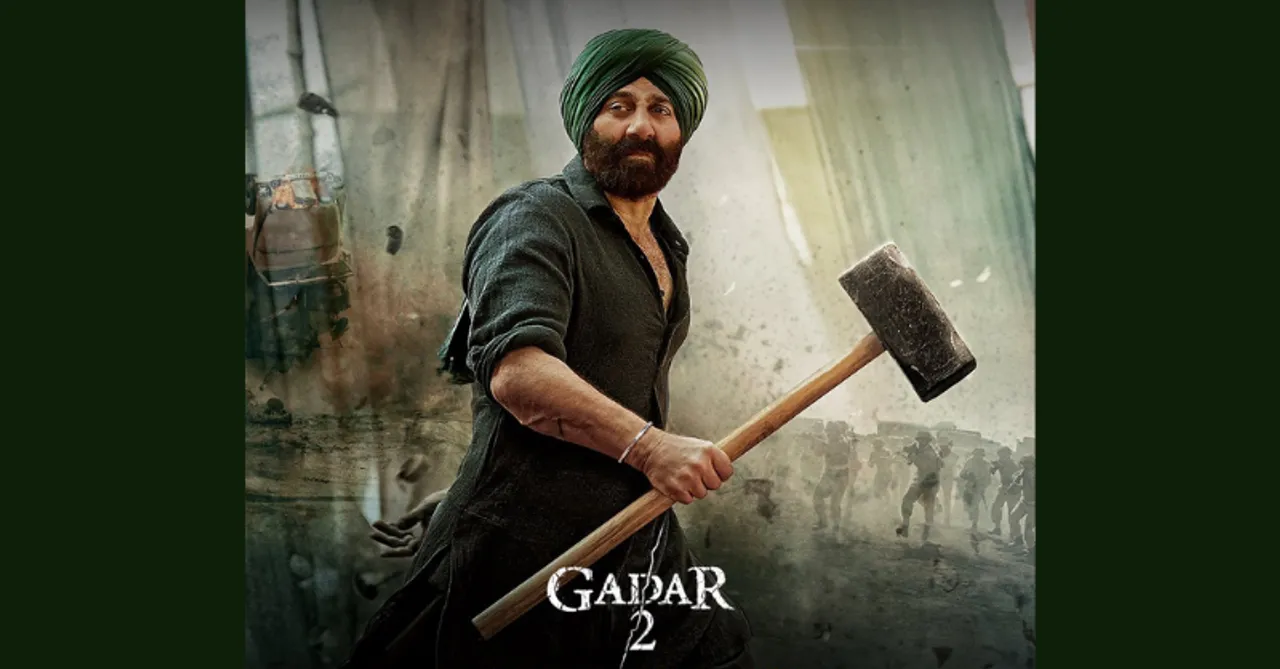 The nostalgia might pull you in, but the bloodthirsty hyper patriotism that Gadar 2 banks on, makes it difficult to sit through the film.
Gadar- Ek Prem Kahani received cult status in Indian cinema when Tara Singh (Sunny Deol) and his madam ji Sakeena (Ameesha Patel) made their way to our hearts. So, now that Gadar 2 is here, all the nostalgia has come rushing in. However, it is also accompanied by toxic masculinity, age-old Pakistan bashing, and a lot of bloodlust. In the first edition, Singh went to Pakistan to rescue his wife. This time he goes to save his son Charanjeet aka Jeete (Utkarsh Sharma) from Hamid Iqbal (Manish Wadhwa), an evil Pakistani General who hates Hindustan and Hindus because his family was massacred during partition.
The first half of the film is full of memories. It is difficult not to cheer when you see Deol crooning "Ke ghar aa jaa pardesi" and dancing to "Main nikla gaddi le ke." It feels festive. 22 years have passed and Singh has grown old, but his heart is still young. He loves his family the most, shouts and slaps when angry, and extracts hand pumps at the drop of the hat. Sakeena and he are still madly in love; he still calls her "madam ji". The first half perfectly reminds us why we loved Gadar, the love story. The visuals from the first film have been placed aptly enough to tug at our hearts. 
Also Read: Ranveer Singh is the new era's don in Don 3!
The second half is extremely disappointing. It is lengthy, gruesome, and jingoistic. Along with chauvinism, religious superiority is in the mix too. Gadar 2 reiterates the long-held notion that Pakistan is second-class, India is noble, and Hindus are fair while Muslims are misguided. The characters call India, Hindustan and constantly equate it with Hindus. Conveniently and stereotypically, all Pakistanis are evil and laugh devilishly. Pakistani women love and adore us. Every time an Indian hero goes over, a girl falls heads-over-heel in love with him. Pakistani men, who are related to us, assist us while the rest loathe us and want to either convert or kill us. The film begins with Iqbal murdering a Brahmin father and son for choosing Gita over Quran whereas Singh enters humming, "Kisi ke vaaste ho tere dil me pyaar, jeena isi ka naam hai." Terminologies like "Qafir" and "Ghazwa-ae-Hind," which have found a common position in nationalistic conversations, are uttered repeatedly. Even though Singh is Sikh, he constantly refers to Gita as Hindu shlokas play while he thrashes a Pakistani. It is hard not to ignore the film's exaggerated patriotism and religious fundamentalism.
At first, viewers cheered for nostalgia. They rejoiced when he, a civilian, went on a battlefield as the Indian army is overawed by him. Soon, they started hooting for violence. People clapped every time Singh killed a man. In one especially problematic scene, Singh insensitively captures the enemy's little kid to save his adult son, and people clapped wildly. Since when did we start enjoying kids getting traumatised in the name of revenge? Meanwhile, when Singh claims, "Hindustaan Musalmano ka hai, Sikhon ka hai...," there was no similar rejoicing. Violence, especially against Pakistan, clearly gives us a rush.  
Apart from warmongering, sentimentality, and Deol, the film has very little going for it. The script is predictable and relies heavily on badly written action scenes. Gadar 2 could have ended half an hour early if the action scenes were sped up. In slow motion, Singh and Jeete drop bombs like water balloons on Holi. The quantity of slaughter in the film is sickening. The amount of blood spewing from people's mouths can easily make one mistake the film for a gutkha advertisement. The lousy cinematography, VFX, and editing along with the sepia filter make all the scenes look indistinguishable. Neither Patel nor Sharma leave a lasting impact. Sharma at least has considerable screen time. Patel's role is to merely cry for her family. Perhaps the only saving grace of Gadar 2 is Deol's acting and stardom.
Gadar 2 is currently running in theatres.
For more such content, follow us @socialketchupbinge.