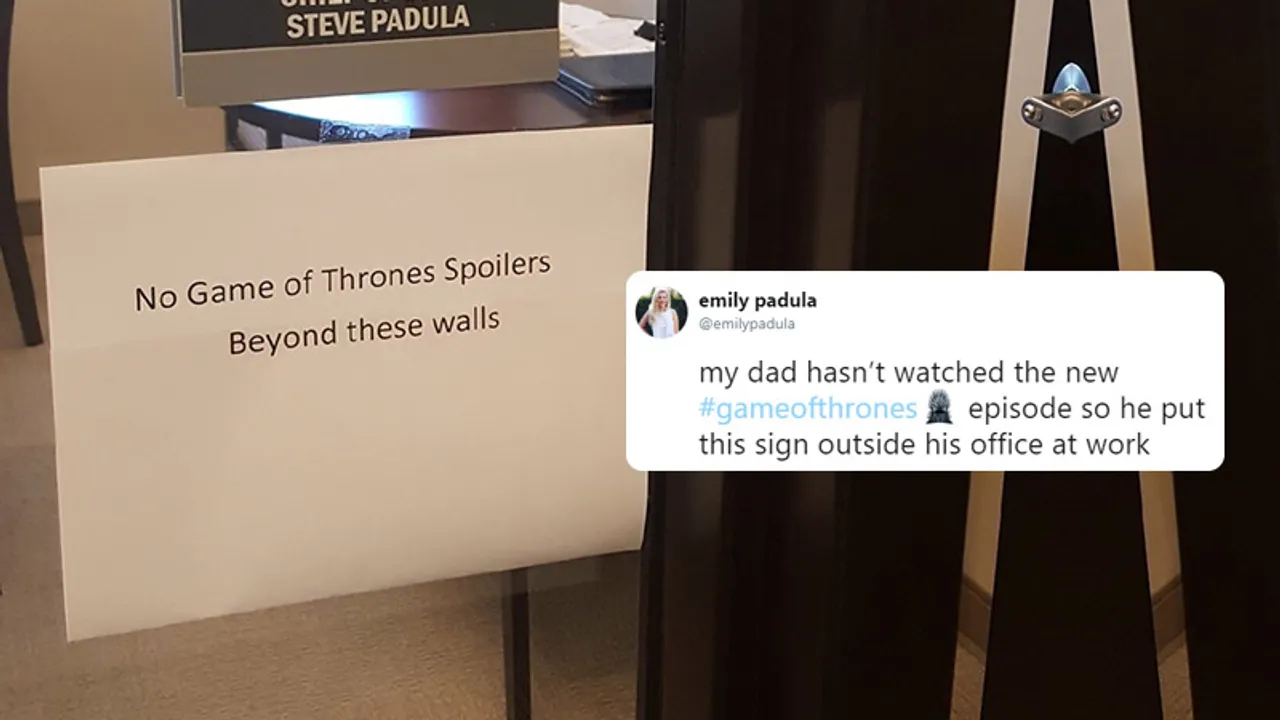 With a fandom so huge and vocal, discussing Game of Thrones is an involuntary action. We bring you instances from Twitterverse to prove it all the same
The third episode came out this week. While one of half of the fandom grumbles over spoilers, the other is revelling over little details. You may belong to either team but one thing you can't deny — Game of Thrones is a show that deserves lengthy conversations. Here, meet a few people from the Twitterverse who think the same!
There is no escape— not now, not ever
Meanwhile in my office #NotToday #GameofThrones pic.twitter.com/5QHAO6di72

— ᗩᑎᗪᖇeᗩ (@WhyDontUJustTry) April 30, 2019
Must watch before reaching office but..
One thing I have learned this weekend is that it is literally impossible to watch Game of Thrones on public transport without a man tapping you on the shoulder to chat about it

— Lauren (@_winemom) April 22, 2019
Let the conversation begin
Me and my prof are on another level anyways WINTER IS HERE #GOT #GameOfThrones pic.twitter.com/YG08lSfO2a

— Payton (@ProbablyPayton) April 15, 2019
The true Monday blues
It's a true travesty that no one in my office watches Game of Thrones because all I want do on Mondays is talk predictions and pre-mourn the death of all our favs

— Samantha Edwards (@SamEdwardsTO) April 22, 2019
Keep spoilers away!
my dad hasn't watched the new #gameofthrones episode so he put this sign outside his office at work pic.twitter.com/hsKNJMd8Zg

— emily padula (@emilypadula) April 30, 2019
You shall pass with flying colours
my professor is giving us 25 points if we come to office hours & she told me I could just come & talk about game of thrones

— jenephew (@jenieceaa) April 17, 2019
Burning questions on my mind
Listen. I know a lot happened in @GameOfThrones last night but I feel like no one is discussing how hot Podrick is now. When did that happen?

— Baxter (@alibaxter) April 22, 2019
How to make friends as an adult
Adult peer pressure is staying up late to watch @GameOfThrones because you need to keep up with everyone at the office Monday morning and the water cooler talk. pic.twitter.com/cufWLH029R

— April (@my2trollmonkeys) April 22, 2019
Theories are meant to be wild!
Drinking and discussing @GameOfThrones theories waiting for episode 2 to start. Bran should warg in to Viserion (the Night King's ice dragon) and decimate them all. Job done. #GameofThrones

— Lindsay (@lojacx) April 22, 2019
Everybody loves a warm reunion
I'm going to my old prof's house to watch the s8 premiere of game of thrones and I'm so excited and nervous

— xtina (@tinagodi) April 15, 2019
Allies are everywhere — watch out!
Just walked past one of the building's security guards discussing some Game of Thrones theories with someone else lmaooo

— malcriada (@virgoferreum) April 22, 2019
You know even when you don't!
loved listening to all my colleagues at work discussing game of thrones while i was stood there sipping blackcurrant squash with no idea who the hell jon snow is. the only thing i know about him is that he knows nothing.

— lau saw endgame (@koyaus) April 22, 2019
Profs are humans too?!
Prof: So I was watching Game of Throne
Students: pic.twitter.com/8s5Xd2LAdL

— Excellence ??‍♀️ (@Ebehaviour) April 15, 2019
Counting balance sick leaves, aren't you?
Seriously contemplating taking every Monday off until game of thrones is over. I stayed up till 2 am drinking, playing trivia and discussing the episode. There isn't enough coffee in the world

— LexciLately (@LexciLately) April 22, 2019
THAT fear of missing out
Literally everyone except me watches game of thrones. I could be in lecture and my prof talks about game of thrones. So now I kinda wanna start it to see what I'm missing.

— ME!ese jaw fan (@purfectionswift) April 22, 2019
Episodes air on a Monday for a reason!
Good luck surviving all your coworkers discussing Game of Thrones instead of actually working this morning

— Hard Working Man (@HardWorking2222) April 22, 2019
Oh, the sheer horror!
Hey one guy in the office who didn't watch Game of Thrones last night so we have to wait until tomorrow to talk about it....fuck you

— Stephen Caleb (@Stephen_Caleb_) April 22, 2019
But.. this counts as being productive, no?
My manager has called me into his office 3 times today to talk about #GameofThrones ??
We work so hard around here, let me tell you.

— ˗ˏˋ Valerie ˊˎ˗ (@Makeup_Giddess) April 16, 2019
Oooh, a scandal?
every day my Econ prof says something about game of thrones today he said that last nights episode was......a little awkward ?

— :) (@heyimtweet) April 22, 2019
Reminiscing the good old days
GOT deeply reminds me of the days when I was still a PolSci student, when our prof would insert hints of the 7 kingdoms into his lessons. Oh, how I greatly miss those days #PolSci #GameofThrones #Throwback

— Nico Miguel (@nicomig0731) April 17, 2019
That escalated quick, or did it?
MA PROF PARLE DE GAME OF THRONES PTNNNNNN pic.twitter.com/TI7cN7YNXD

— BlueɌ ? (@PointlessBlueR) April 15, 2019