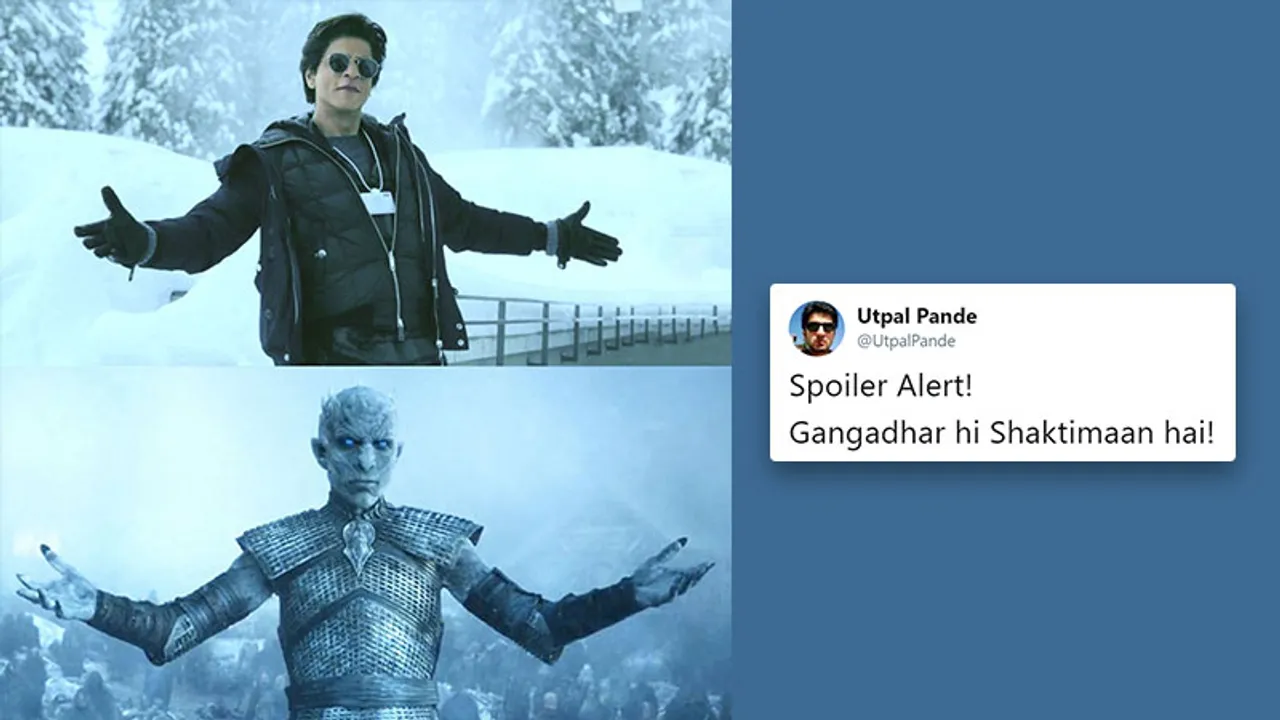 Game of Thrones Season 8 has amped up the drama with twists you could only expect from Bollywood. When the original is such, how could memes be left behind?
Bollywood can be best described as a blend of drama and music. Incidentally, the description also matched the Game of Thrones! With the last season soon to reach its end, the Twitterverse has taken upon itself to draw parallels and revel in the mysterious connections between the two realms, across time and space.
The ultimate crossover
rahul: I dont like jokes
anjali: I dont like you pic.twitter.com/HP3G3Tz4yh

— Manoj Mehta (@notmanoj) April 28, 2019
Dramatic rejection music starts playing
April 29, 2019
Platonic love story 101
Dany: Agar woh tujhe pyar karta hai toh yeh palat ke dekhega ... palat ... palat! #GameOfThrones pic.twitter.com/1FT4UuVvqd

— YellowGlassDragon (@karishmau) August 14, 2017
Dangerous play of words
Idea for GOT spin-off:

Love story on white walkers.

I'm calling it dead ishq Kiya.#GameOfThrones #Bollywood

— Pawan_and_only (@SarcasticGondu) April 22, 2019
Come, let's fall in love
Spoiler Alert!

Gangadhar hi Shaktimaan hai!#got #GameofThrones #SRK #bollywood #SPOILER #GameofThronesseason8episode3 pic.twitter.com/nyubclYadi

— Utpal Pande (@UtpalPande) May 5, 2019
Will you be my best friend?
Spotted on Facebook today #GameofThrones #DDLJ pic.twitter.com/DQGhw8xe3N

— Gautam Ghosh (@GautamGhosh) May 25, 2016
You got 70 minutes to defeat death, okay?
Coach Kabir Khan #GameofThrones pic.twitter.com/Kg91U7KN5u

— निशाचर (@nishacharr) April 29, 2019
Na juda honge hum, kabhi khushi kabhie gham
#GameOfThrones8 #GameOfThrones
Yeh bandhan to pyaar ka bandhan hai..?? pic.twitter.com/mVrPJB3K3p

— nehhaaa (@lame_ladki) April 15, 2019
True love has some classic markers
Palat Palat Palat #GameOfThrones pic.twitter.com/2KP0diOlQx

— x (@madri101_) August 10, 2017
Ek jaadu ki jhappi milegi bhai?
Spoiler #GoT #GameOfThrones #Bollywood ??? pic.twitter.com/nEQzGPmUJQ

— Manish Kohli (@manishrkohli) May 7, 2019
Let's get the violins out!
*Bran in Bollywood*

Aankhein khuli ho ya ho band
Deedaar unka hota hai
Kaise kahu mein oh yaara ke
Warg kaise hota hai#GameofThrones pic.twitter.com/JJ3kgRMVUA

— ∆ (@iamvkhil) May 4, 2019
Bonus: When Hodor met Daya!
Thinking of #crossover. How about this?
Hodor against Daya.
Hold the door versus Break the door. #GameofThrones meets #CID
Dayanand Shetty versus @KristianNairn pic.twitter.com/RMvPzb8hOd

— Pratyush Patra ? (@KalamWalaBae) April 6, 2019