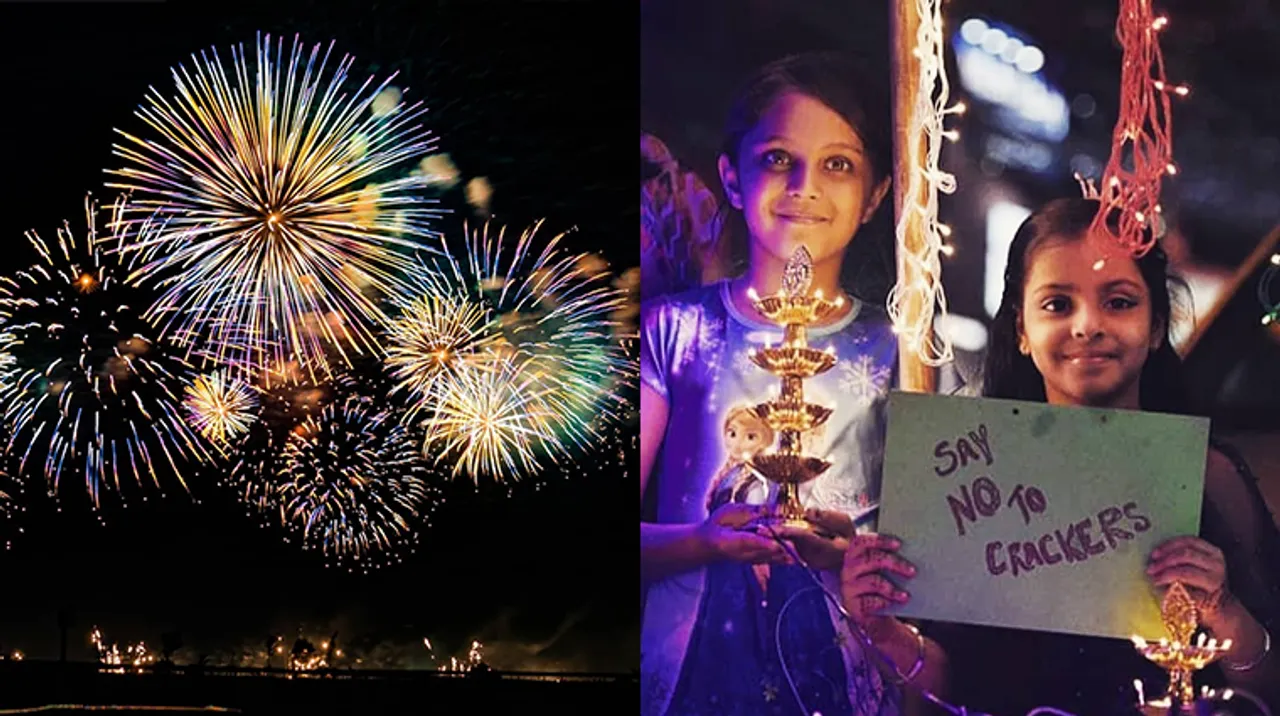 This Diwali, Delhi decided to Go Green by introducing green crackers to reduce air pollution.
Diwali is around the corner and the country cannot wait to start the celebrations. Decorating the house with lights, stressing over the rangoli designs, having relatives visit us over and over and getting invited by friends and looks like shopping for green crackers will be added to your Diwali to-do list this year. This is also the time after which no one asks you how much you weigh, cause you'll be carrying a few pounds from all the sweets you've been having all Diwali.
Diwali is also celebrated with crackers by millions of people in India. No matter how many anti-pollution campaigns are made every year, people still choose to burst crackers. Delhi is one of the Indian states that's most affected by air pollution. In this time of chaos around Diwali, the government of Delhi has introduced Green Crackers to help the people of the city celebrate this festival while reducing the level of air pollution.
#LosAngeles #Hollywood (Delhi gasps for breath after Diwali firework frenzy)
Air pollution in New Delhi hit hazardous levels Thursday after a night of free-for-all Diwali fireworks, despite Supreme Court efforts... https://t.co/OmD2TuNt0Q pic.twitter.com/G1VRbcpmRc

— Street Culture Magazine (@__StreetCulture) September 19, 2019
What are Green Crackers?
Firecrackers generally contain gunpowder and other components that are harmful to the environment when they are burst. Green crackers are the safer less harmful version of the traditional firecrackers. They are produced in a way to cause less harm to the environment and to reduce pollution. Green crackers are eco-friendly that either eliminates the harmful chemicals aluminum, barium, potassium nitrate, and carbon or has a reduced amount about the same.
ETRetail | Delhi-NCR: Coming this Diwali, 'green' crackers with logo, QR codes https://t.co/XyQK6M7TTr

— ET Retail (@ETRetail) September 24, 2019
Coming this Diwali, low emission green crackers with an unique logo n QR code on boxes will be available in Delhi-NCR.

~These will hv 30-35% Lower emissions of PM10 & PM2.5.
~ Has 35-40% lower sulphur dioxide n Nitrogen oxide emissions.
~Doesn't have any barium Nitrate.

— Enchanted_Virgo (@Snowflake_3925) September 24, 2019
Delhi's #airquality oscillated between 'poor and 'very poor' last #Diwali. The step to introduce 'green crackers' is aimed at reducing #AirPollution levels which saw a drastic rise during the festive season in 2018.@AamAadmiParty@ArvindKejriwal https://t.co/6oesnoEGZP

— The Logical Indian (@LogicalIndians) September 24, 2019
Will Delhi get to see green crackers this year? Manufactures and traders unsurehttps://t.co/6SPDJALhxj pic.twitter.com/qV9Pn48ZUf

— HT Delhi (@htdelhi) September 25, 2019
PM emissions from green crackers are 35% lower https://t.co/8s2yotMFyy

— TOI Delhi (@TOIDelhi) September 23, 2019
Do you think introducing green crackers will prove fruitful? Tell us in the comments.