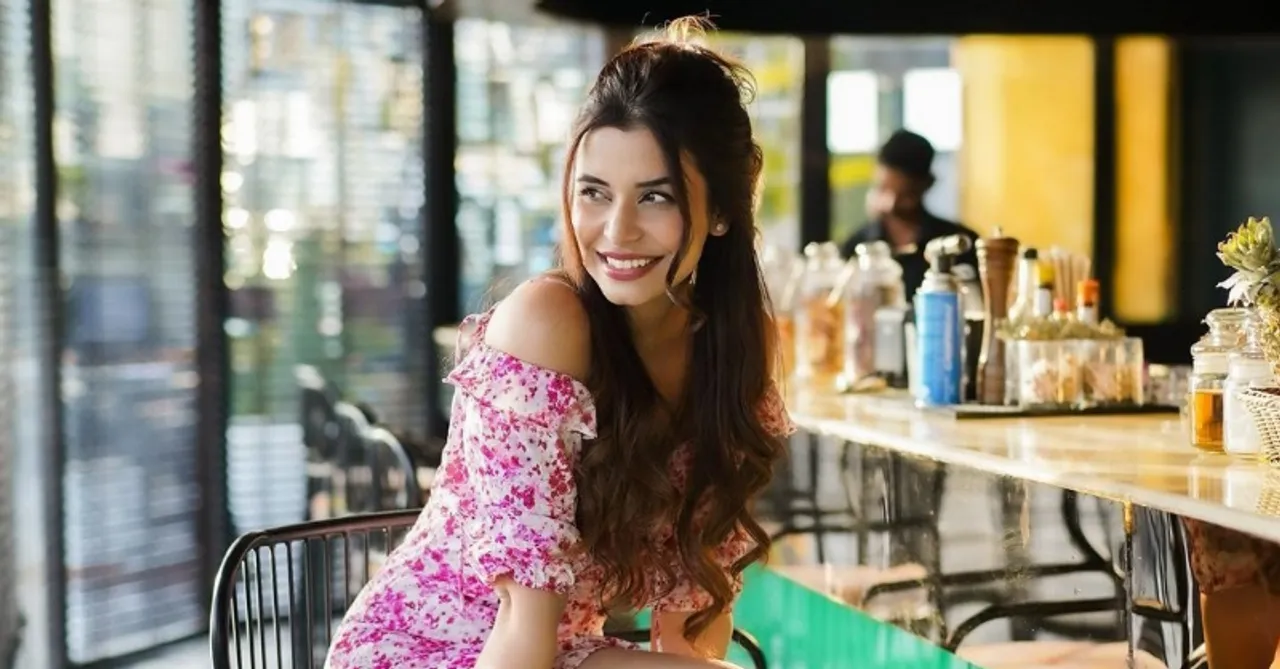 We had a fun conversation with the singer and actor, Chitranshi Dhyani where she shared some unheard sides of her artistic journey.
After giving some really lovable pieces like "Mil Mahiya", "Khasma nu kha" and "Pyaar Tera 5G", singer and actor, Chitranshi Dhyani truly deserves the hype and popularity that she is getting. She has a genre within which she makes her songs and she never fails to connect with her listeners. Whether it's through the lyrics, her enchanting voice or her music videos, her songs get stuck in your head. Her music shines through in her performances, as she effortlessly evokes a range of emotions in her listeners. Her dedication to her craft and relentless pursuit of perfection have earned her accolades and admiration from both fans and industry experts alike. Chitranshi Dhyani is undeniably a rising star who is making a mark on the music industry with her exceptional talent and unwavering passion. Her recent music video "Mil Mahiya" was rather intriguing and made way for a fun conversation with Chitranshi where she shared her creative process and some really interesting BTS moments from her shooting.
Scroll down to read the whole conversation
Can you tell us about your journey as a singer? What inspired you to pursue music as a career?
Since childhood, I have been really interested in singing, dancing and acting. My father was really good at singing and he also has encouraged me to learn it. So, I joined the Jaipur Gharana and started practicing when I was just in 2nd grade. Later I also took dance classes. I was very active in school and was also quite famous for it. I started acting during my college days, I used to be featured in the YouTube videos of Amit Bhadana and from there, people started to recognise me. Later, I met Himanshu Shekhar and Manpreet Kaur who are the founders of OSM Records. We connected regarding a music video where I had to act as a model but later they got to know that I can sing well. I had my debut music video called "Shaqi Balma" in 2021 and it went really well. 
How did the "Jaipur Gharana" help you in polishing your singing skills? 
So, at first, I took my singing lessons from my school teacher and he was from the Jaipur Gharana. He taught me a lot about "Raags" at that time. I do practice my songs and I have an in-house teacher who teaches me how to approach a song better. Suppose I have a song coming up and they will teach me the specifications of that song and prepare me for it. But my school teacher taught me the very basics of singing and that will stay with me for a very long time. 
What is your creative process like? Do you have a particular approach or routine that you follow?
As a singer, I have to take special care of my throat and just because of that, I don't drink cold drinks and prefer warm water over anything. Then, you have to do "Riyaas" and when you have some project coming up, you'll have to do it even more. I also make space for daily yoga sessions in my daily routine as well. These are the few things that I do, but it is not specific for just singers, anybody can inculcate these things in their lives to improve their health and find mental peace. 
How have you evolved as an artist over these years? 

I got my first music video recorded in 2021 and the title of the song was "Shaqi Balma" and even though I could dance or sing well at that time, this was completely a new experience. Himanshu and Manpreet helped me a lot during that time. From the music recording to the basics of production, the whole crew taught me a lot of things. When I recall that time, I remember myself as someone who was very under confident but comparing it to my recent music video shoot of "Mil Mahiya", the experience is so different. This time, I knew how the whole thing works and I was really confident in presenting my opinion in discussions. A song is usually 3-5 minutes long but what goes behind creating it is massive. Let me give you an example of a song that I did titled as "Pyaar Tera 5G". The song was written by Himanshu Shekhar who is an amazing writer, then we decided who will do the music for the same, then the crew, location, equipment, outfits, shooting and when it all gets done comes the post production. There are many layers of this process. Sometimes, people may not agree on the vibe of the video, the music or just how everything is coming out. There is a whole team working on certain areas. So, I got to know the massive process that goes behind these shootings along the way. 
What has been the biggest challenge that you have faced as a musician, and how did you overcome it?
OSM records has always been kind to me and ever since I joined this family, I learnt about the industry. Before that, I used to do freelancing as a model and actor where I had to do everything on my own but now, I have a team to help me out with things. So there's not many challenges I faced. 
Your recently released song "Mil Mahiya" has received a lot of praise from both fans and critics. Is there any interesting BTS moment you would like to share from your shooting? 
So, we were shooting for that video in Delhi during the month of December and interestingly, it was also the finale of the FIFA World Cup. And though I'm also a big fan of football, I was also excited for my video shoot.  Everybody on the set was asking about scores and the field situation whenever they got time. At the location, we had a TV for everybody to watch the match. Whenever we took a 10 or 20 minute break, people rushed towards the TV screen to watch the match. When the winner was announced, it was like a celebration and I won't ever forget that day. 
Can you tell us about any upcoming projects that you are currently working on? What can fans expect from your future music?
There is not much that I can reveal about my projects as a lot is under process right now but I can assure everybody out there that a lot of interesting things are coming out really soon. One project that I'm working on is called "Rat Jage". It is written by Himanshu Shekhar who will also be singing with me in the music video. I'm really excited for the song and I hope you all would like it. 
What advice would you give to aspiring singers and songwriters who are just starting their journey in the music industry?
According to me, the most important quality one should have is "consistency". Since childhood, I have been passionate about singing, dancing and acting and I always knew that this is what I'm going to do when I grow up. I think, nowadays, gaining popularity is not that difficult but to maintain that takes a lot of effort. Also, you should not do things just because everyone else is doing it and you find it cool. Listen to your heart and find something that drives you. 
For more entertainment, follow us on @socialketchup